INTERVIEW: FIRE & DUST MEETS MOLLY TWOMEY
'At dusk, I'd play the video of your birth
in reverse, blood and afterbirth filling me back up.'
                                             -Molly Twomey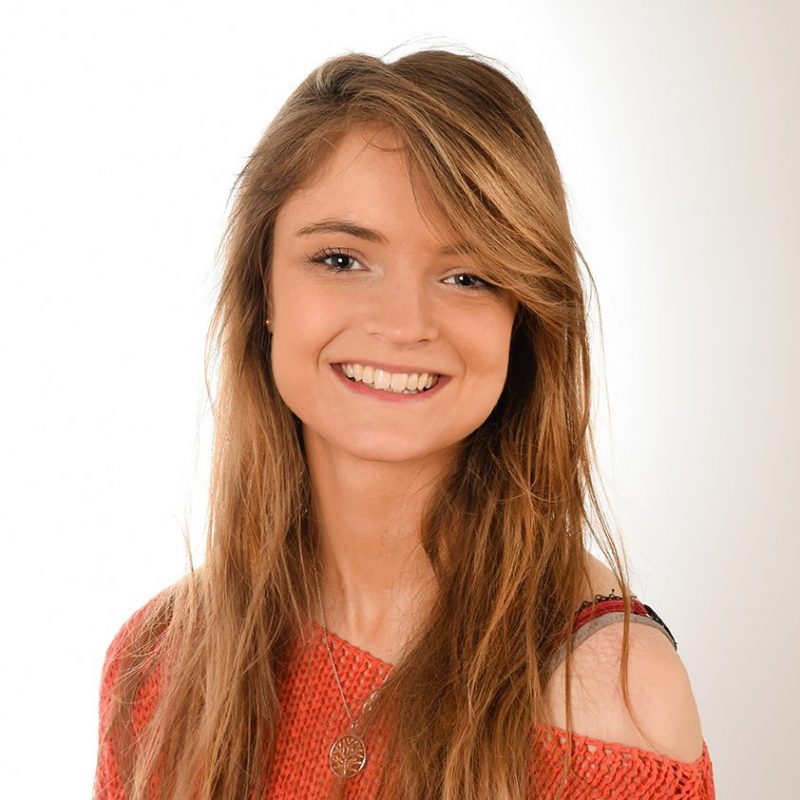 Molly Twomey's poetry has been published in a multitude of places, including the forthcoming Ireland Chair of Poetry Commemorative Anthology, Poetry Ireland, Banshee, Crannóg and The Irish Times, where she was shortlisted for the Hennessey Award. In 2018, she was a winner of the UCD competition 'The Voices of War'. Then in 2019, she won the Padraic Colum Poetry Prize and was runner-up in The Waterford Poetry Prize. In both years, she was shortlisted for Over the Edge's 'New Writer of the Year' Award. Molly has been selected for Words Ireland's National Mentoring Programme 2020 and is currently under the guidance of Grace Wells.
In 2020, Molly was one of two poets from Cork, Ireland who participated in the annual international poetry exchange between Cork and Coventry (UK). You can find out more about the exchange here. She wowed the crowd with her words at both the Peace Poetry event on 4th November and on 5th November with her headline set at our Fire & Dust Twin Cities special. Due to the COVID-19 pandemic, both events were hosted virtually on Zoom, with people joining the audience from all over the UK, Ireland and further overseas.
HCE caught up with Molly after the Fire & Dust gig, to ask her a few questions…
---
HCE: Tell us a little about yourself and your background. When did you first know you were a poet, and what has been your journey as a writer so far?
MT: Ever since my first poetry class in National University of Ireland Galway with Kevin Higgins in 2015, I have been obsessed with poetry. I'm more of a reader than a writer – I would read poetry every hour for the rest of my life if someone would pay me to.
I still struggle with the word 'poet', as it seems like a title you must earn. There are times that I feel more like a poet than others; for instance, when I have just spoken at an open-mic and I get that sense of belonging or when I'm on a train and I read a poem, and I think, my God, I must write something like that.
My journey has been so full of support. I regularly plague my friends who I met on the MA in creative writing in University College Cork with poems. I have been mentored by some of the best poets (and people) in the world, like Leanne Sullivan and Grace Wells. I am also lucky to have been brought up in a family where creativity was hugely encouraged.
HCE: In your opinion, are Cork and Ireland good places to be a poet/writer/creative?
MT: Cork is the best place to be a writer. It's the main reason I stayed on after my masters. Ó Bhéal, The Munster Literature Centre, and University College Cork are just some of the places that offer open-mics, workshops, readings, and poetry slams.
There are times when I have felt really accepted as a writer in Cork, like reading at Ó Bhéal's Winter Warmer festival, or being a trainee editor for Munster Literature Centre's literary journal, Southward.
Cork is also full of successful poets, there's even a mural of them on North Main street, including poets like Billy Ramsell, Gerry Murphy and Thomas McCarthy. What's incredible is that these poets are not only world-renowned, but also approachable and happy to chat to you about your work.
HCE: Several of the poems you performed at Fire & Dust featured references to, or explored a contemporary take on, ancient myths. What other themes and topics do you like to explore in your work?
MT: As a person who has struggled with an eating disorder, I am specifically interested in mental health. I find poetry to be a useful way to explore my past. I am also, like a lot of poets, interested in death and toxic relationships. In saying that, I'm trying hard to write more positive, quiet, and reflective poems which is difficult when my inclination is to always write something loud and charged with emotion.
HCE: Is it a challenge to make mythological poetry alluring to a wider audience? Also, you mentioned (in the Q&A at the Peace Poetry event) that you might delve into some Irish mythology – are any particular figures crying out to be in a poem?
MT: I have just been awarded a Professional Development Award by the Arts Council, which I will use to stack my shelves with books on Irish mythology and to hopefully do a course with a poet who is a genius regarding ancient Irish stories.
I have also recently discovered the character of Airmid, with thanks to my poet friend, Niamh Twomey. Airmid is a goddess of healing and herbalism. When she cried on her brother Miach's grave, all of the healing herbs of the world began to grow. There were 365 varieties in total, one for each of his sinews and joints. I am dying to find more myths about brothers, as I was so intrigued by Natalie Diaz's collection When My Brother Was an Aztec and I love to embarrass my siblings with poems.
HCE: You also mentioned that you're often inspired to write when out on a walk. What does your process involve – for instance, do you take a notebook with you or does the writing all happen when you get back?
MT: For me, walking is the best way to get out of my own way. Often when I write, I can start to beat myself up if it's not working. If I put down the work and go outside, let myself explore and breathe, then that line I'm flagging myself trying to find usually makes its own way to me.
HCE: Some of your poetry deals with your own life experiences in a raw and honest way. Is this an emotionally draining thing to do? What is the top piece of advice you would give other poets for tackling heavy/personal topics?
MT: Yes, incredibly draining, but it's also healing as it allows you to look back on experiences with a different perspective. If I was to advise someone, I would say: don't show these poems to someone until you are distanced from it and you know it won't overwhelm you. At one of my first readings in Galway, I read some of the most intimate and personal poems, and if I could go back, I would stop myself as so many of those poems were cries for help.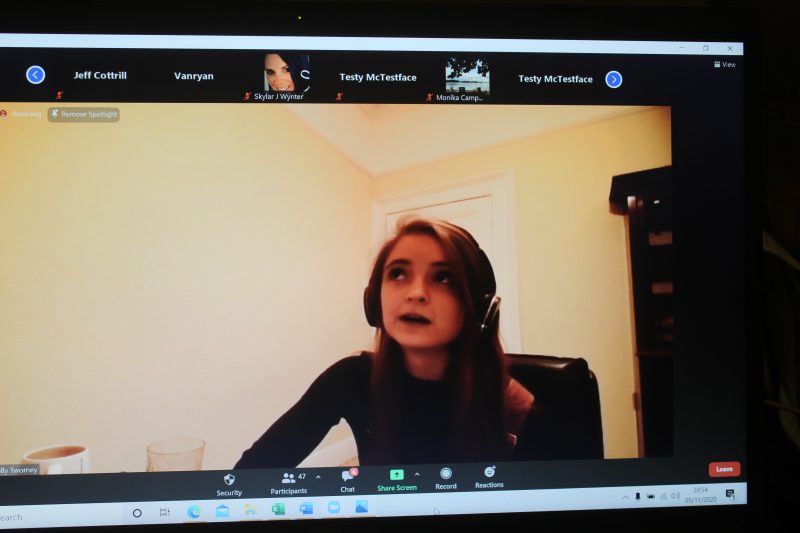 HCE: You're currently being mentored by Grace Wells as part of the Words Ireland national programme. What sort of impact is this having on your practice as a writer?
MT: Grace Wells is wonderful. She is compassionate and kind, she has been so encouraging. She is trying to get me to introduce some more 'yin' or restful poems to my debut collection and she is so right, as so many of my poems have that kind of slap you in the face 'yang' energy. She is teaching me so much about the process of sequencing poems and the overall mood of a collection.
HCE: When you and Jim visited Coventry as ambassadors of Cork, did you notice any interesting comparisons between the poetry/gigs/people in the UK, compared to Ireland?
MT: Both Ó Bhéal and Fire and Dust (the online versions) start similarly, with a lot of laughter and greetings of each other's pets. Poets are always really warm and encouraging. There was a great sense at the Coventry gigs of people who deeply care for each other, and this is true for Ó Bhéal too.
HCE: We know you to be an avid reader. Which writers would you say have inspired you the most, and does this influence your poetry?
MT: Ireland has a treasure trove of strong poets, like Doireann Ní Ghriofa, Jane Clarke, and Paula Meehan. I have just written an essay for the Ireland Chair of Poetry's commemorative anthology Hold Open the Door, about the influence of Leanne O'Sullivan on my writing and recovery. Each of her collections changed my life but, specifically, her re-writing of mythology surrounding the Cailleach really moved me. I am also inspired by Grace Well's compassionate touch and her deep care of the earth. Finally, my fellow poet Niamh Twomey's writing always excites me, and I am looking forward to watching what happens with her work.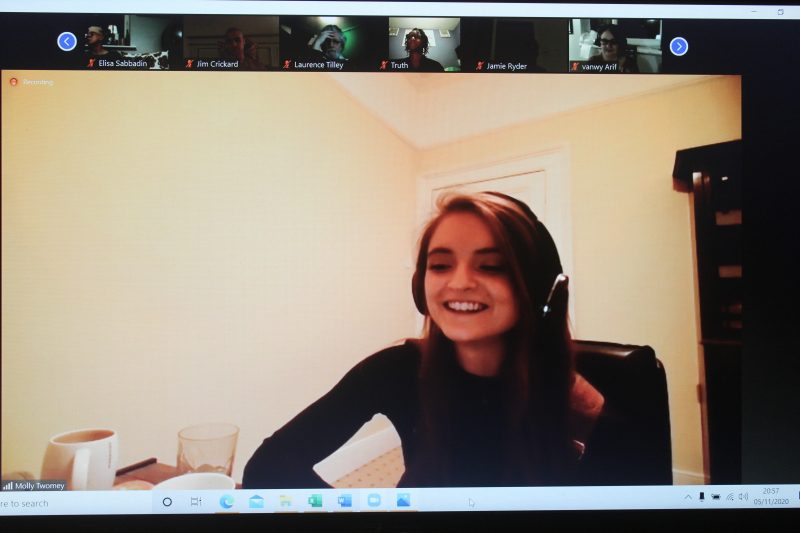 HCE: At the Peace Poetry gig, you mentioned the role of spirituality in your life. Are there links between this and your practice as a writer? For instance, do you stick to any writing rituals or superstitions to appease the muses?
MT: My only ritual is reading every day. I find that if I don't read, I don't write very well. So, I read for at least an hour every day, or try to, if life doesn't get in the way. I like writing poetry because it can be sporadic and unexpected. I was listening to an interview by Elizabeth Alexander for The On Being Project recently, where she compared poetry to "grass or flowers coming up in the sidewalk cracks." I am not a person who sticks to schedules or routines, and poetry, in contrast to novel-writing, allows you to be a little wild and free.
HCE: It's not a simple question to ask or answer in 2020, but…what projects/gigs are next on the horizon for you?
MT: Nothing at the moment. I am quietly working away on my collection, and resting after what has been a hectic year. I'm also super excited to start using my Arts Development Award to research Irish mythology.
Here are some social media links, for people who'd like to stay updated with Molly's work/get in touch about bookings for a poetry event:
HCE: Is there anything we didn't cover that you'd like to share with our readers?
MT: Thank you for welcoming me virtually to Coventry and for being so kind and encouraging. I will definitely be making my way over some day in the future.
---
Molly and Jim's joint poetry chapbook is available to read online here.
---