Writing Advice: The Need for Strong Openings
Fiction and Screenplay
Emma Evans
The genres of fictional prose and screenplay are two of the same – they're both vehicles in storytelling – and yet they are different. Screenplay is a 'blueprint' for the fiction told visually on screen through means of TV or film, while fictional prose – whether that be the physical book you hold in your hands or on your Kindle – is the finished product. Both of these genres need to do the same thing with their first page: hook the reader in. It may not be as noticeable in a screenplay (most don't read the screenplay, they just watch the motion picture, whether that be a show or film) but if you're choosing to watch something from the start, it needs to hook you in just as much as page one of your favourite book.
As writers – before we write a single word – we need to consider how we can hook the reader in.
What Do We Expect From The Opening?
Perhaps it's helpful before we write to consider the audience, or ourselves, as we read. Determining what we can expect from an opening to a piece of fiction will in turn help us shape our own openings. Simply, regardless of the form/genre of writing, we expect to be hooked from the beginning.
It's stating the obvious to say it, but the world is full of distractions that can easily pull the attention of audiences away from their books or the TV. As writers of whatever form, we need to work hard to attract the audience – and then keep hold of them for the duration. This is particularly the case for your screenplay; there's a wealth of TV channels and streaming services with a wealth of content at the touch of a button and they're all competing for the same thing – your views! Attracting and keeping an audience with fiction principally works in the same way, but the competition for one's time and attention to not put the book down possibly isn't so 'in your face'. The only things standing in-between you and holding your attention to one fiction book are your (if you're anything like me) ever-growing To Be Read pile and all the things you need to do when you'd rather be reading. In (very) short – hook your audience in and keep them!
How Do Writers Hook Us In?
Writers will use similar techniques in prose and screenplays to hook audiences in, despite their differing technical format. Both forms should raise questions with their openings as they introduce the main character. Who are they? Where are they? What is this story about? Needing answers to these questions, or at least trying to figure out the answer, will encourage audiences to keep reading or watching.
While the fundamentals of hooking audiences in will be the same, both will inevitably do it in different ways, owing to their different forms and styles. Fiction is able to hook readers in through description and dialogue: hearing the main character speak for the first time and being introduced to them and/or their setting via description. Screenplays are also able to hook the reader in through dialogue and setting, but also film-specific techniques such as cinematography and mise-en-scène. Screenplays don't necessarily need to hook their viewing audience in in a traditional sense as prose would, as the script is a blueprint usually only read by crew and actors to instruct them. It does, however, need to hook producers and directors who have the power to make the show. It also needs to facilitate/explain visual aspects, which will in turn hook the viewing audience in more widely. It's the dialogue and description of setting and shots that are likely to hook actors and crew in as they read the screenplay. While action is written into the script – which may well help hook the audience in – the words on the page do not translate word for word onscreen; it is shown, not told. Fictional prose creates the imagery through description and the dialogue for the reader to imagine the scene and get hooked in.
How Might This Work?
Think of the opening to your favourite books, series, and films. Isn't it partly thanks to the strong openings of these books, series and films that you continued to read or watch whatever it is, and why it became your favourite?
Below are some openings. The same situation features in the fiction and screenplay examples, adapted for both genres. If they're strong openings, they should hook you in by raising questions.
Fiction
Example 1
A roughly shaven, middle-aged man, with dark brown hair uniformly styled, sits at the head of a large dining room table in his grand dining room. He is alone, sipping from a teacup and all that can be heard is the sound of the cup clattering against the saucer as he puts it down between sips.
Example 2
Colin – a middle aged, roughly shaven man – sits at the head of a large dining room table in the middle of a grand dining room, alone. He sips from a teacup, the only noise being as he puts the teacup back down on the saucer.
Screenplays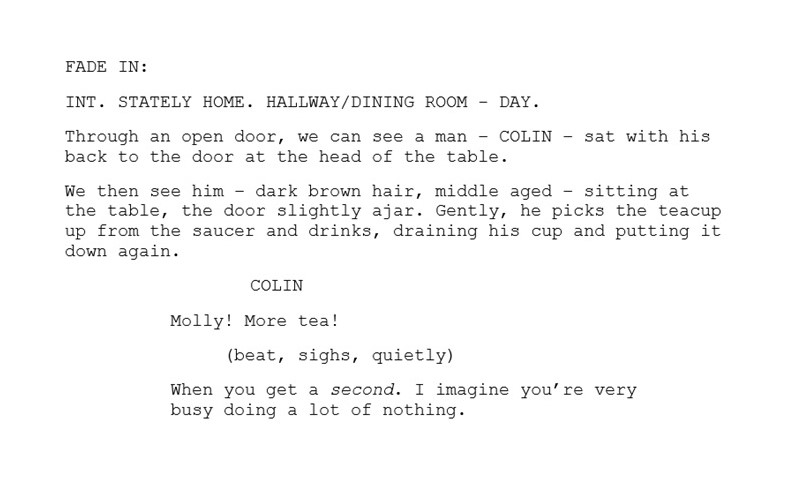 Other ways which enable us to create strong openings which raise questions is by deploying specific techniques used in film. Montage and series of shots are two of these techniques, both of which we will look at below – starting with montages.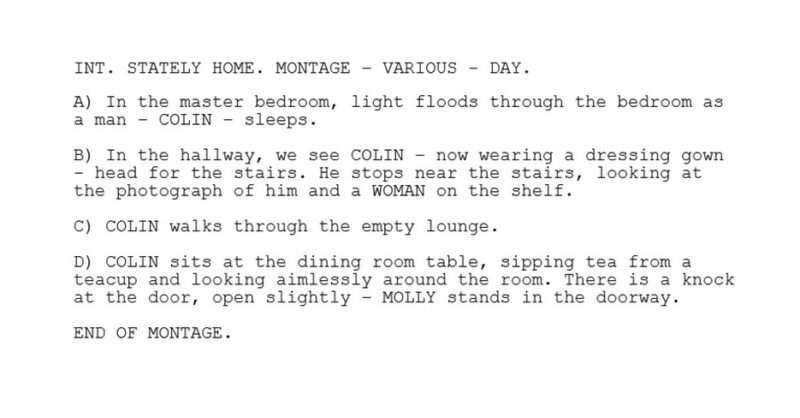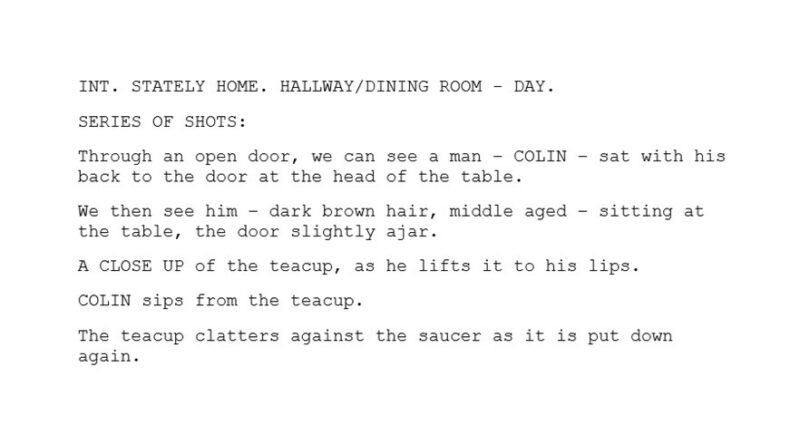 What Are We Asking?
As we can see from the above examples, the same story is opened multiple times across fictional prose and screenplay examples. While the way that details are explored may differ across the genres, there is no doubt that the same story has been opened in each example.
What questions are raised because of the openings? Well, the questions that we discussed earlier.
Who are they? We know there's a man, and depending on which opening we read, we may know he is called Colin and what he looks like. We may also assume him to be rude, with little manners, given his dialogue to Molly. While we can assume that she may be employed by Colin in some capacity, we don't know for sure that she's not a relative yet.
Where are they? We can gather that Colin is in the dining-room and can therefore assume he is at home. From the descriptions of the 'grand' dining-room, the audience may have questions about the house, for which they may want to read on to find the answers.
What is this story about? At the minute, this isn't particularly clear – which may raise questions for the reader. They may want to read on to find out exactly what this story is about. Is it a story about how Colin came to be completely isolated and live alone? Is about the relationship between him and Molly – whatever that may be? If he is alone – or it's just him and Molly – why are there so many chairs around the table? Did he once have a family? What happened to them, if so? What happened to the woman in the photograph?
You'll notice there's an abundance of questions we could probably ask about such small pieces of texts. Questions like these will, as we've already discussed, provide the hook to keep your readers reading!
So Why Do Why Do We Need Strong Openings?
As we have discussed throughout, everything about strong openings comes down to the fact that writers need to hook readers in by raising questions about setting, characters, and story themes in order to keep them reading. Fiction can simply do this via the prose we read, screenplays do this via dialogue, setting and visuals on screen.
When you're drafting an opening, try this task to see if your opening is strong. Pop yourself in your reader's shoes. Read the opening and then write a list of questions you have from the opening (even if you do know the answers!). Being able to pose a list of questions, which stem from the opening, regarding the story suggest you may well be on the right lines to creating that strong opening!
---