The January Challenge 2021
By Eve Volungeviciute
Keeping up one's spirits at this time can be difficult, but luckily, in this day and age there are plenty of chances for creative people to express themselves. 64 Million Artists organisation is doing a brilliant job at that. Founded in 2014 by Jo Hunter and David Micklem, they run countless programmes every year for individuals and communities alike, in order to provide them with creative outlets.
One of their most prevalent projects is called The January Challenge, which is, as you might've already guessed, presented as one creative prompt every day throughout the month of January. This year's collaborators are Lemn Sissay, Yomi Adegoke, and Jess Thom (AKA Touretteshero), who chose tasks submitted by the public specifically for this. There are plenty of options for those wishing to participate – they can pick either one collaborator and receive challenges from them only, or pick the Wildcard option and receive a mixture of everything. I chose the latter, as I thought it wouldn't hurt to sample some variety for the purpose of this article.
Below, you can find examples of some prompts for the challenge. For the purpose of this piece, there will be bits of my unpolished writing down below as well, as the challenge suggests to not think too much about being perfect right away but instead get on creating! You never know what you might come up with.
Day 1 – I Remember
For the first day, the challenges have been created by collaborators themselves and I was presented with all the choices. I picked Lemn Sissay's: 'I Remember'. The prompt involves writing down the words 'I remember' and following them up with a memory, as many times as you can think of anything. This is what I came up with:
I remember the taste of salt on my lips as I inhaled the scent of the sea
I remember the crowded streets of Amsterdam where I could feel the pain in my feet
I remember the mountains hiding their tops in the clouds
I remember the branches of trees as the sun went down
I remember the times when there were no limits
I remember the past where sometimes I wish I could live in
Day 6 – Make a Rainbow (selected by Yomi Adegoke)
This one is pretty straightforward – you have to create a rainbow by using anything you find in your house – markers, candles, books – you name it. I chose to make one with food because what is meant to motivate you to eat healthier than a perfectly assembled plate of fruit? (Mostly because it takes so long to do):

Day 8 – The Actual
The challenge for the day is set by Inua Ellams, a Nigerian poet, play writer and performer. For the prompt, we have to look into the open sore that is today's world and how the things happening in it affect us, as raw and unpolished as possible. It can be as detailed or as short and sweet as you desire – after all, it is your interpretation! This is mine:
It's hard to be angry or frustrated
When others have it so much worse
But in a silent thought, I see it fleeting
The chance of progression, the chance of belonging
As all the roads of connections have been closed
For maintenance until further notice
And I'm stuck here waiting on the pavement
Moss making itself home across my skin
As I wait and wait for my life to begin
Again
Day 10 – Once Upon a Time (selected by Jess Thom)
This prompt has as many possibilities as there are fairy-tales. You can re-imagine your chosen story in any way you want to. Perhaps as a peasant in Snow White's kingdom? Or maybe one of the Lost Boys at Neverland? Once you decide, you can put in writing, draw a doodle, or make it out of macaroni – the possibilities are endless. I chose to write a quick poem on Maleficent as she's one of my favourite Disney villains, so here it goes:
Not wanted, they said.
Evil, they claimed.
Perhaps.
I won't explain.
I won't apologise.
Perhaps if things had gone differently,
They wouldn't see me like that.
Perhaps
Alas,
As it is
Now I will be what they want of me.
Day 12 – The Black Out (selected by Lemn Sissay)
This prompt is a bit more hands-on. You have to pick up a piece of a newspaper, magazine, perhaps a book if you feel daring – even a piece of your writing – and black out words until you have a poem. As with the previous prompt, it can be anything that comes to your mind – a well-thought-out piece or just a jumble of words. You can't go wrong here! I chose Sylvia Plath's poem 'Circus is Three Rings'.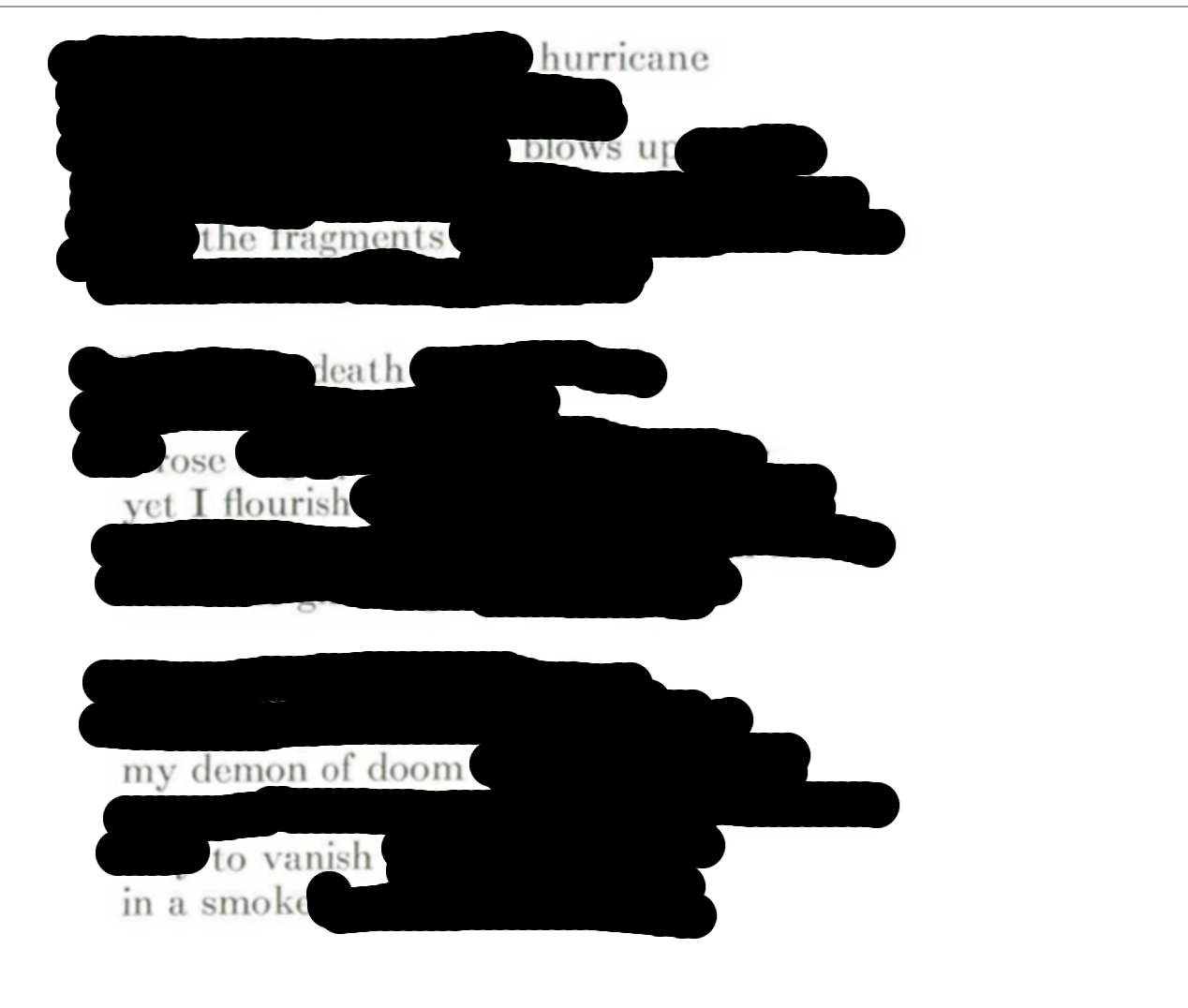 And that's a wrap for now! If any of these prompts sound interesting to you, you can find these and so much more by signing up for the challenge on the 64 Million Artists website. You can either do the old prompts as well or just wait for new ones (as it comes in email alerts). Either way, this is a great idea to get your creative juices flowing. Until next time!
---