REVIEW: 'UNKNOWN' (ANNA ROSE JAMES
AND ELIZABETH CHADWICK PYWELL)
By Stella Backhouse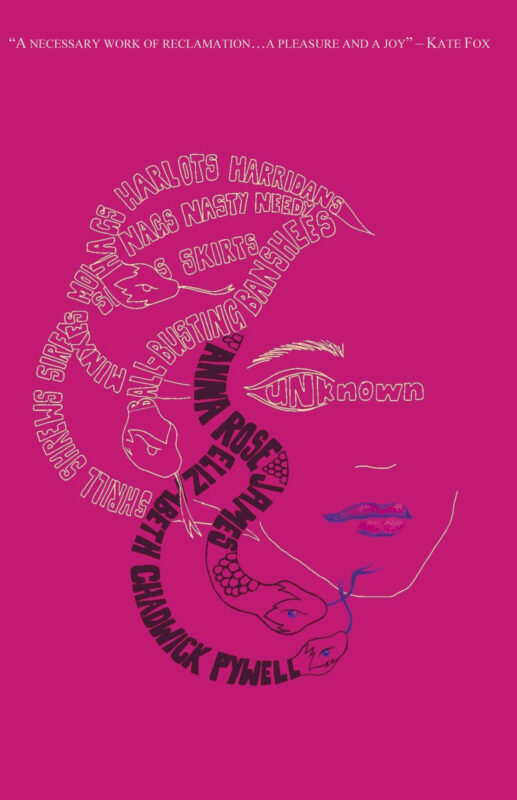 If you want to really enjoy a poem, how much background info do you need about its subject? Because different people's minds work differently, a range of responses may be available; but for my own (arguably anally-retentive) psyche, the answer seems to be: 'quite a bit'. A sucker for hidden-history, I loved the inspiration behind Anna Rose James' and Elizabeth Chadwick Pywell's 2021 collaboration Unknown, described in their jointly-penned foreword as "a shared love of other women…from history and legend who have touched our lives, or the world, and left them changed. We especially wanted to honour those whose names are not often on our tongues".
But while James' and Chadwick Pywell's hope (also expressed in the foreword) that after finishing the collection I would "go on to read everything you can about each woman" was a touching testament to their own enthusiasm, for me it was the wrong way round. The impressionistic nature of poetry coupled with the (albeit unjustly) obscure position of many of the lives examined here resulted in numerous references I just didn't get. What I needed was more information as I read – but unfortunately the very brief 'Index of Subjects' at the back didn't give me nearly enough; I ended up reading with the collection in one hand and Wikipedia in the other.
The good news is that not everyone is as regimented as I am; free spirits who are happy to go with the flow rather than obsess over possible meanings of every last comma can find much to enjoy in this collection. Its premise – that it's time to offer an alternative view of history through reclamation of the many pioneering women whose life stories have until now been either told by men or forgotten altogether – is intriguing and offers rich seams of fascinating poetic raw material. The range of women covered is eclectic, covering figures of Greek and Celtic myth to the talented young photographer Khadija Saye, whose life was tragically lost in the Grenfell Fire. Within these pages, everyone can find a heroine.
Divided into 'Myth' and 'History' sections, the poems are written from a variety of viewpoints. Some deploy the third person, others are first person – which in different poems comes either from the subject herself, or from the poet, sharing her relationship with the subject. Because I found them more relatable, the poems I enjoyed most were the ones that dealt with more modern women – although I'm ashamed to admit that African-American aviation pioneer Bessie Coleman, who overcame obstacles of both race and sex to achieve the dream of becoming a pilot, was a new name to me. In her homage, James rips up the sombre photograph that is Coleman's standard image and embraces her joie de vivre: "I'll always hold the vision of you/that I caught in the slipstream,/the rush of your knowing look,/a joke shared with a carefree/look over the shoulder".
For me, the poems that best encapsulated the collection were both in the 'History' section. 'Ida' by Anna Rose James introduced me to the campaigning African American journalist and anti-lynching activist Ida B Wells. In a collection that is a riposte to history's silencing of women, Wells' contemptuous hiss that her enemies may "snap as many pens as you like; I still have a mouth./I don't need a desk to prop my words upon,/nor proximity to reach my blood./It runs where it may but it/will still hear me in its redness" could summarise the book as a whole. Meanwhile in the final poem, Chadwick Pywell's delicate elegy to Khadija Saye, the photographer's eyes – "seeing, open to the end/of time even in the dark/room where we/blink/closed ours" – affirm that women have always witnessed history; it is history that has refused to witness them.
I'll be honest: this is a collection of excavation – and as with any excavationary work, reaching the treasure requires hard digging. If you want to learn about the women celebrated here, it may be more straightforward to simply read a history book. But if you did that, you'd miss a lot. You'd miss the genuine power of real women's lives changing and inspiring each other and sparking pages of joyous, creative lights.
---
Unknown is available to purchase online direct from publisher Stairwell Books, as well as other bookshops and retailers.
---