Review: Ruth Stacey's I, Ursula
I, URSULA BY RUTH STACEY
V. PRESS
ISBN: 978-1916505278
£10.99/72 pages
---
Reviewed by Andrea Mbarushimana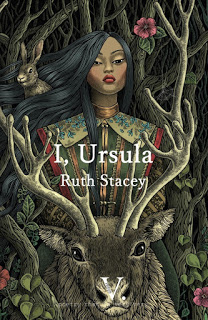 I, Ursula, published in 2020 by V. Press, is the latest collection from Ruth Stacey. A quick search on her website won't reveal anything about Ruth the person, her biography or interests. Ruth chooses to speak through her work. An established poet, this is Ruth's second full collection after How to Wear Grunge (Knives, Forks and Spoons Press 2018) and numerous pamphlets, all of which you can find on her website.
In I, Ursula Ruth sticks to her feminist roots, evoking folk tales rather in the style of Angel Carter's Bloody Chamber, but with a modern setting and a more personal tone. Blood, bear-men, foxes, dogs and wolves all feature heavily.
In contrast to her professional web presence, Ruth's poems create an intimacy with the reader. Part of the attraction of Ruth's writing lies in sifting through the fantasy and reality, seeing glimpses of the writer and yourself. The poetic expression of human truth is played out on every page and the personal is political.
In the changeling poem The Exchange, we are invited to empathise with the mother who walks away with a boy and / or the Mother who takes the girl. The thrill of the swap – that transgression against the patriarchy, is beautifully and subtly evoked,
_____________________________"…I held her to my breast
_____________________________as she sucked; tender conspirator."
Although it's tempting to read the poems as though they are prose because of their narrative quality; the lovely balance of sounds in the phrasing – 'tender conspirator' demonstrates the poetic density you can expect from Ruth's writing.
It is no surprise to find that Ruth is a Creative Writing tutor at Worcester University. Her craft is evident in enticing opening lines, often directed right at the reader: "hey you there slyboots", which create a careful space between poems – an absolute necessity in a collection – especially one as thematically unified as this.
There is so much to enjoy in these poems. The imagery Ruth uses is inventive and expressive – children's fists are "clams", lace is "a little noose". Line breaks maintain tension and often create a wry humour.
_____________________________" …this is no dewey
_____________________________decimal…"
As with all poetry collections, whether or not you will enjoy I, Ursula comes down to taste. These poems are gleeful in their sensuality. Sometimes, for me, this veered slightly too far in the direction of being lurid: I wasn't a fan of The Curiosity of Redness, for example, "Peel a human and they are red inside" However, the overall effect is gleefully exuberant and fearless. I couldn't help being reminded of the red wedding in George RR Martin's Game of Thrones.
The poems in I, Ursula are both familiar and de-familiarising; its cleverness is not self-important, but inventive and fun. Despite the timelessness of the material, it feels timely: What does it mean to be a human animal in an age obsessed with appearances? Take some time away from your phone to read this book: I, Ursula holds up a mirror of a more profound sort.
---
Get your hands on a copy of I, Ursula from the V. Press website.  Two of Ruth's other books, How to Wear Grunge and Queen, Jewel, Mistress are also available for purchase online.