REVIEW: ROY MCFARLANE'S 'LIVING BY TROUBLED WATERS'
Reviewed by Stella Backhouse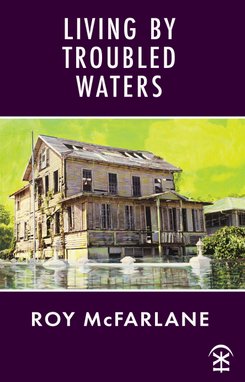 I hope Roy McFarlane's new collection Living By Troubled Waters will be taught in schools. It deserves to be – indeed, it needs to be – for a number of important reasons. Amongst these I would list its uncompromising witness of black experience; its engagement with poetry as a vehicle for conveying that experience; the astonishing breadth of its scholarship in the field of black history; and its urgent central mission to reveal the continuing impact of the past on the present.
Coming in at something over a hundred pages, Living By Troubled Waters is a longish collection and a multi-faceted one. Included in its range are McFarlane's own personal history and those of his birth and adoptive parents; black history, especially the often-forgotten heroism of black-led slave revolts in the Caribbean; tragedies of twenty-first century migration; the continuing indignities faced by the Windrush generation in Britain; and the overall position of black people in Britain today. With so much going on, there's always a danger of tipping over into mere unnavigable morass. It's a pitfall McFarlane avoids; by deploying his unifying thread of past-in-present, he succeeds in stitching together from disparate elements an ensemble that seems almost seamless.
McFarlane explores a number of areas where the past survives. Very movingly, in 'You Are Impossible to Love (Part 1)', he parallels his experience as a child given up for adoption with the 'othering' of Afro-Caribbean migrants as a group: "You are the growing burden, the choice/to be made. You are the unwanted, the invisible…You are Windrush, the wanted in times of trouble, the visible that/becomes invisible, to be discarded by a nation. You are the unwanted". Elsewhere, he draws on his adoptive mother's vibrant Jamaican folk-memories/alternative histories and her connection to the world of spirits and duppies, itself a remnant of Africa.
Most importantly, perhaps, McFarlane suggests that the past is inescapably inscribed on black bodies. It could be said that, like it or not, if you are black your body is history: "You carry the seeds of rape, you carry the stories of a people,/you carry the grief of those that didn't make it, all in one womb,/a swollen, pregnant diaspora". In a collection that is notably respectful of the special hardships shouldered by women, McFarlane uses the poem 'Black Women Don't Feel Pain' as a concrete example of how centuries-old white assumptions about black bodies still to this day contribute to unequal treatment of black women in labour.
In terms of poetics, Living By Troubled Waters is daring and clever, mixing traditional form with modern innovations such as erasure poems. It should be understood, of course, that within the context of blackness 'erasure' is a provocative and loaded word. In recognition of this perhaps, McFarlane (in his introduction) terms these poems 'Erasure and Inclusion (to make known)'. Threaded through the text, they take as their source eighteenth/nineteenth century texts about slavery; the effect is to turn erasure paradoxically back on itself, releasing and giving voice to the (then-and-now) suppressed narratives of slaves themselves.
And in a way, this approach is a microcosm of the whole collection. A series of poems about modern-day migration also make the point that history continues unfinished. 'Pantoum of the 27' is about the twenty-seven migrants who drowned in the English Channel en route to the English coast in November 2021, but has resonant echoes of slave ship experience. The poetic structure, with repeated lines rising and falling up/down successive stanzas feels like bodies floating lifeless on the swell. The title, with its precise number of casualties, is reminiscent of the '13 dead and nothing said' aftermath of the New Cross Fire of 1981.
But beyond that, what I felt most on reading 'Pantoum for the 27' was that this is Wilfred Owen's 'Anthem for Doomed Youth', updated for our time. 'Anthem for Doomed Youth', itself a nightmare parody of Thomas Gray's quintessentially English 'Elegy Written in a Country Churchyard', is a poem of ugly truths about Englishness. By linking McFarlane to Owen, we plug him into a poetic tradition of using Englishness to re-interpret Englishness by exposing truths the English don't want to hear. McFarlane's handling of these truths is deeply impressive, and I would urge you to read this collection.
Living By Troubled Waters is available for purchase online direct from publisher Nine Arches Press, as are two of Roy's other collections: Beginning With Your Last Breath (2016) and The Healing Next Time (2018).