REVIEW: GENEVIEVE CARVER'S 'A BEAUTIFUL WAY TO BE CRAZY'
Reviewed by Stella Backhouse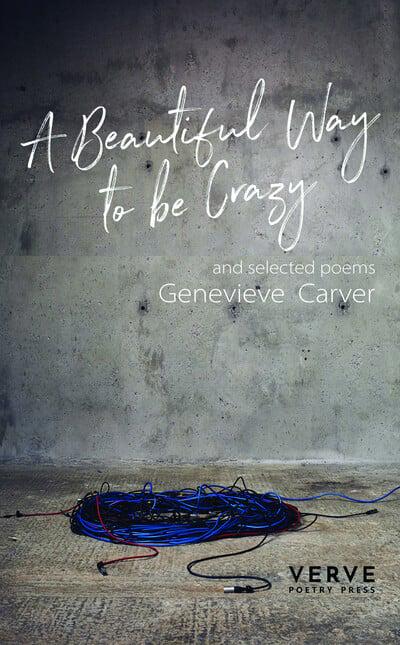 The front cover of Genevieve Carver's 2020 collection A Beautiful Way to be Crazy and other poems from the stage shows a photograph by Alexandra Wallace. On the floor of an otherwise empty room lies a rough doughnut of coiled electric cables and amplifier leads – the unsexy but vital support acts of any live music performance. On the back cover is the same doughnut – but now with Carver seated at its centre. Something invisible has magically become visible. This collection shines a light on the hidden experience of women in the music business.
But it's also about more than that. It's only the second and third parts of the book that deal with music directly. Part 2 ('from The Unsung') consists of poems that "originally appeared in a stage show…which celebrated forgotten heroes who lost their lives to music". Part 3 ('A Beautiful Way to be Crazy') contains poems developed from interviews "with almost 50 female and non-binary practitioners across the music industry" that were likewise originally used in a stage show. Part 1 has no formal title and its subject matter is less clearly-defined. Are these, then, the 'other poems from the stage'? But what stage?
In fact, this is a carefully-crafted collection that uses Part 1 to seed general concepts to be illustrated more specifically later on. The 'stage' in Part 1 is, I think, adulthood. These are poems of unease, of performing grown-up-ness with no way of knowing if you've got the right script. Carver charts rites of passage from grotty student flats to sheepish office parties to mundane realities of adult life like council tax. The poignant 'Katrina Has a Cleaner Now' laments the sobering death, experienced anew by every generation, of the illusion that it is unique and different. "does that change the game for good" says the poet on hearing of her friend's domestic arrangements. "are we no longer after the absolute/are we stopping short of the real and raw".
So how do you know you're an adult? 'People Don't Get Lost Any More' suggests a desperate resorting to the paradoxically dumbed-down world of social media as a way of confirming adulthood. More relevantly perhaps, in the context of the collection as a whole, 'Thank You For Driving Carefully Through Hope' has a sexual partner tell the poet she "couldn't go on living life/as if I were a Jarvis Cocker lyric". The irony of women using pop music as a guide to life is exposed in the introduction to Part 3: "In the UK at the time of publication, 70% of music acts are all-male".
The collection is liberally peppered with references to (mostly) popular music, deploying them to illustrate how music creates cultural narratives: anyone of my vintage would instantly connect the poem title 'This Stage Ain't Big Enough for the Both of Us' to a Sparks hit from 1974. But if "70% of music acts are all-male", these are – inevitably – male-dominated narratives. This would be bad enough for women who only listen to music; for women who want actual involvement in the music industry, it can be catastrophic.
The poems in Part 3 seek to redress this imbalance. Each one is prefaced with a verbatim quote from an interviewee; by developing the poem around it, Carver returns female experience to the heart of the narrative. In a multiplying of more general problems with adulthood outlined earlier, a repeated theme here is one of not knowing how to act. If the only script is a male script, women's experience remains inexpressible – and so invisible. The narrator of 'It's Alright Dad (I'm Only Disappearing)' has a bedroom that "is a shrine to/who I think I want to be/topless boys wield guitars/that wail a song I cannot sing along to".
"Someone that was free" said Roger Daltrey of his first impressions of Elvis Presley. "Completely and utterly free. I thought: that's what I want." Compare that with 'Little Green', a poem about the barriers presented by motherhood to involvement in music. A Beautiful Way to be Crazy exposes how music simultaneously creates narratives for women and excludes women from them. Because, in reality, the classic icon of unencumbered rock god is a masculinist embodiment of a masculinist dream of avoiding the responsibilities of the adult world. No wonder growing up is hard.
---
A Beautiful Way to Be Crazy is available to purchase online from Verve Poetry and other book stores.
---