REVIEW: ELISABETH HORAN'S 'THE MASK'
Reviewed by Stella Backhouse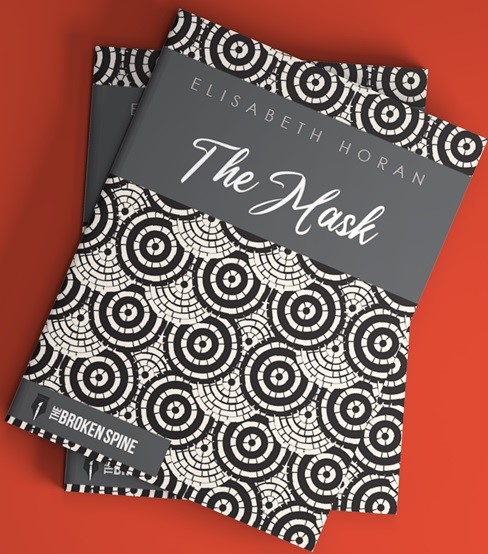 It's perhaps appropriate that The Mask, Elisabeth Horan's chapbook of poetry inspired by the art of Frida Kahlo, is published by The Broken Spine Artist Collective. In recent years, Kahlo's stock as both an artist and a woman has risen enormously, not least because of admiration for her uncompromising attitude to the lifelong pain and physical limitation bequeathed by a spinal injury incurred at age eighteen. The modern resonance of this and other aspects of Kahlo's short but intense life – her feminism, her bisexuality, her miscarriages, her complicated relationship with fellow-artist Diego Rivera, her revolutionary politics and her championship of indigenous people – have seen her inspire artistic projects as diverse as big-budget Hollywood movies and a challenge in the 2021 chapter of twee BBC dressmaking competition The Great British Sewing Bee. The Guardian recently declared that Kahlo is now so fully absorbed into mainstream culture that "she has become, effectively, a brand".
Neither is The Mask the first collection of poetry to have its roots in Kahlo's story. Horan herself published an earlier collection (Self-Portrait) on the same subject in 2019; there is also Pascale Petit's T S Eliot Prize-shortlisted What the Water Gave Me from 2010. As with them, each of the poems in The Mask offers an interpretation of a different artwork by Kahlo. In the 'Letter from the Author' that serves as preface, Horan expands on this, saying that the poems represent "the painting married with my bond with her – our shared meta-narratives – our struggles with identity, men, gender, bisexuality, loyalty, politics, aversion to stereotypical roles made by men and society for women to be entrenched in".
So given the current ubiquity of Kahlo, does The Mask tell us anything new? In terms of technique, Horan translates the methods of plastic art into poetry with jerky, disjointed lines that mimic the quick strokes of a paintbrush. Overtly erotic content ("below in the Garden – subtle caves/She keeps for you – assuage your lust down under") underscores Kahlo's unapologetic sexuality. Short stanzas piled one atop another other concretely evoke the bones of the spinal column divided by intervertebral discs. But as with all ekphrastic poetry, the most interesting questions are around whether its real subject is the original artwork – or the poet's reaction to it.
In the case of The Mask, this is further complicated, as suggested by the title, by ideas of Kahlo's hidden – or divided – self. Horan conveys this stylistically by rapid switching between English and Spanish. Thematically, the emphasis is on Kahlo's mind/body duality, made more complex by the interplay between the limitations of her actual body, wounded both physically and metaphorically, and the perfect body she inhabits in her mind. Sex is the beyond-reality realm where the three can unite, but the opportunities it offers are clouded by Diego Rivera's multiple infidelities: "I go to heaven in my mind./You take my body there/When you want to."
One feature of The Mask I struggled with was Horan's insertion of herself into Kahlo's posthumous consciousness. From beyond the grave, Kahlo speaks both to Horan ("Make a new stanza here, please – Eli -/Make them into cold rooms") and about her ("the orphaned fetuses we share – Eli/and I – the guilt, the blame, the improvised birth control"). Part of me saw an arrogance in Horan's apparent belief that she and Kahlo enjoy a special relationship; but viewed another way, Kahlo's influence and bestowal of meaning on another woman's life could be seen as a form of healing for her divided soul.
On the back cover of The Mask, the writer John Dorroh praises it with the words "Horan has…become Frida". But the thing is: we already have Frida. We don't need anyone else to be her. The question now is more one of how we use her legacy. When this legacy is 'a brand', the risk is that its impact becomes blurred by shorthand and superficiality. Through engagement with Kahlo at the personal level, The Mask is attempting – if you like – to get behind that mask. But it's also part of a broader cultural narrative. If we as a society choose to see ourselves reflected in Kahlo's life and art, that in itself is a commentary. We are Frida. Frida is us.
---
The Mask is available for online purchase from The Broken Spine poetry and arts collective.
---