REVIEW: CATHY GALVIN'S 'WALKING THE COVENTRY RING ROAD WITH LADY GODIVA'
By Stella Backhouse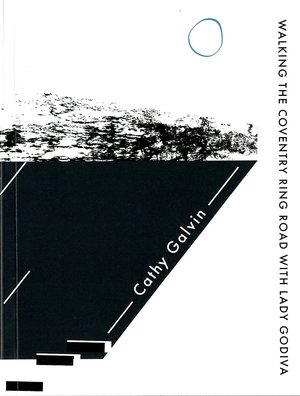 Reading poetry about places you're familiar with is always special; so when I found that Cathy Galvin's 2019 chapbook Walking the Coventry Ring Road with Lady Godiva enshrines the suburb I call home in the very first line of Canto I, how could I resist? This bijou collection impresses first as a small object of artistic desire. A scant fourteen pages of poetry are slipped between impressionistic illustrations by Kristy Campbell that set the confident modernist lines of the city's post-war architecture cheek-by-jowl with the blurs and smudges of a less definite past. But like minimalism itself, Walking the Coventry Ring Road is more than the sum of its parts. Part memoir, part love-song to the unique landscape, carried around by each of us, that is the one imprinted from childhood, it's about how our relationship with that landscape changes over time.
In its division into cantos, its inclusion of a spirit-guide, and its structure around the circles formed by Coventry's vanished Medieval walls and the modern highway that ghosts their footprint, Walking the Coventry Ring Road owes something to Dante's Divine Comedy. And as with Dante's story of the journey from sin to redemption, Coventry too is a city that over centuries has cycled from destruction to rebirth. Side-by-side with Lady Godiva, Galvin commemorates the dissolution of Coventry's monasteries, the Coventry Raid of 1940, the proud achievements of migrants from every corner of the globe whose sweat and toil not only re-built the city post-war but turned it into an industrial powerhouse, and the cultural legacies of Coventry-born Poet Laureate Philip Larkin as well as the two-tone era.
Elegantly fusing the past and the present, Walking the Coventry Ring Road takes us on a new journey of its own. From childhood and adolescent tendencies to simply take our surroundings for granted, it moves to an understanding of the past, how the past has shaped the present and how individual lives are situated within its flow. The River Sherbourne, currently culverted and invisible beneath city centre streets, is symbolic of this continuity but also of the hidden-but-present past that walks alongside us all, if we know how to see it: "By Whyte Freres House, I take the bus".
Alongside the idea of forward flow, the circle is also of obvious symbolic importance: Galvin ends her collection where it began, with repetition of the first poem. This is not as paradoxical as it might seem. Cathy Galvin no longer lives in Coventry; but while the geography of her youth continues to exert its influence, her relationship with it has changed as she has grown older, gained insight into its background and meanings and so into her own life. Anyone who knows Coventry will recognise Galvin's landmarks: The Locarno (now Central Library), White Friars Monastery, London Road Cemetery, and will perhaps begin to see their own relationship with the city in a new light.
---
Cathy's pamphlet is available to purchase online, direct from publisher Guillemot Press, as well as other bookshops and retailers.
---