REVIEW: ANDY WILLOUGHBY'S 'TOUGH'
TOUGH BY ANDY WILLOUGHBY
SMOKESTACK BOOKS
ISBN: 978-0954869151
£5.99 / 78 pages
---
Reviewed by Stella Backhouse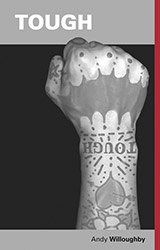 Ghosts stalk the pages of Andy Willoughby's 2004 collection Tough. They catch you in the opening poem and lead you through Whitby's vanished whalebone arch, physically gone* but remembered "by the old folk/late at night…who claim its influence/can still be felt". They're seen in glimpses in the Eston Hills above the poet's native Middlesborough, where sometime iron miners are "carrying a broken body down/from the cathedral/caverns underground/that swallowed hundreds." They arise as snatches of Willoughby's own life, the discomfiting "sudden self's spectre" that flares up exactly when it's least required. They merge in riotous unity at Middlesbrough FC's League Cup Final victory of 2004, "This generations-spanning mind-flash/of public memory and personal past".
Many of the poems in Tough are moving elegies for the heavy industries of the Tees estuary; but they are also palimpsests through which the past, never far beneath the surface, sometimes shows its ghostly hand. In McDonald's the "sons and daughters of shipbuilders and steelworkers" exchange "Bessamer furnace…for deep fat fryer,/foundry sweat for stench of melted cheese"; while the study of working class history, says Willoughby, "marries my working life to the working dead".
But this ambitious collection is much more than just another meditation on growing up in post-industrial northern England. Inspired by the Beat Generation American novelist Jack Kerouac, Willoughby is a traveller, and the collection includes poems that explore his relationship with the cultures of other countries, in particular the USA and Finland. His love of Greek mythology, fostered by his grandmother, is evident in poems such as 'Orpheus in His Cups' and 'The Icarus Variations'. Meanwhile, 'For My Patron' and a series of poems about a friend called James discuss the dilemmas and compromises faced by the poet who also needs to make a living from their craft.
But beneath this diverse range of subjects, the search for male identity in a time of industrial restructuring is, I think, a constant. The title poem is about a self-styled 'tough' man who shows his vulnerability when he picks up his lover's shoe and "noticed for the first time/how tiny were your feet/as I held the leather in my hand/like an injured bird".
The word 'tough' is also integral to 'The Flesh of the Bear', a long and complex poem about an Easter visit to Finland which weaves Kerouac's hard-drinking, hell-raising brand of masculinity with fear of flying, male bonding, spiritual unfreezing and rebirth through contact with nature and "the timeless blessing of friendship". (And incidentally, as a Coventrian who'd lazily assumed that the word 'sisu' was some kind of acronym, and for whom its associations were entirely negative in every conceivable way, it was interesting to discover that the name of the hedge fund sponsor that owns my city's football club actually describes a defining aspect of Finnish identity.)
The final poem, 'Prelude to the Twocca Crow King' returns to the relationship of the past to the present in the form of an inward-looking-outward-looking walk through the Eston Hills with a group of Finnish poets visiting on an exchange. The ruins of the industrial past, decaying now and prey to the inevitable graffiti artists, are re-conceptualised by Willoughby as Norse epic of men who gave their lives "to drag out ore for the world's need,/to be smelted into a serpent of shining steel/that encircles the world like the Ragnarok beast". But they are also a place of personal significance – "the first cold kiss of mortality's intimations/after that first splendour in our hill's wild grass" – and as "our own Wuthering Heights", they acquire added dimension through cultural insight.
With its mingling of tenderness and nostalgia for the places and characters of our youth with an adult sensitivity to the ominous darkness that lurks beneath, Tough pulls off the unlikely feat of investing the environs of a Middlesbrough housing estate with an unsettling frisson of Nordic Noir. "The dark keeper of the secrets of these hills/harbinger of death, and saint of outlaw survival" is a reminder of an older, less comfortable narrative, whose mysteries are closer than we might like to think.
*Since the publication of Tough, I believe the Whitby Whalebone Arch has been restored.
---
Tough is available online from Smokestack Books and Waterstones.
---