INTERVIEW: FIRE & DUST MEETS DANGERMOUSE#
If you're trying to get out of bed for the fourth day running,
I hope you make the stairs.
If you're looking to share the load,
I hope your next text ain't Domino's.
And if you need to get out,
I hope the next time you get trolleyed ain't at Tesco.
If you're the quiet one,
I hope it's empty on the back row.
And if you're stuck on a bus,
I hope you're sat next to the world's most interesting window.
I hope.
If you're in recovery,
I hope you're welcomed to the flock.
If your hands cradle the cracks of the half empty,
I hope you don't lose a drop.
If you can't keep going, I hope you stop,
And if you're walking on eggshells,
I hope it feels like hopscotch.
If you're lost,
I hope you know there's no map.
If you take steps,
I hope you don't dare to look back.
If you drift turbulent tides,
I hope the clouds part
and you slip away in the sunrise.
If you're the first to serve,
I hope you get the last slice,
And if you're searching for an escape
I hope you find paradise.
If it truly hurt,
I hope you sobbed.
And if your heart's guarded,
I hope you get robbed.
I hope.
If you smile in the face of disaster,
I hope they never spot your grimace.
If you're looking for your voice,
I hope you know you're,
really, really, really, really warm.
If you're waiting for diagnosis,
I hope there's more for you to do.
And if you're greedy ,
I hope you bite off more than you can chew.
I hope.
If you stitch wounds you had no part in,
I hope you never run out of thread.
And for the people trying to make the stairs,
I hope you get out of bed.
_________________________– '\ getting there' by Dangermouse#
---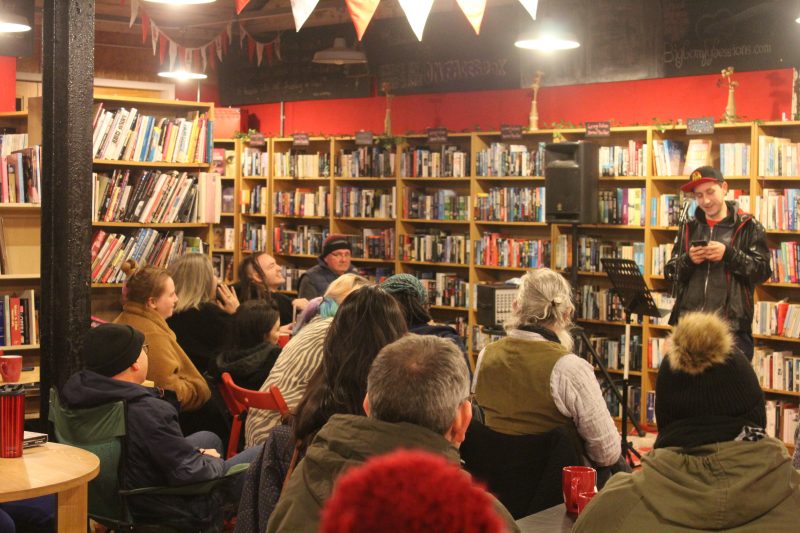 Dangermouse# is a Coventry-based poet who describes himself as "made and tested at Fire & Dust". The last few months of 2021 have been a busy time for him, as he recently completed his first writing commission – for poetry film 'Faith, Hope and Love', which was screened live in Coventry in early December. He also featured at Leamington Poetry Festival in October, as part of the 'Meta 4' ensemble, and in November it was announced he had won the 2021 Positive Images Festival poetry competition. In his poetry, Dangermouse# usually serves up a mixed bag of observations about life and society, seasoned with lashes and dashes of love, rhyme and surrealism.
On 2nd December 2021, Dangermouse# was the special guest for our final Fire & Dust poetry gig in The Big Comfy Bookshop. (New venue TBC.) As a loyal regular over the past four years, who has developed into a much-loved part of Coventry's poetry community, Dangermouse# was the ideal choice for our farewell to the bookshop. We caught up with him after the gig, to ask a few questions…
---
HCE: Tell us a little about your background and journey as a writer so far. What inspired you to start writing and performing poetry?
DM: In the beginning, it was music that gave me a sense of conveying real meaning with words. With more spoken word style performers like Scroobius Pip and Mike Skinner plus a big mix of UK grime and hip hop, in hard times and times of clarity, I found myself summing up thoughts and feelings in these kinds of ways. And after a particularly hard end to a long relationship, I had enough to share and push me to this space, and I have been turning over every rock along the way and telling as many strangers about it as possible.
HCE: Would you say there are recurring themes or motifs in your work?
DM: I would like to say truth; not just the hard truths or unseen truths that are for impact and shedding light, but awkward truth, like the lies our parents tell us that worked out and maybe more that didn't. But mainly these truths revolve around a character, whether played or observed. But, overall, I like honesty told as accurately as possible. This can be anything from pixies and tree golems, to the real reason why you never faced your fears, all the way down to a spot-on portrayal of someone's grandad watching Countdown every Sunday. And that's part of the beauty of writing for me: it doesn't have to be anything but honest.
HCE: Talk us through your writing process. Dangermouse# poems tend to be brimming with powerful figurative language. Does the imagery come to you first, or is that something you craft later during the editing stage?
DM: Well, when I started, I was well and truly hit by lightning and I wrote every passing thought and whimsy I could, and then the best lines would be refined or expanded. If I was having a good few days, they would almost start piecing together through what felt like a mental spilling. But as I got better, the amounts of effort and forced concentration became less and less, and while I still keep a notepad handy or anything to take some lines down, generally I think fairly visually. And when I just go out and interact with the world, there are flashes of like concise in moments and these can be out living or a ruminated idea from the past week, and these are where some of my more impactful or intense lines or images have come from. But I would say nothing beats a good workshop and nothing proves a workshop's worth more than the audience's feedback when you share.
Before lockdowns, I was fairly active writing – to at least have something new, whether that was one or more, to bring to an open mic at least once a month. But over time as you exhaust and push past the writing shell, you find where you really want to be. And then lockdown hit and I was, for what felt like forever, trapped in not having anything to write about that I felt I knew enough truth about to comment on. Over time, I realised I need life moving around me, things I understand, mixed with a bigger bag of what I do not – then the pad is open, all you have to do is be curious, let your mind ponder and let the pen fill the gaps.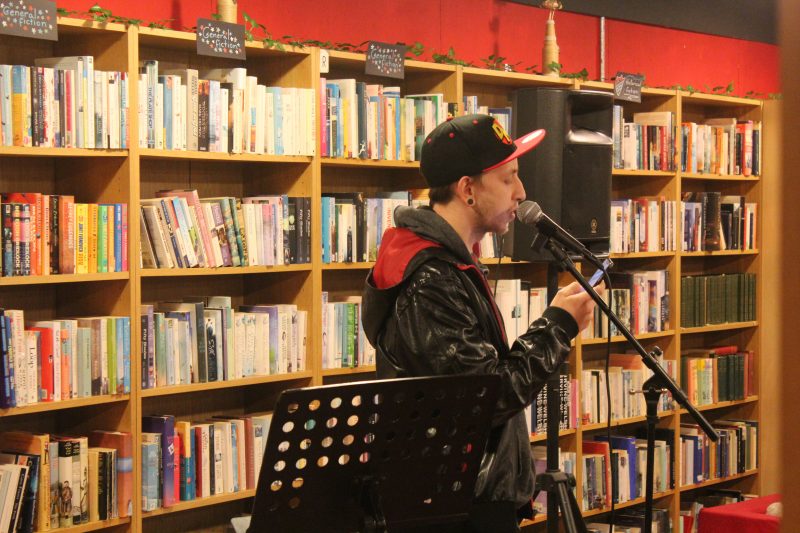 HCE: Who is your work aimed at – do you have an ideal audience in mind when you're putting a poem together?
DM: My work is usually aimed at the person the work directly speaks to, because truth is like rain: it don't care who it falls on. But I'm usually appealing to a person about their state or their situation. Whether the victim or the aggressor, I mostly try to directly interact with the sickness I can see or at least the next step in a better direction.
HCE: We enjoyed your Fire & Dust set and believe your confidence level has grown over the years we've seen you performing. Any tips for beginners on how to shake off the nerves and be more engaging on the mic?
DM: Well, I would say be as nervous as you want, it ain't going anywhere. You just learn to ride it and, with this in mind, build from where you are. If you can't look up and read, read and be clear; be aware of hearing your own voice back through the speakers, but only so you know you're being heard and then your internal voice can take over and you can raise the level over time. By doing that consistently, you one day look back and you're just doing it without thinking, it becomes as normal as coming home. But I will say practise reading aloud until it sounds like you're talking and not reading, and then it truly comes out how you meant it to while writing it and it is its own reward. But, ultimately, you gotta walk through the fire.
HCE: Your poetry has its dark sides but often also offers flashes of hope. Would you say you're more inspired to write by the negative or positive things in life?
DM: I'm not sure how conscious it is of me, but I often like to push back against the negative with universal wonders. But, for the most part, wonderful things almost speak for themselves unless it's a flash or just a light glimmer in darkness you could even mistake for a shake in the eye of a person that doesn't believe they can see the light. While these are mostly common things, it's rarely used as an underdog story, only a cautionary tale; and if there's effort, they're not out yet, and if you're not out yet I'm on your side and…well, I just have to tell others. Small victories mean more when all you have seen is war.
And for me, ultimately, if your life is a runaway carriage and you have lost control of the rains and are bounding into troubles or off the edge of a cliff – no matter how hard or fast that's coming towards you, if your goal isn't to try and grab the reins, get between the horses and do the best you can to gain back control. Otherwise, everything is pointless if we're not trying to make things better even a little. This is hard, but even loosening the tight grip and attempting to shuffle closer to it should be celebrated.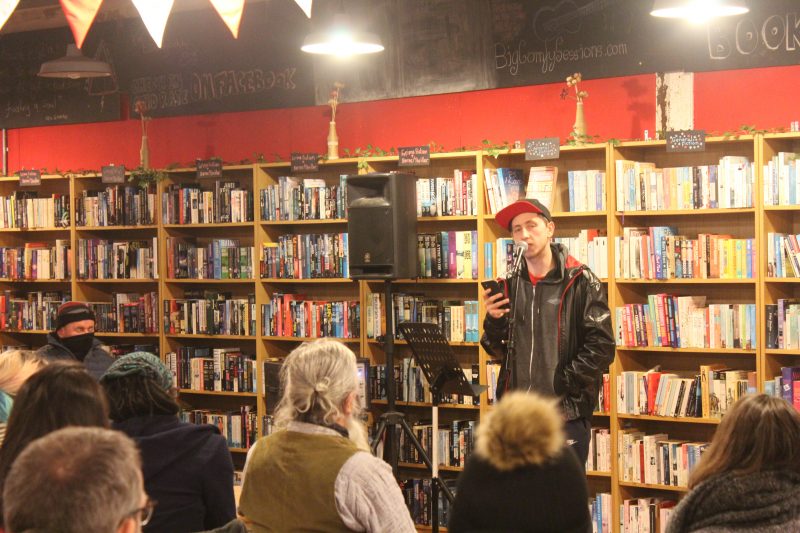 HCE: It can be difficult to balance our writing ambitions against the stresses and responsibilities of working to pay the rent, etc. In your opinion, does the world of poetry do enough to represent and appeal to working-class lives and voices?
DM: With respect to a lot of poets, we're engaging more backgrounds and genuine voices but the people making these strides are, more often than not, from an academic base and not a life one. As such, the real glints are often missed or not refined enough for some, and they rise slower but have more substance. Although I should say I'm trying to speak to this from the point of view of the people being missed out – because if the kid who fails English can't relate to the life of someone who did well academically, they're not represented, and over time it seems to have stuck. And the big reason I mention this is music and how converted it is, and poetry can be just as rich but again music is associated with freedom or discovery and the people being missed are losing out but not as much as with poetry.
I would say it's likely more a school issue then a poetry one, overall. Poetry in schools is enforced with whoever was approved and usually carries an air of dread over it, as teens are being forced to empathise and extract from what feels like a very sterile place for what poetry can really do for people at the times in their lives where they're the most unsure of themselves. This is maybe my own experiences, the on-the-spot nature of it in lower educated classrooms – you don't get the same sense of dread if you have confidence in at least your literary skill and general successes. And while this is valid and what's hoped for many, I would say in all honesty I have seen more talented people waste their lives in fear of the one moment in class where the room looks at them for an answer, so the biggest poison for poetry is thinking it's that moment and not the gem found at the bottom of the pile of coal.
HCE: What type of poetry do you seek out for personal enjoyment? As a reader/listener, when you engage with a poet's work, what are you hoping to get out of it?
DM: Anything that touches me or hits a chord, but for the most part learning or seeing how the poet is through their expression or use of words is really fulfilling, and if you really enjoy them when you read their work you can literally hear it in their voice in your head and it's like you have made a real connection to that person or poem. And that's a gift you can take home and add to your own experiences or insights.
While I do favour hearing performances over reading poets, I have found some real love for the older more classic printed poems by Dylan Thomas or Sylvia Plath – but with poets like Sophie Sparham and Jamie Thrasivoulou pushing the public boundaries of spoken word in the Midlands, along with others more local to Coventry like Matt Black and Barry Patterson, and even the more globally-known Andrea Gibson: every time they perform, I catch a bit more of the bug.
And this may be a poetic no-go, but I can't say I have a favourite collection.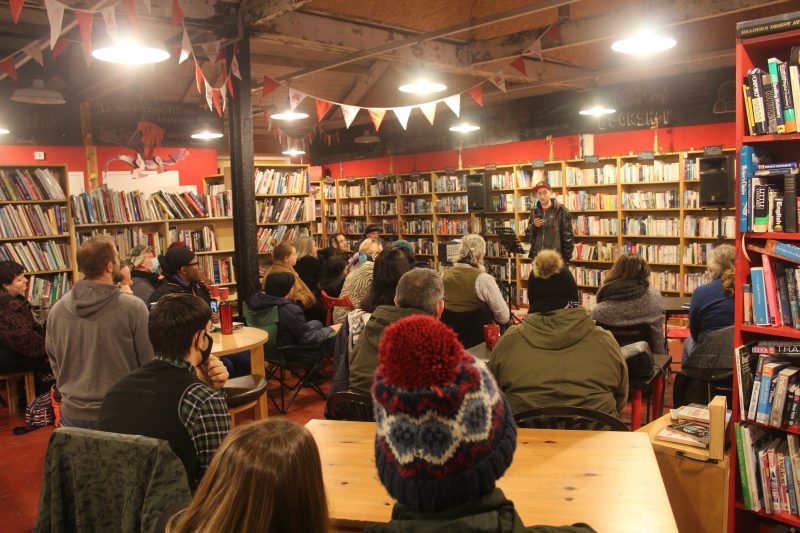 HCE: What, in your opinion, are the essential ingredients for a good poetry open mic gig?
DM: Well, venues' facilities and space can be argued as essential, but for the most part, it's the hosts and the feel of the room. Most open mics I have been to have been friendly, but not all are engaging from the on-set and it's not about the mic or the poetry – it's usually the host's job to make the audience feel at ease before being anywhere near a mic. All good hosts ask questions like how did you find us, is this your first time, do you know the toilets are over here, and while this is a small thing in most areas in life, at poetry nights people are often the most wound up or pressured and can shell up easily. But the fewer questions that have no answers so there's not an active static, the better, because it could be the last straw that makes them rethink reading and those people often have the most to say. It's usually the best thing for someone in that position to just go through, to know it's possible…but it's always better to ride into the unknown on comfy seats.
The only other thing I would say is try and bring in people that don't like poetry 'cos then you get honest feedback and you can also truly learn how quickly they convert.
HCE: Is there anything we didn't cover that you'd like to share with our readers?
DM: There is one small thing, almost a tidbit, from when I started watching poetry and seeing headliners enthral rooms – I still can't quite get over how they join the audience after and enjoy along with you, like rock stars among the common folk. And then it sinks in that they're just normal people and that normal people have this power and things in life seem a lot closer to you then they did before. Well, at least they did for me.
HCE: What's the best way for people to keep connected with you and your work, or contact you for bookings?
Email: scotthealy at mail dot com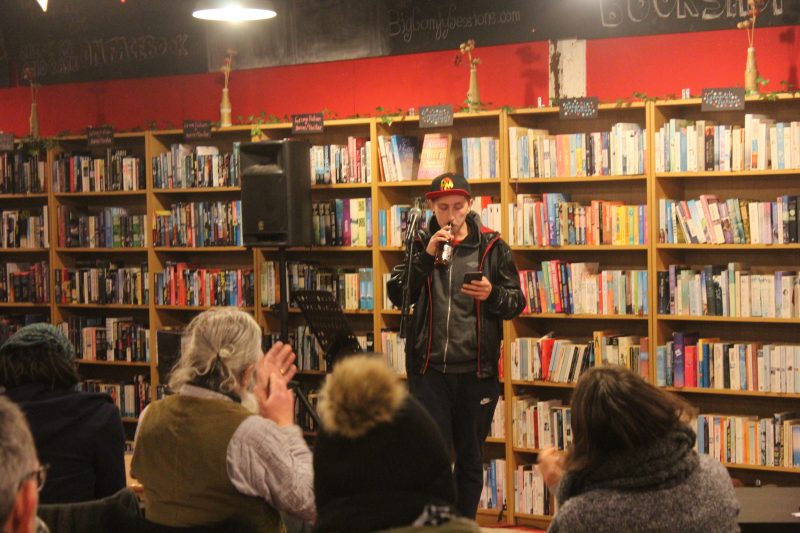 ---