INTERVIEW: FIRE & DUST MEETS LAURA POTTS
Interviewed by Raef Boylan
---
"Dappled chant and dark, ahead the blood-bright night
and first-light glass of gasping Eve, winter's heave
hangs always here with heads that bow before the vow
to never grieve the leaving eyes of youth. Truth
is lost and winterworn. Borne away on snarling winds,
the greening drop of spring falls from my hair. The cleric's
cloak is a darkly thing. My deeper, deeper throat
receives the gloaming sermon there, heir of the berry
dreamt to bursting in his hand. Damn the vestal
up-and-swung of lust that Woman loved, budblood
and the Garden singing skin and pink bouquets, but
turn the tongue beyond the Book and in the darkest
places hold the harvest fruit and look above and long
to lasting-touch the apple that is loathed so much."
____________________________________________-excerpt from 'The Body Broken'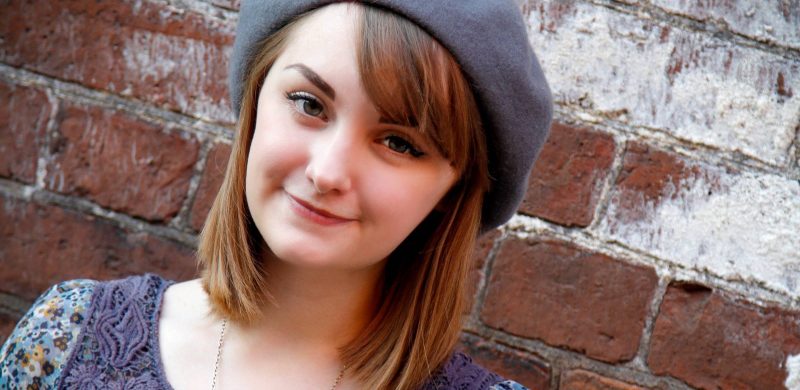 Laura Potts is a poet and writer from West Yorkshire. She began to write poetry at an early age, winning The Foyle Young Poets Award (twice!) while still at school. During her time as a student, Laura moved to Swansea to work at The Dylan Thomas Birthplace and write for The Dylan Thomas Society. In recent years, her work has appeared in Agenda, The Moth, The Poetry Business Book of New Poets, Aesthetica and Poetry Ireland Review (we also published Laura in The Classified Issue of HCE). As one of the BBC's New Voices in 2017, she was commissioned to write radio drama for BBC Radio 3; her first production, North and Mourning, featured the voice of Carnegie-Medal winner Berlie Doherty and was broadcast on The Christmas Verb.
Laura has been the recipient of several awards, including The Bristol Poetry Prize and The Mother's Milk Writing Prize. In 2018, she received a commendation from The Poetry Society. Last year, she was nominated for The Forward Prize and she was shortlisted for The Edward Thomas Fellowship in 2020. Her most recent commissions have been for BBC Radio, The International Anthony Burgess Foundation and The King's Chapel in London.
HCE booked Laura as the headliner for December's Fire & Dust poetry night, knowing her words would magically transport us out of this crazy year, if only temporarily. We caught up with her after the Fire & Dust gig, to ask a few questions…
---
RB: Can you remember what compelled you to create poems – for instance, was it encouraged by teachers? (I started to write stories and aspire to be a writer when I was five, and it bugs me that I can't recall the influential moment or chain of events that sparked it all off!) And at what age did you realise poetry was going to be an important thing in your life?
LP: Hi Raef! I wouldn't say there was a particular moment when I decided to write poetry. It grew quite naturally from my childhood. I consider myself lucky to have had a set of grandparents who adored me. As an only grandchild who was born very late in their lives, I was the novelty who never lost her charm. By day we played in their wild summer garden; by night my grandmother read by the fire, folding me up in her dressing-gown. There will always be something eternally comforting about books, probably because of the memories they hold. They have an infantile joy about them.
But poetry – where did that come from? I think it must be the music. Prose is words but poetry is melody. It's a form of composition. The words are lovely on the tongue. You don't say a poem; you sing a poem. They have a song of their own.
RB: Would you say your work is haunted by any recurring themes?
LP: Of course. Loss is always a good ghost. Loss and absence, darkness and night, the lone dark watcher on the empty street – these are my common hauntings. They aren't intentional. The poems just call and I answer them.
It's interesting really. I never set out to write a poem about something specific. These ghosts – the loss, the watcher, the empty fields at night – show me what I choose to see in the world. I never write about, say, the hustle-and-bustle of cities or technology or politics. I rarely write about romantic love. But, like holding a mirror up to myself, there's always the watcher in the quiet.
RB: What was your journey into sharing your work with live audiences? Were there any challenges in finding a community, or did the local area already have a thriving poetry scene?
LP: I was lucky really. Wakefield already had an amateur writing group during my teenage years and I joined them when I was fourteen. We would sit around a table in the upstairs room of a musty pub on a Tuesday evening. I was the youngest member, the majority having joined as retirees who had taken up writing poetry as a new pastime. It was there that I learnt to share my work. The chairman, John Irving Clarke, a man who has remained a good friend of mine, asked me to read with Ian McMillan a few months later. Whoever Ian McMillan was, he was big news. It was snowing on the evening of the reading and people came from the far country of Lancashire to listen to him. And that was how it started.
No, Wakefield didn't have a thriving poetry scene. It still doesn't today. It will probably always be seen as the straggly, forgotten limb of Leeds. Which is a shame really because it's culturally richer than the surrounding cities in many ways.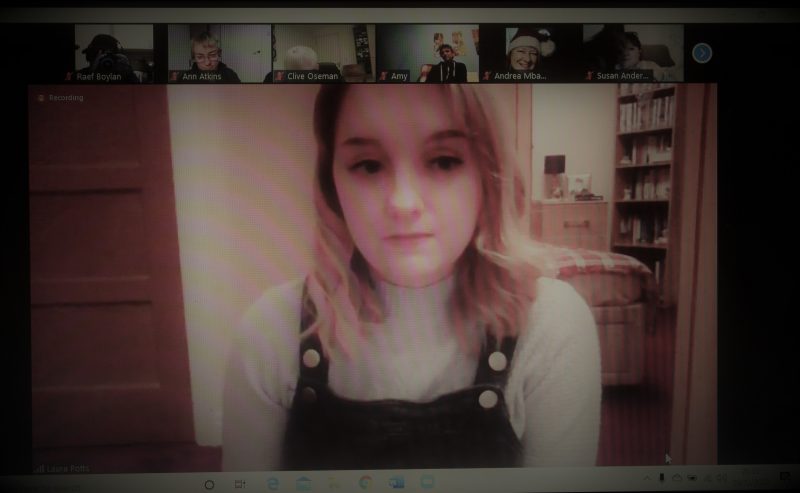 RB: Do you most enjoy poetry on paper or in performance? Do you think there is a difference between writing for the page or the stage? 
LP: Difficult! If I had to choose, I'd say that I enjoy reading poetry on the page, alone and aloud, at home. There are some poems I like to linger over and I can't do that by listening alone. There's something peaceful and private about reading. I find it meditative, almost spiritual, and I like to preserve the sense of safety and sanctuary it brings.
The old rivalry between page and stage is something I wouldn't really know. I try to write to hold a mirror up to myself; to see myself reflected in it. I write plenty of poems which the world won't see. I think it's really about finding language which is adequate enough to bear the depths of your emotion. Whether that means quietly writing private poems or standing on a stage and swearing, it doesn't really matter to me.
It used to. I used to have a very different attitude to the page/stage debate. But as I've grown into adulthood I've also grown into my politics, which has guided me in recent years to more temperate views. 
RB: For me, your poetry often treads a path between highlighting the bleakness of life and the beauty that exists. Do you ever have to battle it out when writing, to decide which direction feels more truthful, or do the poems themselves guide you there?
LP: Time guides me. I'll often begin a poem, leave it alone for three months and return to it when time has given me a fresh perspective.
Poetry is all about novelty. It's about finding a way to convey a feeling, an image or a sound with language which is startlingly new. The two work in tandem. There's no battle between which is more important. The battle is between one doing justice to the other; between language illuminating the emotion behind it. That's the real war. If you have one without the other, the poem will be stillborn. I think Sylvia Plath said something along the same lines once.
RB: When working with forms of writing that are not poetry, such as radio drama, do you find that you need to step into a different writing process/mindset?
LP: Yes, of course. I have to consider the medium I'm writing in. With radio the only medium is sound, so the key is to write accessibly. Lapsing into Shakespearian verse wouldn't do. There's no time for the listener to pause and repeat, to read it again, to turn the page back and start from the beginning. Radio is an instantaneous medium. The writer has to say it right first time.
RB: Have you found it tough writing this year, or has the Covid-19 pandemic been a source of inspiration? Any advice for readers who might be contending with writer's block?
LP: In some ways the pandemic has returned the quiet to my life. I've spent valuable hours at home, learning to love the things that modern life had gradually eroded away. Reading and writing, playing the piano, watching bad films on quiet evenings. It's good for my mind. And the poems have gradually grown from that, little children of the quiet. 
I mentioned it earlier, but the most important element in beating writer's block is time. You're blocked because your mind is tired. So, give it a rest. For some writers that might mean taking a couple of days off to do anything except writing, but for others it might mean months. I'm part of the second group. But I've gradually learnt to enjoy my absences from the page. They're necessary. Necessary to think and to step into perspective. Try not to worry. Be kind to yourself.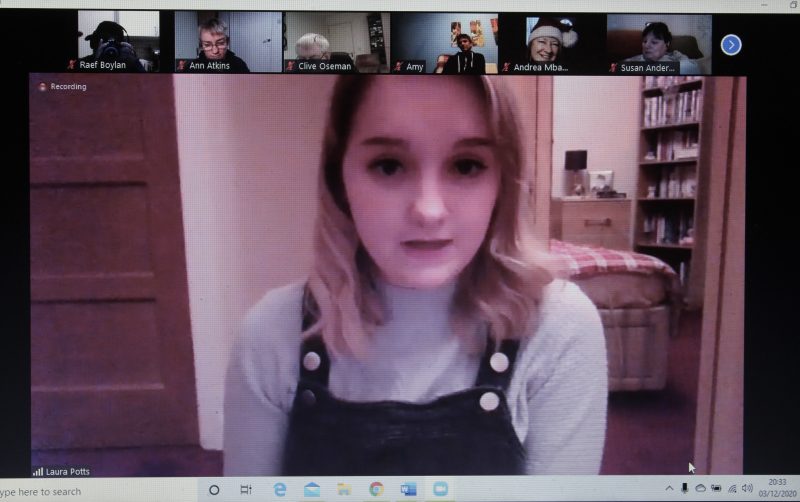 RB: Who are your biggest influences – when you read, is it predominantly poetry that you engage with, or does inspiration come from elsewhere?
LP: I tend to have a book of poetry and a novel on the go at the same time. Liz Berry, Carol Ann Duffy, Dylan Thomas, Sylvia Plath… I return to them again and again. Imagistic writers whose poetry shows a love of music too. There's something dense about their work which compels me to read it – and listen to them reading it – at the same time. I love their speech, their oratory. They sing every word. Especially Sylvia.
And then there's music. Leonard Cohen and The Cranberries, Radical Face and The Smiths. I like their glamorous despair. There's something about the saddest songs in the world being put to happy rhythms. That kind of despair resonates with me.
RB: It's not a simple question to ask or answer in 2020, but…what projects/gigs are next on the horizon for you?
LP: Who knows! I'm quite content to stay at home at the moment, reading and quietly writing. I've stepped back from public events recently, partly due to Covid and partly because I like my private self. The more time I spend with that person, the more I enjoy her company. And that's a good place to be.
I suppose I've been working on my first collection for a long time, so I'd like to send that out into the world soon. Let's see what the new year brings. 
Please plug any links/social media you'd like to share here:
Twitter Website The Writing Squad
RB: Is there anything we didn't cover that you'd like to share with our readers?
LP: Yes! Just a small thought for the new year. I recently heard Roger Robinson say something along the lines of this: 'you're the only one preventing your own achievements'. It's stayed with me. I hope it stays with you too.
---