INTERVIEW: FIRE & DUST MEETS KATY WAREHAM MORRIS
MAKING TRACKS BY KATY WAREHAM MORRIS
V. Press
ISBN: 978-1-8380488-0-8
£6.50/32 pages
---
You were ruled by the track that sliced through the factory,
that carved the operating chaos of your life,
me too, by the blood in my arms –
the cartographic lines drawn in the grass laid before me
[…]
_________________________From 'Metamorphosis', Making Tracks, p.18
Katy Wareham Morris is a lecturer in Media & Culture and Creative Writing at the University of Worcester, UK. In May 2018, Bristol-based, experimental publisher Hesterglock published Katy's debut poetry collection Cutting the Green Ribbon, which is "a collage of womxn's voices". Her poetry duet with Ruth Stacey, entitled Inheritance, was published by Mother's Milk Books. They launched the pamphlet at Ledbury Poetry Festival, and it later won a Saboteur Award in 2018 for the Best Collaborative Work. Katy's most recent publication, Making Tracks, is a pamphlet exploring the working life of her dad at the MG Rover car site in Longbridge, Birmingham. Making Tracks was published in September 2020 by V. Press, and it interrogates the connections between local and social history, memoir and family.
Katy is currently working on her critical / creative hybrid PhD research in literary gaming, play and post-queer politics, part of which involves developing methods of collaborative digital writing practice. Katy often gives papers and workshops at prestigious academic and writing conferences including NAWE, as well as performing her poetry at local and national literary festivals and spoken word events.
On UK National Poetry Day 2020, Katy was the headline guest at our Fire & Dust poetry event. We caught up with her after the gig, to ask a few questions…
---
HCE: What has been your journey as a writer so far – for instance, what first attracted you to poetry, and do you work with other genres/artforms too?
KWM: My love of poetry began aged 7, when my father gave me my first poetry book: Wordsworth's Collected Poems. I fell in love with the descriptions of the natural world and how it seemed to unlock the safety and freedom of the imagination. From then I was committed to poetry and writing.
At university I discovered the work of the Modernists, particularly the Imagists and Dadaists. I particularly enjoy the work of Katherine Mansfield and H.D. I became very interested in the combination of word and image at this point and how they could symbiotically inform each other. As I continued my studies, I was particularly intrigued by the work of the Beat poets, and Diane di Prima's Loba poems especially. I was inspired by her bravery and honesty before second wave feminism, working to redefine 'womanhood' and 'female' experience.
I am inspired by the work of the postmodernists as I find it intriguing how they used unusual space on the page, realising that the blank space could be just as significant as the words.
I also like to work with digital elements to create digital poetry. I have some poetry films on my YouTube channel and I'm currently designing a poetry 'game' that will be dispersed across many multimedia internet channels and platforms.
HCE: Is there a particular goal you hoped to achieve when you created Making Tracks?
KWM: I hoped first and foremost to give my dad a poetic voice. At about aged 17 he decided he wanted to be a writer, but life got in the way. Even as we got older, he would always say that he didn't have the education or background to be a writer, and what would he write about anyway. I wanted him to realise that his life experience, written in his own authentic voice, was and could be poetry.
Secondly, as the Rover Longbridge car factory closed just shy of its 100 year anniversary and there is very limited acknowledgement of its rich social history, having touched many families for generations, I hoped to record and memorialise the rich history of working-class experience, making it clear how significant manufacturing was for communities often at the very heart of it all.
HCE: Obviously, there are some recurring themes in this cohesive pamphlet. But, across your body of work as a writer, are there themes/topics you tend to return to?
KWM: Definitely! Identity is key for me – exploring and trying to make sense of my experience, often discovering that the way I live and indeed myself contradicts the perceptions others have of me. I am keen to challenge definitions and labels often used to appropriate the selfhood of others, including 'working-class', 'woman' and 'disabled'.
I also think space and place is very significant. For me when writing about my experiences of womanhood, the home when 'stuck' there breastfeeding constantly, or my office at work which I strived to achieve for nearly 11 years became very significant to what I was trying to explore and articulate about my identity.
HCE: What have responses to your pamphlet been like so far; are audiences connecting with the subject matter?
KWM: People have responded to the poems very positively, even those that do not live in the Midlands but grew up in manufacturing communities. This has been really positive, as for a long time neither Dad nor myself believed this was poetry. I am particularly encouraged when people also share their family stories and connections to factory life.
HCE: Here Comes Everyone is based in Coventry, where many workers and families have likewise been affected by the decline of the British motor industry over the years. From your perspective, what is it a city loses when a factory like Longbridge closes down?
KWM: For me, people underestimate how integral a factory can be to a community – it is often its heart. It's not only significant for the workers, but their families: manufacturing often runs in generations. And not only those directly connected, but often local shops, hairdressers, gyms and other local businesses rely on the custom of the factory staff.
When a factory closes, the town and community lose everything – the hustle and bustle, the dynamism of their connectivity and, of course financially, but ultimately emotionally becoming dislocated from so many and the way of life they have known and that was passed down by elders.
HCE: In relation to writing poems about your dad and the car industry, do you see yourself more as a narrator, commentator or observer?
KWM: That is a tricky question because, at times, all of these! I interviewed Dad and thought it was very important to validate his experience and working-class dialect by writing some of the poems directly, word-for-word in his own idiolect, exactly as he expressed the anecdotes and stories to me. I guess here I adopt the role of narrator, but I hope people hear Dad when they read them.
In the way I have structured the poetry, on the page, choosing anecdotes and found elements to include I guess I take on the role of observer. I do think I am also commentator, especially in the poems that interrogate my family relationships with Dad as a child and adult, and how this relationship has affected my own perceptions of fatherhood and marriage.
HCE: Working-class writers often experience 'imposter syndrome' when they interact with creative industries, and also if they enter academia. You're currently navigating both of these worlds – was imposter syndrome ever something you had to combat? Any advice for other working-class writers on how to shake off those pesky internal voices saying they'll never succeed and shouldn't bother trying?
KWM: I suffer imposter syndrome daily! This is something I'm currently wrestling with in the poems I'm writing at the moment – I am still trying to reconcile my working-class background and experience with the newly acquired 'status' afforded to me by working in academia.
My advice is, instead of pretending to be you're something you're not, instead of trying to live up to others' expectations, instead of trying to 'assimilate' – just embrace your working-class background and know that is enough and it is beautiful and just as valuable as any other experience. It sounds cliché but people say, 'write what you know' – in fact, I think this is great advice. Writing what you know is informed by honesty and authenticity.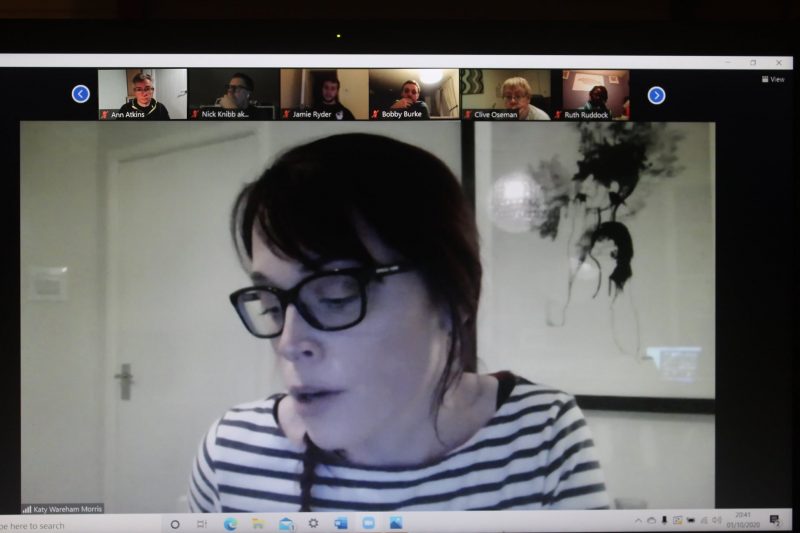 HCE: During the interval, our Fire & Dust crowd discussed with you the role of writers in documenting historic events, and how texts like your pamphlet are an important part of that. What sort of an impact do you think it could have on poetry, and the reception of poetry, if more poets regarded themselves as curators of social history?
KWM: I think this is perhaps linked to my previous answer… we've got to stop thinking of certain topics, themes or experiences as 'culture' and other experiences as just 'stuff' that happens. Everyday life matters, it's what makes us who we are and it creates the only culture we know – this should be enough. I see poetry as vital to recording human experience in whatever shape or form that takes, not just a vehicle for the typically 'beautiful', or charming or enlightening. As humans we are informed by our families, our surroundings, and often not 'high culture' epiphany moments! I think poets need to reflect and interrogate the world they know and how it effects their perceptions and identities. Poetry bears witness to how society and its people grow, change and develop.
HCE: If you don't mind wearing your Creative Writing Lecturer hat and Reader hat on top of your Poet hat… Is a "good" poem something that can be defined, and what do you believe are the essential tools for producing one?
KWM: That's a hard question! I like a poem that uses familiar imagery in an unusual way to interrogate an experience, situation or setting. I also think poetry appeals to the senses, so I'm interested in its visual as well as aural qualities and not just 'words on a page'.
HCE: Don't take that Reader hat off just yet! Do you engage with a lot of poetry yourself (as a reader/listener), and does this have a significant influence on your own work? Are there any poets in particular who've recently made an impression on you?
KWM: As I mentioned earlier, I particularly enjoy the work of experimental and hybrid writers. I find genre-blurring and innovations in form very inspiring.
In terms of contemporary poets, there are too many to name. My love of nature writing and eco-poetry has grown and I am a big fan of the work of Pascale Petite and found her to be a very generous mentor whilst on an Arvon writing course.
I was honoured when Andrew McMillan gave the endorsement for Making Tracks as I am a huge fan! I love the way he uses space on the page to create pace and rhythm; I am also interested in how he interrogates everyday experience and the identify constructions, such as 'masculinity'.
Recent faves of mine include: Rachel Long, Ella Frears, Sean Hewitt and John McCullough.
HCE: We enjoyed your Fire & Dust set. Have you attended many virtual poetry gigs since Covid-19 restrictions entered our lives? Do you find it more challenging to perform to live audiences via a screen, or are there some benefits compared to doing a gig in person?
KWM: I have attended some, and online workshops. I do find it tricky to 'perform' to a screen. I know you can see people, but you have no sense of vibe or atmosphere and I think this is a very crucial aspect of my performance. I don't think I read poems the same way every time, as I respond intuitively to the mood and non-verbal feedback of the audience. It is very difficult to gauge the feeling in the 'room' online.
I do, however, believe that virtual gigs and readings have been great for increasing the accessibility to such events for some people. For example, I myself suffer with Crohn's Disease and had to cancel a headline performance for Fire & Dust last minute because of the unpredictable nature of my condition. Being online, in the safety and comfort of my own home, has meant that I haven't had to worry if I'm not feeling 100% because I don't have to worry about travel, etc.
HCE: It's not been an easy question to ask or answer in 2020, but…what are your upcoming events/future projects?
KWM: As you say, so much is up in the air at the moment! I'm currently making some tweaks to a new pamphlet of poetry and I'd like to think that they may be published in the next 12-18 months. I also need to focus my attention on the creative, multimedia aspects of my PhD research in digital literary games.
HCE: Any links/social media you'd like to plug?
HCE: Anything we didn't cover that you'd like to share with our readers?
KWM: I'd just like to say, thank you very much for the opportunity to perform on National Poetry Day especially – that was almost like an 'official' seal of approval for dad and I that what we'd done and said about working-class culture and experience was worthy!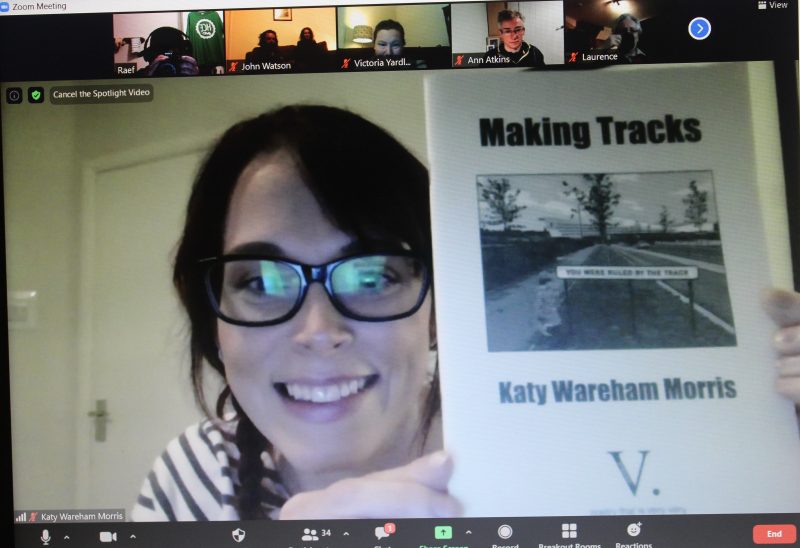 ---
Katy's Making Tracks pamphlet is available for purchase online from V. Press, and you'll find her debut collection Cutting the Green Ribbon on the Hesterglock Press website.
---