ART EXPOSURE INTERVIEW: HCE MEETS JOHN WHITMORE
Interviewed by Raef Boylan
John Whitmore is a talented Coventry-based photographer who specialises in traditional analogue techniques and uses his own dark room (in a shed!) for printing. His vast portfolio includes black and white documentary and travel, as well as commissions for behind-the-scenes and events work. He broadcasts monthly livestreams on his YouTube channel 'thedarkshed', to discuss and demonstrate various processes and techniques, and is also a co-host of the Sunny16 Podcast. At the start of 2020, John had access to Coventry Artspace's The Row and converted the studio itself into a temporary dark room and camera obscura. More recently, September 2020 saw the launch of his new arts zine: Choosing & Losing, with the second issue due for release on Friday 5th February 2021.
HCE decided to ask this darkroom aficionado a few questions about his hands-on workflow, artistic practice and plans for the future…
---
RB: Would you say there are recurring themes that you like to explore in your work?
JW: I feel like I'm only beginning to explore any themes as time passes, revisiting my images from months, years (decades!) ago. It's really interesting to see not only the technical improvements (hopefully) but also how the images reflect my state of mind and circumstances at the time.
I also really enjoy observing, learning, understanding and ultimately photographing what makes people tick – probably because I'm always questioning and searching for this in myself.
My current work is mainly focused on rebirth, for example my images of Coventry are a reflection on self-destruction, reminiscing, building strong foundations for a future without hopefully making mistakes of the past. And this is what has led me to creating my own quarterly zine of photography.  It's a new start, getting away from social media as much as possible but based on my photographic foundations.
RB: When did you first get into photography, and what has been your journey as an artist so far?
JW: There's a Polaroid in a box in the loft of me holding a camera at 3 years old, and although I can't claim to have been into photography from this age, this photo did have a significant impact on what I currently do. Prior to rediscovering this and other family photos tucked away, I was dabbling with digital photography – but this changed my direction and intent.  Combined with some significant life changes, I started to explore analogue photography processes, and haven't looked back.
I'm a leech of film and TV, primarily drama and documentaries, and have experimented with making short films myself.  It's something I would love to return to at some point given time and resources. If I see/hear something that inspires me, I tend to experiment with how it is made, not to any level of quality(!), just to experience it.
RB: Were you ever into digital photography, or has your preference always been for shooting film?
JW: As my back ache constantly reminds me, I'm of an age that analogue photography was the norm as I was growing up and I was lucky enough to experience darkroom printing for the first time in my 20s.  Soon after that the world seemed to go full digital, as did I.
For a long time, I was computer bound as a software developer but I've always been pulled between technical and creative and combining them.  As I became more focused solely on photography, analogue processes fit my brain perfectly with the combination of science and creativity. Fortunately, now, the technical elements are more meditative, real world and tangible than being in front of a computer screen. I love the connection from loading a film, capturing an image and producing a print with only light and chemicals. It's amazing holding a negative knowing that it was actually in the location (of time and space) when the image was captured.
If an image is purely digital, that connection can be lost very easily in my opinion.
RB: Among your works, which John Whitmore image or project are you most fond of, and why?
JW: Immediately my photography of Sri Lanka springs to mind, mainly because of my current longing to travel – even if it is just somewhere further than 10 miles from home! It was the last opportunity I had to travel before the birth of my daughter too, so will probably be the last for a while.
I also fondly look back at the behind-the-scenes photography in Coventry in 2018.  I had just apprehensively moved back to the region (I was born in Nuneaton) and spent some time exploring venues and meeting local artists (in fact, Raef, this was the first time we met, I believe!). I was completely inspired and motivated by the creativity of the people in the city.
RB: At HCE, we've found it much trickier to attract artists (vs. writers) to the idea of being published in a magazine. It's clear from your website that you have been both exhibited and published in a multitude of places. Do you see exhibitions and publication as being of equal value, or might there be a reason why the latter is less highly regarded?
JW: Completely equal value – but I guess it depends what your end goal is.  Exhibitions seem to be recognised as benchmarks, it's a very traditional and well-established mechanism of presenting work and it can create a more powerful experience for particular mediums too. Covid-19 has certainly shaken this up a bit though! I really enjoy going to exhibitions, but they are different experiences; physical publications are great for photography – there's a longevity to them.
I liken the experience to music.  A book/zine can be consumed in your own home when the mood suits, like an album or song.  An exhibition is more akin to a live gig – it is a performance, the work is delivered in a specific way that can engage and stimulate in different ways. And in the same analogy, each can complement each other along with other ways – websites/social media/TV/film/virtual galleries/virtual reality?! I'm a bit of a hoarder but you can't beat stumbling upon old magazines or books and getting lost in those photos for a while.
Specifically for my darkroom printed work, exhibition/prints are really the only way to experience the handmade prints.  Although hopefully the images can be viewed through many different mediums and still be appreciated.
RB: It's admirable that you've recently left several social media platforms, to free up more time for creative work and having conversations. Was it hard giving up those audiences and that level of exposure – and have you enticed them all to follow you on Twitter instead?
JW: Well, I haven't left Instagram…yet! But FB was easy. From a purely sales view, I have driven sales of my zine through IG so the carrot is still dangling.  I could probably sell more if I used FB, but in my opinion the large tech companies are out of control, especially with their data access and use. The most important thing for me, and I suggest this for all artists, is start taking back control.  Get people to visit your website, sign up to your mailing list.  So you're not always at the mercy of the social media platforms.
Twitter has always been about conversation for me – it's fast and fleeting, but since starting out on my film photography route, it was a fantastic place of virtual community.
RB: What have been the biggest challenges so far in launching your new Choosing & Losing zine? Hopefully they're outweighed by the enjoyment of producing it…?
JW: The next issue!  After shipping the first round of subscriptions, panic kicked in: I now have to deliver something that *hopefully* my subscribers will enjoy or get something from.  This self-imposed pressure is useful though, as it's providing me with motivation to explore some ideas and create things I possibly normally wouldn't have. The latest issue is about to head out, so time will tell…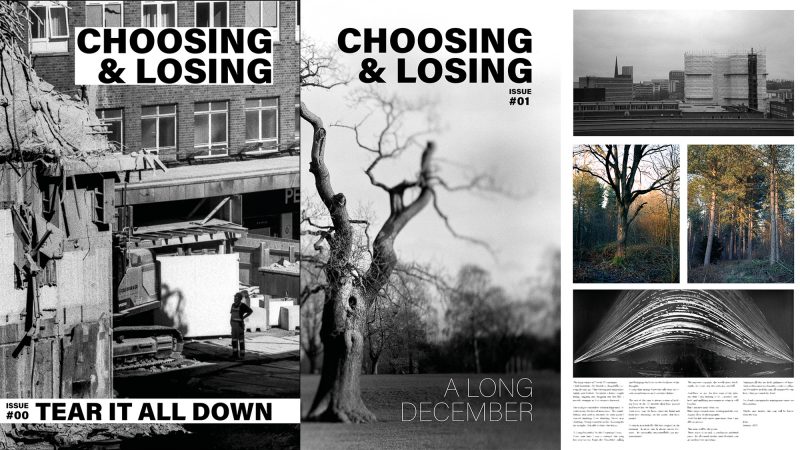 RB: Presumably, you want to pack lightly when you go travelling or out in the field – what is the essential gear you'll usually take with you?
JW: This really can change depending on what my aim is. I try to plan as much as possible regards locations, people, stories etc. before I head out and this generally dictates the gear.
I photograph in a variety of mediums including digital but in the analogue world I have one camera for each film format: 35mm, medium format and large format. I've also made cameras from boxes, cans, dustbins and, as you mentioned earlier, an entire room.
The most essential items for me are comfy shoes, a snack, drink and plenty of film!
RB: Talk us through a typical day's process in your darkshed. What are the most and least fun aspects of developing your own film?
JW: Most importantly, a cup of tea gets things going. Then it's heater on if it's winter, followed by the radio/music. I actually use technology a fair amount for 'to do' lists, archiving, cataloguing, etc.  Normally I've got things running over a 2/3 week period so I'm constantly balancing developing film, printing, scanning and admin over this time.  The best part of all this is getting lost in a print – everything disappears; thoughts, worries and time.
Least fun – tidying up. I'm such a messy person, well, let's call it organised chaos.  I tend to have a clean-up every couple of months, refreshing chemicals, sorting negatives, cataloguing, etc.
RB: Your 'Darkshed Live' streams on YouTube are still going strong. Do you create the videos with an ideal audience in mind – for instance, are they aimed at novices, or more for people with a certain level of technical knowledge already?
JW: They are probably aimed at a more intermediate level, but I do cover the basics, there's no avoiding it as they are continuously being used. I have a setup now that allows me to answer any questions that people ask during the live stream chat, it is much easier to demonstrate actually doing the activity than in the written word.
It's such a slow (relaxing?!) process and I just wanted to share that experience and hopefully people can get something from it. And to hopefully have some fun – being able to live stream from my studio and have people on the other side of the world join is incredible!
RB: Coventry is the UK City of Culture next year – what are you hoping to see happen for artists here, in 2021 and beyond?
JW: I would like artists to be given a platform – time, space and finances to create something that they want and be able to put it out in front of an audience. Creating work for a theme or strands helps create structure as a whole, but if your work doesn't fit into those, the opportunities are limited. The depth and breadth of what individuals and groups of artists could create would be incredible.  Although this is probably more of a problem with the 'system' as a whole more than anything.
RB: It's not an easy question to ask or answer in these current Covid-19 times, but…what are your future plans? Any new projects on the horizon?
JW: My main goal at the moment is to make Choosing & Losing as best as it can be.  I would really like to introduce more documentary and behind-the-scenes photography and collaborate with other photographers (if I could pay them!) – I'm a long way off that, so make sure you subscribe and I'll be one step closer to making this happen!
My unrealistic goal at the moment is to have 1000 subscribers; out of a world population of 7.8 billion people, that's only about 0.00001%.
Got to keep dreaming, right?
Connect with John on social media:
Stream goes out once a month – dates vary depending on schedule! Subscribe and follow to find out when.
---
Issues #00 and #01 of John's newly launched Choosing & Losing zine can be purchased directly from his website, or as part of a yearly subscription, as well as prints, postcards, darkroom workshop gift-cards and other cool items. You can also get in touch about bookings for photography and workshops.
---