INTERVIEW: FIRE & DUST MEETS VRON MCINTYRE
When you look for patterns, there they are.
Till I reached forty, when all patterns fell apart, and there
behind the patterns, the stunning random beauty of what is,
patterned to a point, but much more truth and magic
in the real, the outlier, the actual, not neat,
not part of sequence, not accounted for that simply,
as science itself moved from apple to cloud
of empty space crossed by random trail
the pattern only part of any tale.
________________________________   _– excerpt from 'Patterns'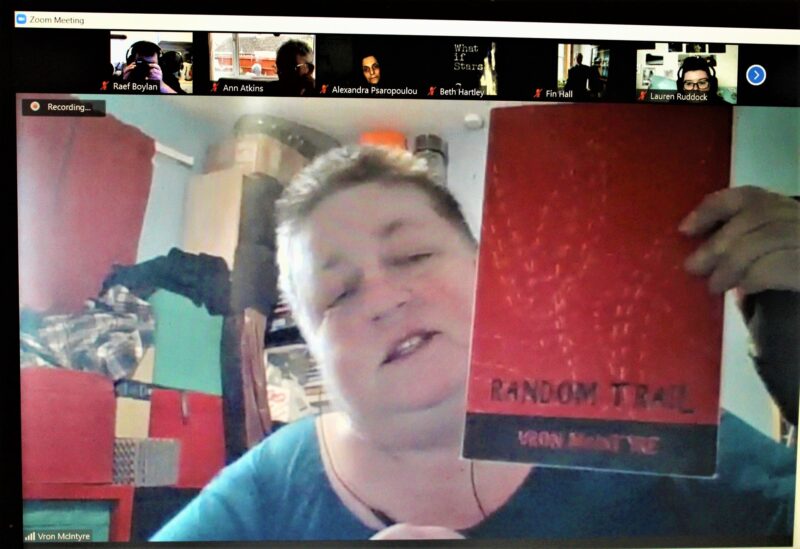 Vron McIntyre is a queer, non-binary, disabled poet (they/she) and has been a peace camper, fat activist, do-it-yourself feminist editor and publisher, and helped organise women's camps in the 90s and queer pagan camps in the 2000s. Originally from the north-east of England, Vron is a long-time resident of Nottingham, and a member of the DIY Poets Collective and Social Model Writers. They regularly read at open mics online. Their work has been published by DIY Poets, Poetry & Covid, Impossible Archetype, Wildfire Words and Tattiezine, and in anthologies Geography Is Irrelevant and Spirit of Fire&Dust. Vron's debut pamphlet Random Trail was published by Big White Shed in 2021. They also run the Facebook group Poetry+ Events Online.
On 21st July 2022, Vron headlined our virtual Fire&Dust poetry event. We caught up with them after the gig, to ask a few questions…
---
HCE: Tell us a little about your background and journey as a writer so far. What inspired you to start creating and performing poetry?
VM: I've written in fits and starts most of my life, but didn't start writing seriously until 2018, after I had to take medical retirement from my job at the age of 57.  One of the first times I went out in my powered wheelchair was to a poetry workshop by Caroline Bird for LGBT people, in the week before Pride.  I met some local poets there, they told me about DIY Poets Collective and encouraged me to come to spoken word events.  Soon after that I joined a local writers' group and started actually writing.  The first time I had to read aloud in the group was nerve wracking, but it got easier. I started going to DIY Poets and other spoken word events where I was welcomed and encouraged, started to perform at open mics, and everything else followed from there.
HCE: What are some of your favourite poems in your collection Random Trail, and why?
VM:  It's hard to pick favourites!
The first poem, 'Patterns', is the one that gives Random Trail its title. It's always felt like an important poem to me, and it reflects some of the changes in the way I've thought about things at different times in my life.  But I think the emotional heart of the book is 'Risk Assessment', which is about my mother, who died in 2016.  Once I got started writing there were quite a few poems which insisted I write them, and this was one of them.
HCE: What messages(s) or reflection(s) do you hope readers take away from the book?
VM: A lot of the poems are about my own experiences and don't have a particular message.  I hope readers will find them interesting, a connection to their own experience or, if not, then a different point of view.  And if they provoke reflections, all the better.  People will take their own meanings from what they read and sometimes that surprises me, and makes me reflect further on what I've written, which is all good.
HCE: Your poetry often seems to launch from finding value in 'ordinary' moments, such as an encounter or connection with nature and people. In your view, is there potentially poetry everywhere, in everything?
VM:  Yes, I think so.  I've always enjoyed poems about ordinary experiences that seem unremarkable.  There's something about the reality, or even the imagined reality of specific details that's really powerful, and able to engage readers widely, which is the opposite of what you'd expect. Also, I like that often "ordinary" things can be a bit odd or weird in some way and I find that quite reassuring as someone who is also quite odd at times.  I like finding out about the ordinary weirdness of other people.
HCE: There's a lot of motion, travelling and journeys across the poems in your collection. Was it cathartic to immerse yourself in producing this project at a time when COVID-19 placed so many limitations on people's freedom of movement?
VM:  Interesting question, and not something that had occurred to me. My situation with regard to mobility and travelling is different to most people's in that I've mostly been housebound for the last seven years, apart from about 18 months before the pandemic where I got out and about on my wheelchair, connected with the local poetry communities and started performing.  In that whole time, I've only been away from Nottingham twice.  In many ways lockdown wasn't much different to normal life, just with fewer visitors, a reduction in my carers, and more difficulty getting shopping delivered.  But poetry on Zoom meant a lot more opportunities to perform and a lot more workshops to go to, so in some ways I feel like I've been further afield than usual.  And those experiences, and the encouragement of other poets made me feel more confident about editing my writing and putting a collection together. 
HCE: Would you say there are themes or motifs that you tend to gravitate to in your work?
VM:  I keep trying to grapple with different ways of understanding the world, the relation between science and magic, and the layering effects and resonances of language and history and geography.  I don't really set out to write about any of those things, but they keep finding their way in.  Because I've written quite a few poems about my childhood, there are also themes of family and inheritance, and since my family was very political there are also social justice themes, though I find those much harder to write about.  Apple trees keep cropping up for some reason; geology; singing; and travelling, as you already noticed.
HCE: Who is your work aimed at – do you have an ideal audience in mind when you're putting a poem together?
VM: No, not at all.  I'm used to audiences being really varied in all kinds of ways.  Inevitably a lot of readers / listeners will be poets or writers themselves, or people who enjoy listening to poetry, but beyond that they could be anyone.  There are some poems I might be more likely to read in a queer setting or among other neurodivergent people, and if I've written something satirical or silly, I might not take it to a very serious kind of event.  I'm more likely to write something first, then think about who to read it to afterwards.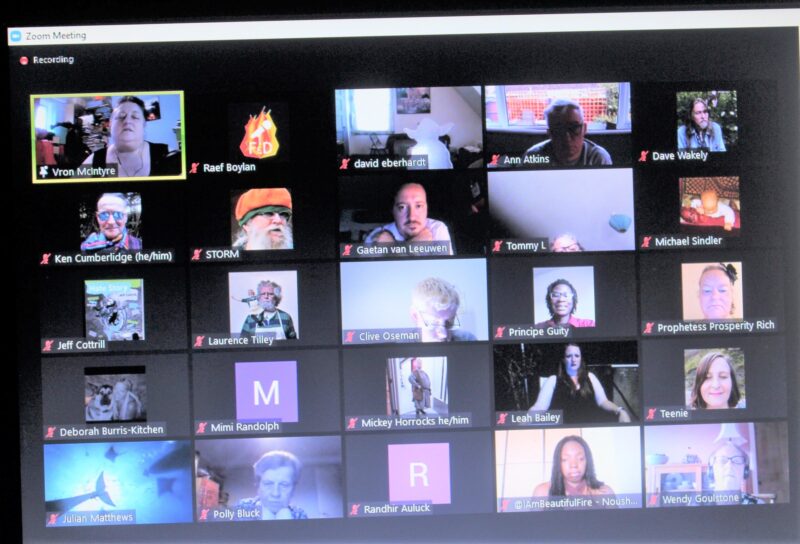 HCE: In your opinion, what more should arts communities be doing to support queer poets and poets with disabilities, to make sure their voices are platformed and heard?
VM:  Well, the obvious things – making events as welcoming and accessible as possible for starters.  Both in terms of physical access, and things like interpretation, and holding hybrid / digital events to ensure more of us can participate.  Planning festivals from the outset with diversity and access in mind – making sure grant applications include access costs and tap into any pots of money available to fund access.   Being aware of those of us who can't attend in person. Taking advice from disability specialists on what's needed e.g. people like Quiplash.
Obviously, what you can do depends on things like funding, but even low-budget event runners can think about who is being included and can be honest about limitations.
There's quite a bit of expertise that's developed over the last few years by trial and error in putting on hybrid and Zoom events.  It's not quite enough to just add a Zoom or livestream to an in-venue event – the best hybrid events also have Zoom hosts who make those of us at home feel part of things. There are some great examples of festivals and other events which have really taken on the challenge of being hybrid and who do a good job of integrating the Zoom audiences into their events – Clare Shaw and Kim Moore at Kendal Poetry Festival are particularly good at this, and Fay Roberts has been an excellent hybrid host at Hammer & Tongue Cambridge.  
In general – figure out who's missing from events and invite them (and pay them) to perform. And let people bring all their work, not just that focused on queerness or disability or whatever other marginalised identities they may have.
HCE: We're aware there's a thriving literary scene in Nottingham. In your experience, are there supportive communities in the city for both established and developing writers/creatives?
VM: Pre-pandemic, I used to go to pretty much anything poetry related I could get my wheelchair into, which meant I attended a wide variety of events.  DIY Poets are very welcoming, egalitarian and low-cost, with a commitment to accessibility that I have been very glad of.  I've been to a lot of poetry events at Five Leaves Bookshop and at Waterstones, quite a few organised by Nottingham Poetry Society, which now has some events online. There are a number of writing /workshop groups of various kinds and at a variety of costs, including Anne Holloway's monthly Write the Poem workshop, a hybrid women's writing group based at the Women's Centre, courses at the Nottingham Writers' Studio, and Cathy Grindrod's Writer Highway courses all of which have helped me a lot.  And the annual Poetry Festival is very lively and varied.  In general though, Nottingham is dreadful for disabled access, particularly in affordable venues, and most of the regular open mic events are inaccessible ,which is a real shame.  I keep hoping the ones up flights of stairs will consider becoming hybrid, but there doesn't seem to be much interest in doing so.
HCE: What type of poetry do you seek out for personal enjoyment? As a reader/listener, when you engage with another poet's work, what are you hoping to get out of it?
VM: My poetry taste is pretty firmly contemporary, by which I mean the last 50 or maybe 100 years.  I like all sorts of stuff.  I tend to prefer poems I can understand, though I'm trying to appreciate the ones I don't understand as well.  I love a poem that names something I relate to that I haven't seen named before, or explores the nuances of complex situations that often get missed, and the ones that just make me go "Wow".  I've never studied poetry or writing apart from in little bits in workshops, so I don't have the academic language to describe any of this! I feel like I'm getting an education in reading and listening to a wide range of voices, which all have a lot to tell me about the lives of other people I might not otherwise know about, and about my own life.
The poet I've read the most over the years is Judy Grahn, whose work I go back to over and over again.  I'd love her to be more appreciated in the UK.  I've been seriously impressed by Natalie Diaz, Rick Dove, Jane Burn, Clare Shaw, Tom Sastry, Elizabeth McGeown, The Cyborg Jillian Weise, Anthony Vahni Capildeo, Martin Espada, Jericho Brown and Harry Josie Giles. I'm also fortunate to spend quite a lot of writing time with the excellent bunch of poets who frequent the weekly Allographic Write-In (Sundays on Zoom, 2-4pm) in particular Fay Roberts, Beth Hartley, Ken Cumberlidge, and your own Ann Atkins – all very talented writers and performers that I've been learning a lot from.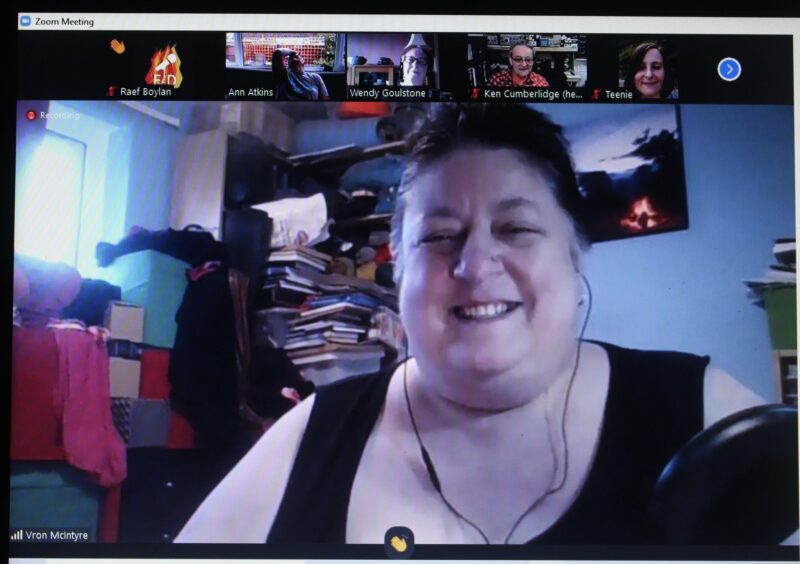 HCE: What's next on the horizon for you? Are you already working on projects/booked for upcoming performances?
VM:  I've done a number of featured poet type performances this year, so I'm taking a break from that, though I attend quite a few online open mics each month.  I hope to do more performing in future.  I'm writing a fair bit, sporadically.  I'm working from time to time on a collection of poetry and experimental writing about the time I spent at Greenham Common and other peace camps in the 80s and some of the camps I helped organise after that which felt like continuations of the same thing.  This is long term though, still developing, and won't be finished for ages.  I've been doing lots of workshops, enjoying expanding my horizons and trying new things.
HCE: Is there anything we didn't cover that you'd like to share with our readers?
VM: Just over a year ago I decided to start a Facebook group to collect together details of online poetry events.  It was at a time when a lot of events were reverting to being in-venue instead of online, and I was getting tired of reading all the way through event listings only to find I couldn't attend.  Anyone can join or read the group, and anyone can post, so long as it's for an event, with some form of online access, that includes some poetry. This is useful for people like me who are disabled / housebound / shielding, etc., and also for people who don't live near live venues, have caring/family responsibilities or low incomes that limit attendance, and for those of us who just fancy turning up at far-flung events because we can.  I've included the link at the end.
Also I'd like to say what a pleasure it was to be invited to perform a feature set at Fire & Dust, which has been one of my favourite open mics since I first discovered it, and how appreciative I am for the welcome and support I've received from yourself and Ann Atkins.
HCE: What's the best way for people to keep connected with you and your work, or contact you for bookings?
Twitter Instagram Facebook Linktree
Any others links/social media you'd like to plug here?
Poetry+ Events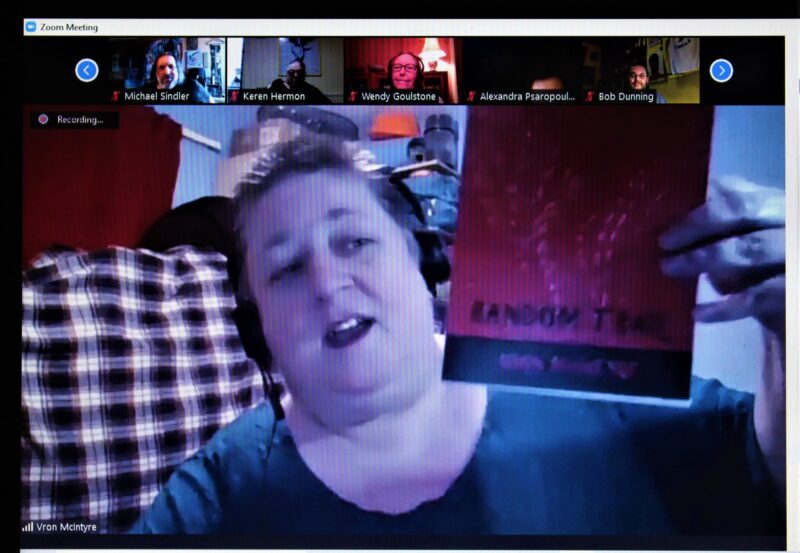 ---
Random Trail can be purchased direct from Vron herself or from publisher Big White Shed. You can also find it on various other websites and order in-store from high-street book retailers.
---
Thanks for this, Vron!