INTERVIEW: FIRE & DUST MEETS SCOTT COE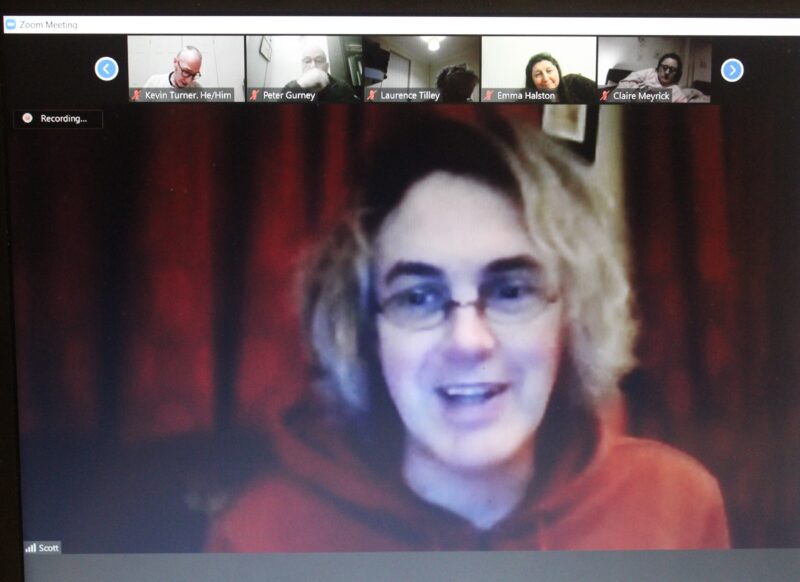 Scott Coe is a performance poet, an artist and the current Stamford Poet Laureate. He started off not as a poet but a lyricist, citing the likes of Noel Gallagher, Lennon & McCartney, Bob Dylan, Guy Chambers, Billy Bragg and Neil Tennant as some of his primary influences. This year he has also been getting back into artwork projects, as well as street art and film-making, a lot of which will include fusion with poetry. Scott has really been enjoying his year as Stamford Laureate, supporting both local poetry and the local creative community as well.
On 13th April 2023, Scott Coe kindly stepped in last-minute to be the guest headliner at our virtual Fire&Dust poetry night. We caught up with him after the gig, to ask a few questions…
---
HCE: Tell us a little about your background and journey as a writer so far. What first inspired you to start creating and performing poetry?
SC: I got into Poetry by accident. I had no interest in it in school. My first real interest in writing was trying to be a lyricist and collaborating with composers, I really liked being able to express myself. It wasn't until about 15 years after, that I randomly accepted a suggestion to go read some of my lyrics at a poetry evening in Cambridge. People really seemed to like what I read – I can't sing or play a musical instrument, so I thought this would be a cool way to be able to share my words, and so the journey into performance poetry began from there.
HCE: Would you say there are themes or motifs that you tend to gravitate to in your work?
SC: I'm always experimenting so I guess this is always changing, but sometimes I might drift back into older things. Generally, I'm still fairly lyrical at times – most of my poetry rhymes and quite a few have chorus elements. Themes are generally whatever is going on around me. Over the last year, the main theme has been war, obviously with the backdrop of Ukraine, but also with the commissioned pieces I've done as my Stamford Laureate civic duties…Remembrance Sunday, The Battle of Britain parade and Holocaust Memorial Day.
HCE: You're currently Stamford Poet Laureate. Can you tell us a little about what that role involves and what sort of impact it's having on your practice as a writer?
SC: I'm just coming to the end of my year, before handing over to whoever is chosen as the new Laureate. My main duties have been composing poems for major civic events in the town. As well as those already mentioned, I have also written for the mayor's inauguration as well as writing for other groups and contributing towards their events. I have written for Stamford in Bloom as well as my two local charities: The Stamford Diversity Group and MindSpace Stamford. I'm continuing to support events with the Diversity Group and have started a monthly writing session called 'Playing With Words' at MindSpace to support their work in well-being within the community. Apart from this, I've been hosting our regular spoken word evening 'Pint of Poetry' and being an ambassador for poetry and as part of the arts for the town.
The main impact – which was always going to be the challenge – was writing to commission. Getting a subject and finding your way into a subject, rather than writing as just an emotional response, but it's been good for me and helped me grow as a writer.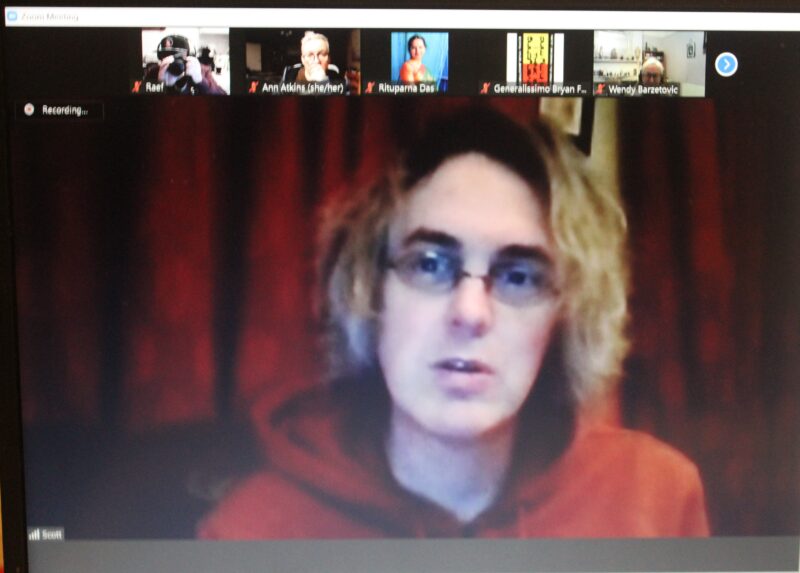 HCE: Do you know what your next steps will be, career-wise? Going forward, is there a clear vision of what you want to achieve with your poetry?
SC: First and foremost – a performance poet, I just love it, I like nothing more than performing, it's when I feel at my most alive. So I really want to be able to tour more and start writing shows and performing at festivals. Obviously, being published would be amazing, but besides this, I'm also looking to get back into art and film-making projects, some of which will be poetry fusion.
HCE: Several of your poems struck us as being politically and socially relevant, focusing on topics such as vulnerable communities or the UK's class divide. Do you use poetry mostly as a form of self-expression, or are you aiming to educate audiences through your writing?
SC: Away from doing commissions for my laureateship, I write from the heart and in the moment. My poetry is the expression of my emotional reaction to somebody or something. It's how I felt at the time and if it's something that others should be aware of, then I guess the poem then conveys a message. If I'm writing and performing about a certain subject then it's something that has a genuine impact on me and stirred a powerful reaction or question.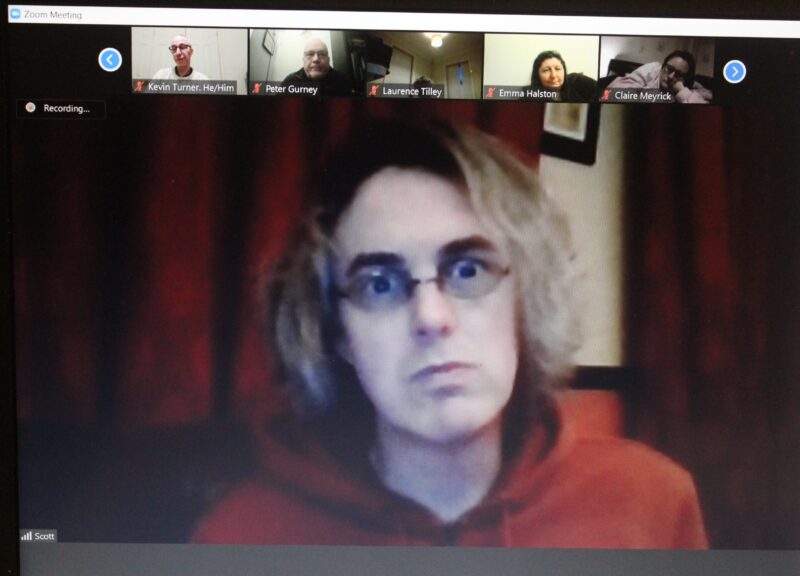 HCE: What would your top piece of advice be for budding writers?
SC: Always write from the heart, write in the moment and be honest with what you are saying. Write it from you, not what you think people will want to hear.
HCE: Have you always been a confident performer? Any tips for beginners on how to shake off the nerves and be more engaging on the mic?
SC: The first time is always the most scary or difficult; it does get easier the more you do it. Be yourself and enjoy it. Also, I would say, outside of slams, it's not a competition, just do your thing, but watch and chat to others you like, get advice and learn – most people in the poetry scene are really welcoming and supportive, just ask. Take a deep breath, find yourself in the space and perform the piece; don't just read it, be honest with how those words make you feel and how you felt when you wrote it. However, if you decide to enter slams, just do your thing, you don't have to write a fast-paced piece to fill three minutes, be yourself and present in your style. If whatever you've written is, say, two minutes long, then it's meant to be two minutes long – if it works and you've said all that you want to say, then that's what you should perform. Don't enter just to win but treat it like an open mic, have fun with it, use it to push your performance skills further. It doesn't matter about anyone else, the only person you're really competing with is yourself, just strive to improve.
HCE: There was a good dose of humour in your set. How important a device do you think humour is, and what purpose do you believe it serves in poetry and performance?
SC: I'll be honest, humour is what I struggle to write. I think it is important though. It's often an alternative way to convey a message – different people respond to different things. Also, is nice to have something humorous in a set to offset the more serious stuff.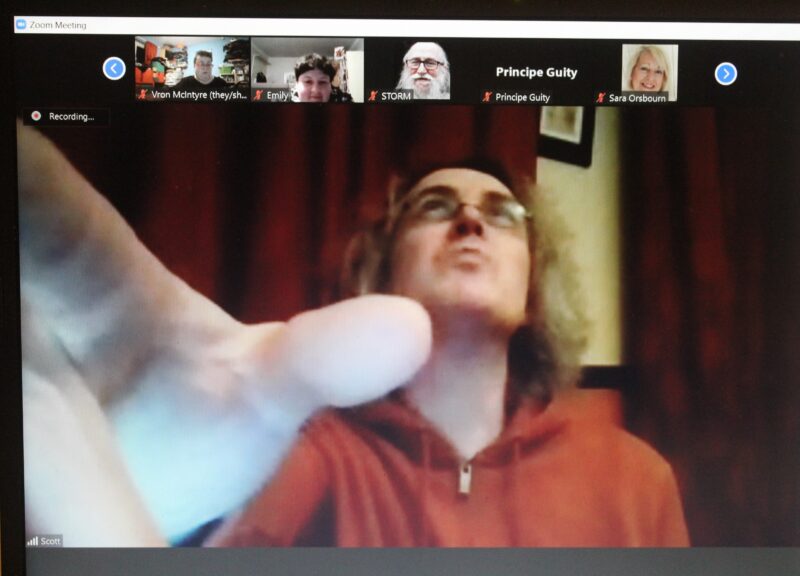 HCE: What type of poetry do you seek out for personal enjoyment? As a reader/listener, when you engage with another poet's work, what are you hoping to get out of it?
SC: Most of the poetry I'm dipping into recently is grassroots rather than the classics. It's good to have a spread of both though. Having said this, the most read book on my poetry shelf is Bob Dylan's lyrics collection. Of course, this probably reflects on my origins as a lyricist prior to being a poet.
HCE: You mentioned that your feature set at Fire&Dust was the first Zoom gig you'd done in a while. What do you believe are the challenges and benefits to performing virtually instead of in person?
SC: I just love performing live. As soon as the world opened up again after the pandemic, I was getting out as soon as I could. If you want to perform a piece, it's better standing – sitting down is more suited to reading. I think we just get cosy sitting at home. To be honest, the main reason personally is that I'm mostly working from home, so having sat in my house in front of a screen all day I'm often itching to get out.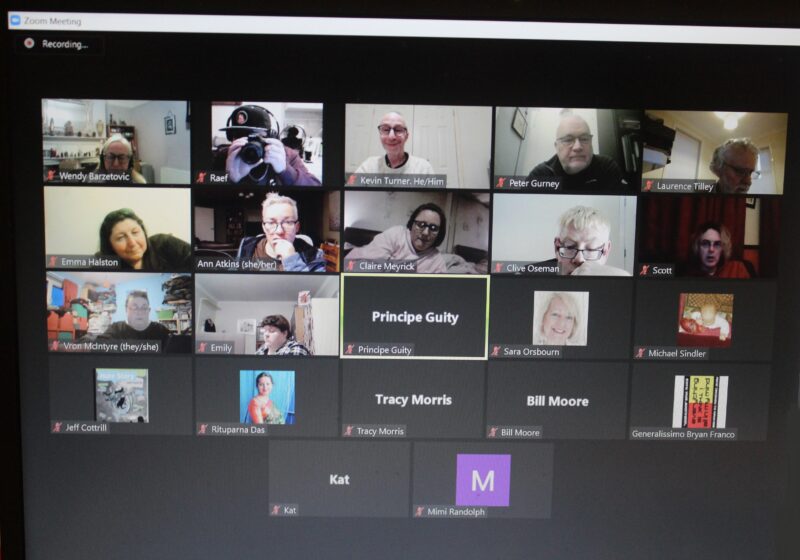 HCE: In your experience, are Stamford and Peterborough good places to be a writer, and do they have a thriving spoken word scene?
SC: It's a really great area for poetry and art right now. Both are thriving and being so close together is like a binary star system. Both towns have laureateships and a great focus on poetry. Also nearby are Deeping and Oundle, both with annual literature festivals and between all four of them is John Clare country. Poetry is very much part of the historic fabric of the area, and has a bright future if we continue to grow the scene we have.
At present the main regular evening is Pint of Poetry, this is a free to attend open mic event every last Wednesday of the month at Stamford Arts Centre. Another really nice one is Bourne's Viva Verse and Vino, which occurs every other month at The Old Town Hall. Grantham & Melton Mowbray also have small monthly poetry events. Plus, of course, John Clare Cottage also occasionally hosts events.
HCE: We sampled some of your visual art on your website – the 'Sonic Postcards' videos. Will there be any more of these? Please tell our readers a little about what inspired their creation and what you hope viewers take away from them.
SC: I'm hoping to get back to creating some more of these. Now my turn as Stamford Poet Laureate has ended, I'm looking to create more visual and audio pieces, some of which will have poetry elements. The sonic postcards I guess was just recording a moment at a place in time. Something a listener could dip into and close their eyes and travel to that place (or how they perceive the place to be) in their mind, rather than on a screen.
HCE: What's next on the horizon? Are you already working on projects/booked for upcoming performances?
SC: Mostly it's a case of…write, edit, practice, repeat. I'm really focused on creating more performance pieces as it's the element I enjoy the most and being on stage with a microphone is where I feel most alive.
I'm researching ideas towards writing a show that I could take to festivals or tour with. Outside poetry, I'm really aiming to get back into my artwork as well as film-making and the sonic pieces I mentioned previously.
HCE: What's the best way for people to keep connected with you and your work, or contact you for bookings?
Twitter Instagram Website Facebook YouTube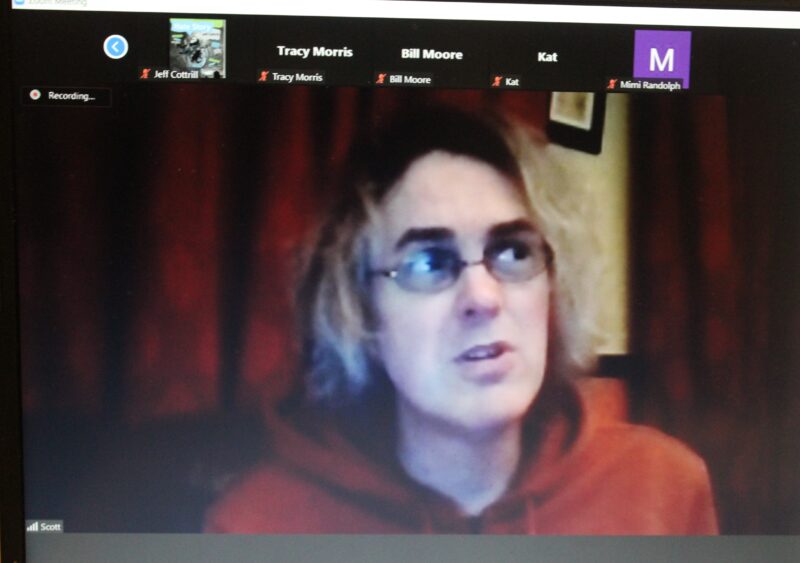 HCE: Anything we didn't cover that you'd like to share with our readers?
SC: Don't forget to check out my blog – I'm trying to help out the local scene by sharing any real world events I know or discover – there's a monthly list covering West Anglia / East Midlands
---