INTERVIEW: FIRE & DUST MEETS LKN
fairytales are dying odes, as knights in shining cum charged every inch of my skin, pummelling through fingered hours of early morning. i felt it—the barrage of their manhood, the scathing of their nails, the excavation of moonlight as blanket of an unending night. it doesn't seems stop, as they replace my maps of the cosmos with their constellations of ejaculations. spewing assault on every black hole they can find in me, they're draining every verse of good night of my parents with their "tangina ang sarap". being devoured is never delicious for a victim, no matter the time.
 –excerpt from the poem 'A Night That Prose'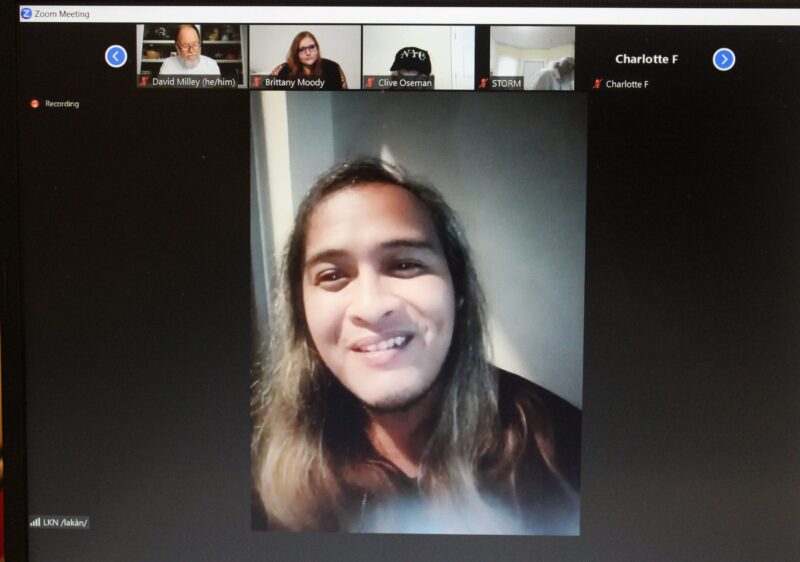 LKN (pronounced 'Lacan') is a Filipino page-performance-slam-street poet who has performed at 4,000+ events in twenty-seven countries, including literature/poetry festivals in Singapore, Toronto, Paris, NYC and Nottingham, plus The History Channel's HistoryCon and Friday Night Live Ireland. He was selected for Tupelo Press' 30/30 Project and his poetry has featured in thirteen publications across eight countries, including the Poetry Society of New York and an anthology from Singapore's Squircle Line Press (which has won gold at both the eLit Book Awards and the Independent Publishers Book Awards). His work is also included in the national creative writing textbook in the Philippines by Vibal Publishing.
LKN placed as first runner-up in the 2019 Singapore Poetry Slam, and he was a finalist at the Toronto Poetry Slam in 2020. He is a co-founder of UK-registered media company The Poetry Global Network, as well as co-director of the Asia-Pacific Poetry Slam. In 2023, he was nominated for 'Best International Spoken Word Poet' in the UK's  WordPlay Awards. LKN busks his poetry in the streets of Manila, Singapore and Hong Kong.
On 13th July 2023, LKN was the featured guest poet at our virtual Fire&Dust poetry night. It was 5:00 A.M. the next day for him at the time the gig finished, but we got back in touch later on, to ask a few questions…
---
HCE: Tell us a little about your background and journey as a writer so far. What inspired you to start writing and performing poetry?
LKN: It was a way for me to release the pain I have after my marriage failed. It allowed me to express my loss, discover new voices and feel grateful that I can still continue making new dreams.
HCE: Your headline set for Fire&Dust was something special. In your own words, what can audiences expect if they turn up for a LKN performance?
LKN: Truth. I write about my truths, and the truths I see around me. I surrender to the craft, and not control it. I don't choke my poetry to just look good. Seeing that I can pave for others to feel and think is inspiring for me.
HCE: Your poetry features an abundance of clever lines and effective imagery. Would you say there are themes or motifs that you tend to gravitate to in your work?
LKN: I love honesty. I don't hold back to expose an emotion or a paradigm. There's something about the taboo that makes me write about it, shedding clarity even to the most shunned-off topics. I love talking about fears, traumas that I've experienced, without the trappings of being 'sanitised'.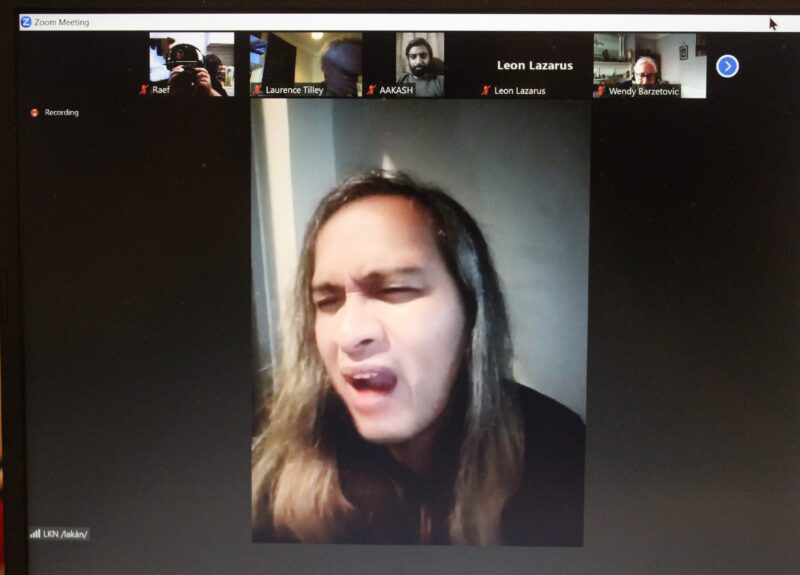 HCE: Who is your work aimed at – do you have an ideal audience in mind when you're putting a poem together?
LKN:  My first audience is my conscience. If a poem I'm writing riles my emotions or makes me ponder more…then I don't delete it. The ideal audience for me is who I have in that moment.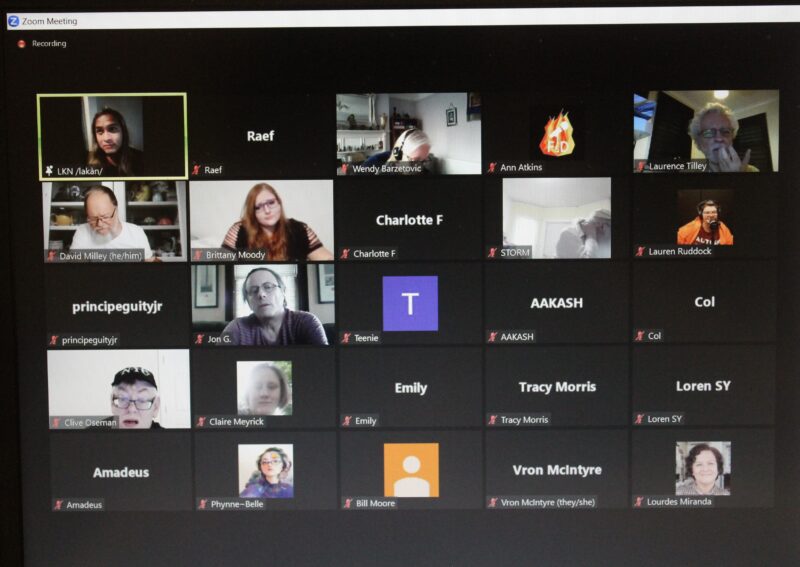 HCE: Is there a difference, in your opinion, between poems that are good candidates for 'the stage' and poems that work well on 'the page'? Or do you not segregate your work this way?
LKN: Absolutely! There are poems that are best experienced on the page, others are for the stage, and some…are just meant for my own sanity. I usually read my poems out loud in front of the mirror, but I have to write it first. Reading it out is a litmus test if it can be a stage poem. I do freestyle too, and some of those performances bloom into a page poem later on.
HCE: You have a good track record when it comes to performing in poetry slams! Do you enjoy that competitive side of the spoken word scene, and what are some essential ways to prepare for a slam?
LKN: I was 1st runner-up at Singapore Poetry Slam and a finalist at Toronto Poetry Slam. When I go to slams, I don't focus on winning something. Slams for me is a platform to bring an issue for other people to hear it, discuss it. There's much goodness in the sense of community of slams too, and I love listening to the platforms that other poets bring.
HCE: Much of your poetry deals with your own experiences, including painful ones like loss and sexual assault, in a very raw and honest way. Is this an emotionally draining thing to do? What is the top piece of advice you would give other poets for tackling heavy/personal topics in their writing?
LKN: A huge part of my poetry is about my experiences, from rape, violence when I was a child, suicide attempts, drug abuse, and even the horrors from a terrorist attack.
It's a tough one. I get triggered by my own poems, because it's honest, but I take my pauses. I acknowledge I have limits too and I know I can drown from the anguish if I don't breathe away from it. We don't hurry our truth. It will write itself when I'm ready again. Don't forget breathe. Breathe. Breathe…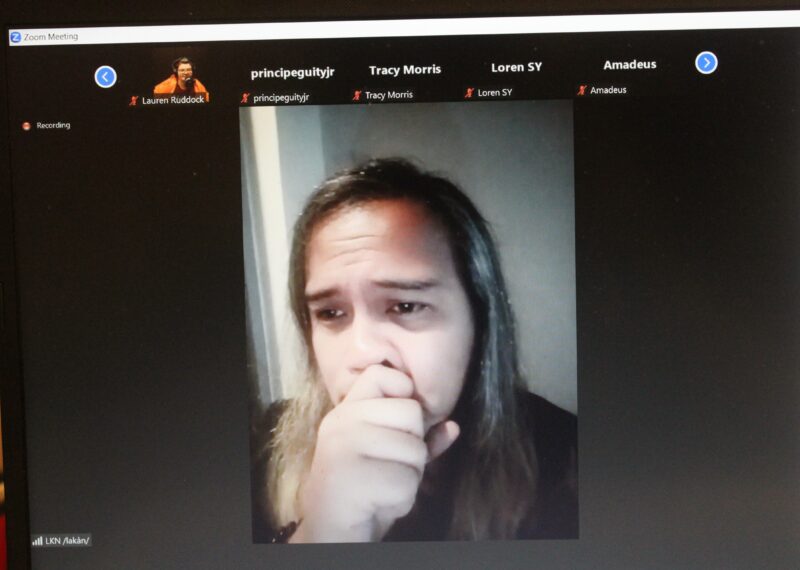 HCE: You mentioned at the gig that some events have asked you to be less "real" and "less sad", and how you object to requests for sugarcoating because it is a poet's duty to represent the environments and cultures that surround them. One of the things we admire about your poetry performances is how, although you don't chase after cheap shocks, you're unafraid to make people uncomfortable if your artistic expression calls for it.
That said, is there anything you consider too sensitive or taboo to include in writing that will be shared with others?
LKN: Respect the venue, the production, your audience and most importantly yourself. That's where I draw the line. But sometimes, truth needs to be told, no matter how painful. Many times…we love to run away from things that we think is unbearable, but we forget…the universe doesn't give us anything we can't handle. For people who censor our poems…I have this for them: art isn't about feeling comfortable, it's about finding comfort in the unknown that will eventually become a memory, history, or for some…literature.
HCE: A multilingual poet/artist called Vlad Amadeus told the Fire&Dust audience that you'd played a significant role as a mentor in his development. Have you mentored many fellow writers, and do you enjoy it? What skills and qualities would you say a writer needs, to provide beneficial guidance for others?
LKN: I previously led an art collective in the Philippines and Singapore. I find joy in being in front of the audience, and seeing new sunrises—soar. I can't share something I do not possess. For someone to coach, mentor, teach or guide…that person needs to understand that learning goes both ways. The moment you think you can't learn anymore is your moment of death.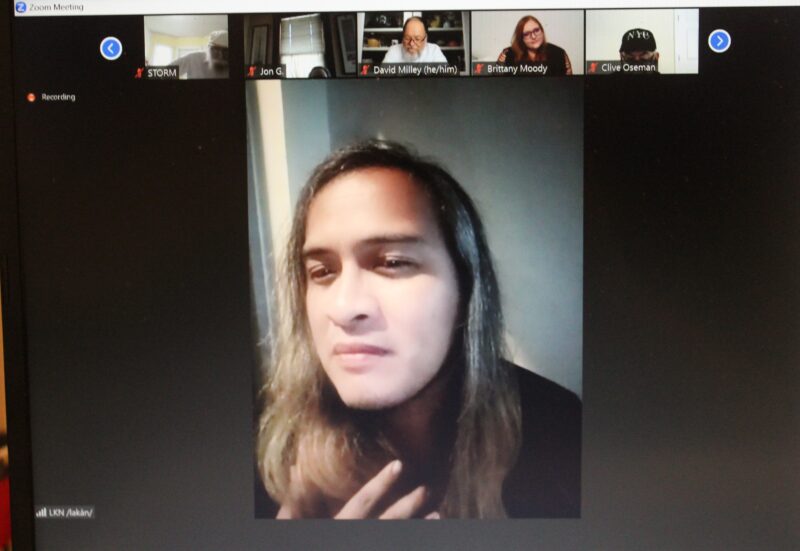 HCE: What does your busking as a poet in the streets of South-East Asia involve, and has it been a good way to attract and engage with new audiences?
LKN: I busk poetry in the streets, parks, malls. I don't usually have a mic. They sometimes ask me to write a poem for them for a fee, or most of the time they ask for a freestyle poem. Busking is a great way to meet new people, even get event offers! But most importantly…busking lowers my ego. I busk when I feel I've collected too many feathers on me.
HCE: At the gig, you mentioned conducting an underwater poetry workshop with free divers in The Philippines. What was this experience like for you – can you talk us through some of the highlights and practicalities?
LKN: My masterclass is still in the works since we're planning something bigger. It will be at the centre of the centre of marine biodiversity in the world. I've freedived before, and I would love for others to experience poetry under the ocean and express it with poetry. Freediving is different from scuba, we don't have oxygen tanks. It's all naturale! I have expert divers to guide the event.
HCE: What type of poetry do you seek out for personal enjoyment? Have any collections/performers recently made an impression on you?
LKN: I read a lot! I also enjoy going to performances (theatre, music, dance, etc.). I find poetry in all of those. A few days ago, I was reading the works of Ilya Kaminsky, and I think he's phenomenal!
HCE: Can you recommend any Filipino/a poets whose work should definitely be in our to-read piles? Have any of them had an influence on your own work?
LKN: I would recommend:
José Garcia Villa
Virgilio S. Almario (Rio Alma)
Marjorie Evasco
Ina Cariño
Conchitina Cruz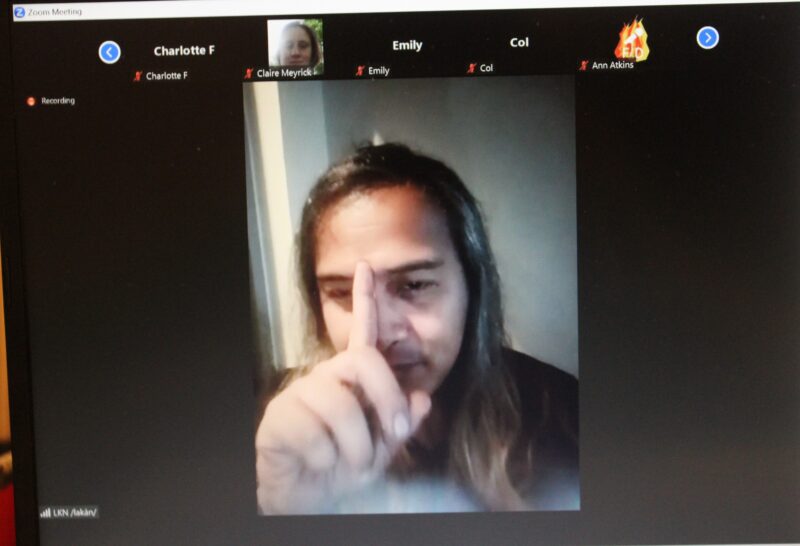 HCE: What's next on the horizon for you? Are you already working on projects/booked for upcoming performances?
LKN: I have festival performances later this year, plus two major projects…watch out for it. 😉
HCE: What's the best way for people to keep connected with you and your work, or contact you about bookings?
HCE: Is there anything we didn't cover that you'd like to share with our readers?
LKN: Write more. Read more. Share more. Stay Brave! Stay Lit!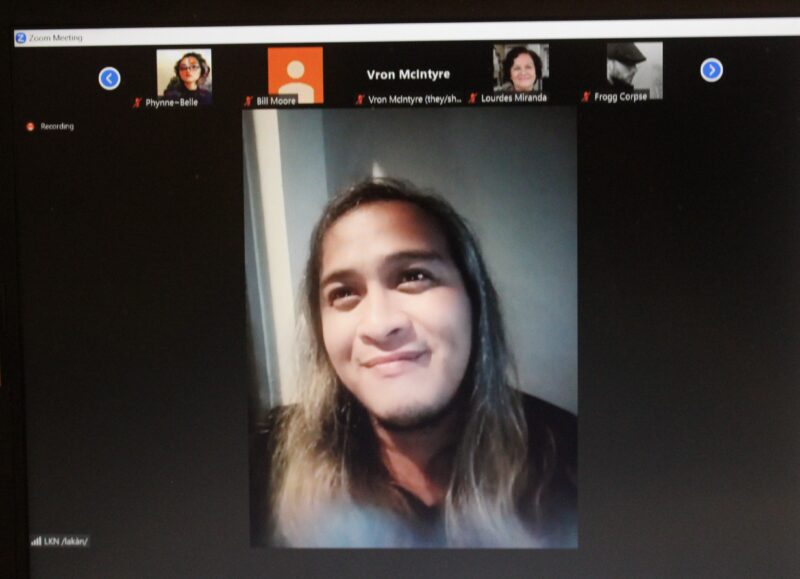 ---