INTERVIEW: FIRE & DUST MEETS LEANNE MODEN
"Today, I am black lipstick
Wilful, disobedient
I am oil slick grin
Thick black outline
I am bird's wing
I am beast's flank
I am opaque and I am limitless
[…]"
– from 'Black Lipstick' by Leanne Moden
Based in the East Midlands, Leanne Moden is a poet, performer and workshop leader. She competes in UK poetry slams and has been a national finalist at the Hammer and Tongue Slam, Poetry Rivals, the Camden Roundhouse Slam, and the Anti Slam. She has also competed at the BBC Edinburgh Fringe Slam and the Superheroes of Slam. Leanne performs her work at events across the UK and Europe (such as Spain and Estonia), including sets at WOMAD Festival, the Edinburgh Fringe Festival, Sofar Sounds, and Bestival on the Isle of Wight. Leanne has also performed at the Fourth Wave Feminist Festival in Hackney Downs, Trinity College Cambridge, the Whitworth Museum in Manchester, and even did a set as part of the TEDx WOMEN event at UCL in 2016. Recently, a Developing Your Creative Practise grant from Arts Council England enabled Leanne to work on her first full-length poetry show Skip Skip Skip, which she took to the Edinburgh Fringe summer 2019.
This September, Leanne was our headline poet at Fire & Dust.  We caught up with her after the gig, to ask a few questions…
---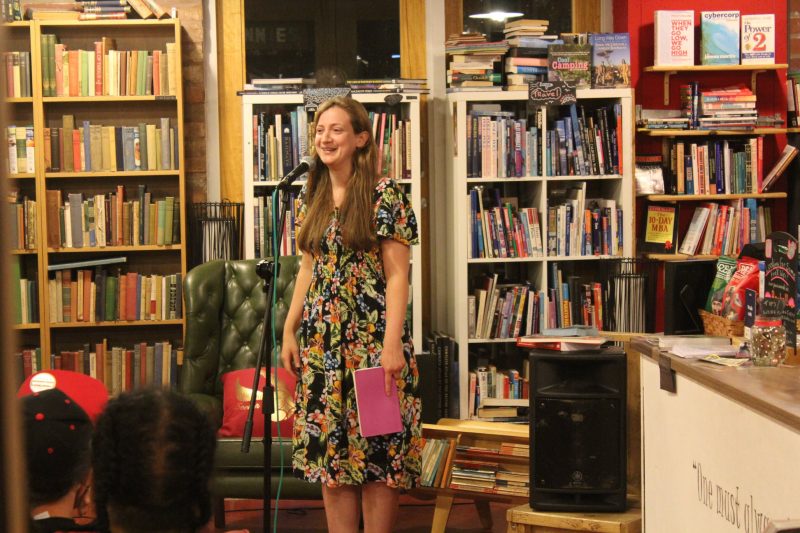 We enjoyed your set for Fire & Dust. In your own words, what can audiences expect if they go to see a Leanne Moden performance?
I think that, as a performance poet, the most important thing you need to do is to make a connection with your audience. You should entertain them, but also ask thought-provoking questions. If a poet gets on stage claiming to know all the answers, that's a real turn-off for me. I don't want a preacher, I want a storyteller. So, I try to tell stories that ask questions, rather than answering them. I also like to write in a few cheeky puns as well, just in case!
Did you produce any poems back when you were a teenaged Goth, or did the inspiration to write poetry come later?
I wrote a lot of short stories when I was younger – teenage Leanne wanted to become a novelist one day – but the stories I wrote were usually very detailed in the first couple of pages, before trailing off into half-arsed cliché somewhere long before the end. ("And then, she woke up and it was all a dream.")  I honestly don't think I have the stamina or the patience to write fiction. So, when I took a creative writing class as an adult, and found out that people like me were actually allowed to write poetry, it was a bit of a revelation! I haven't stopped since!
Who is your work aimed at – do you have an ideal audience in mind when you're putting a poem together?
My favourite poems to write are the ones that come to me unannounced, so I'd say that I don't really have a specific audience in mind when I write. It's more like a process of discovery. It's like unearthing a piece of pottery in an archaeological dig: you don't know whether it's a poem until after you've brushed off all the dust and taken a proper look at it. I write the poem first then decide whether it would work for a spoken word set. As a result, I've got a lot of poems that I enjoyed writing, but that aren't for public consumption. I think that's a pretty healthy way to do it, to be honest. You have to keep a little bit back for yourself.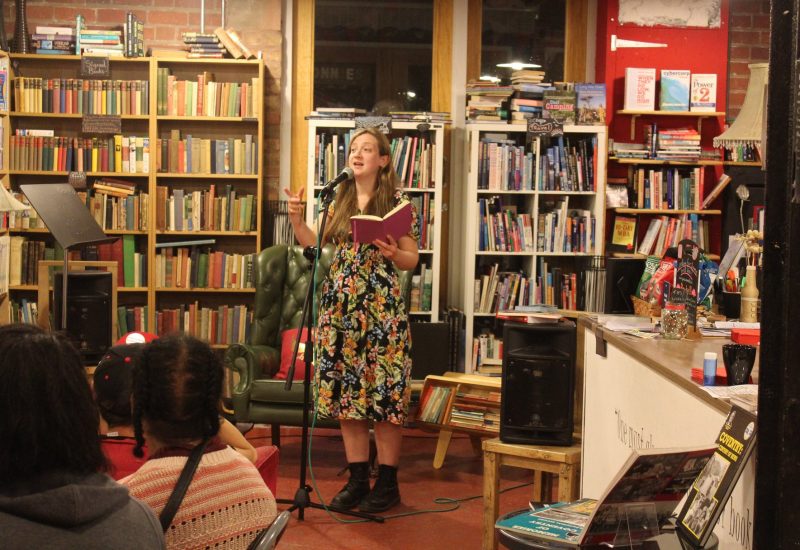 Would you say there are recurring themes in your work?
When I first started writing, I used my love of history and comedy as starting points for my writing, but my first full pamphlet, Liaisons, had a really strong thread of feminism running through it. These days, I'm writing a lot about themes of connection, belonging and communication. We seem to live in a world that is both more and less connected than ever before, and I'm really interested in how humans interact with one another and navigate those spaces together.
Your poetry is entertaining: well-crafted, with both emotional appeal and a sense of humour. In your opinion, what are the most important elements for creating a "good" poem?
Thank you! As I said before, I think the most important thing I look for in a spoken word poem is connection. Can I relate to the piece? Is it a compelling story, or does it make me laugh, or make me think? For me, the best poems are the ones that tell things authentically, but from a slightly obscure angle. Emily Dickinson said "Tell all the Truth but tell it slant" and I love that quote!
Some of our readers might not be familiar with the concept of poetry slams. What would you say are the differences between Slam poetry and other types of poetry performances?
A poetry slam is a performance poetry competition where each poet has (usually) three minutes to tell a poem in front of a live audience. Each poet then receives a score from a panel of judges, or from members of the audience, and the person with the highest score at the end wins. Slams are a great way for audiences to see a lot of good quality poetry in one place, and they're also a great way for poets to hone their performance skills too.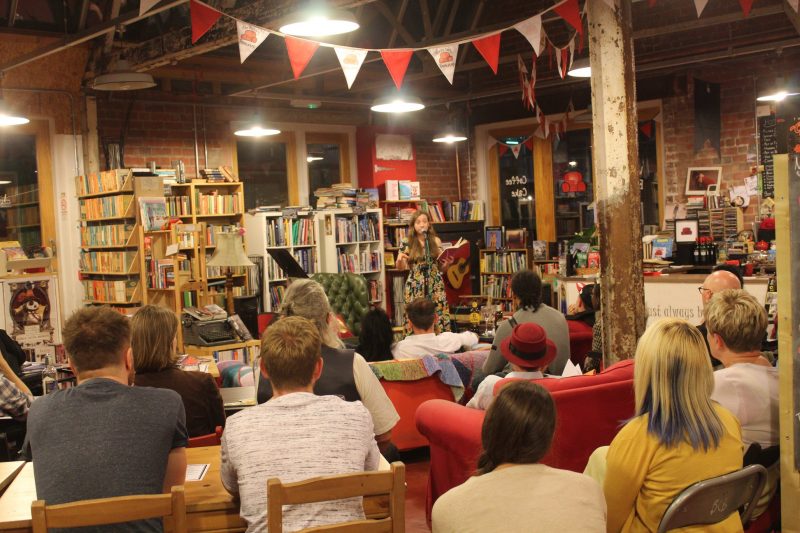 You've been a finalist in so many poetry slams – any tips for poets on how to prepare for competing in one?
Practise the poem, have fun on stage, and don't worry too much about winning or losing. Most slams have the same motto: "the points aren't the point; the point is the poetry" – I think that's really valuable. The competitive elements of poetry slams mean they're exciting and engaging, and they frequently attract audience members who wouldn't necessarily go to more conventional poetry shows. But the sense of fun and camaraderie among competitors is what keeps me going back for more!
Which Nottingham gigs would you recommend for
a) nervous newbies?
One of my favourite nights in Nottingham is Speech Therapy, which is hosted by the incredible Miggy Angel. Speech Therapy really is open to everyone, and Miggy has a brilliant way of making new performers feel welcome without ever being patronising. The regulars are really lovely too.
b) open mic veterans?
Poetry is Dead Good is a fantastic, long-running poetry night in Nottingham, with a cool, student vibe and some fantastic guest artists. Crosswords Open Mic is a wonderful event for poets to check out as well, and they do a really good job providing a welcoming environment for seasoned performers and newbies alike.
Who are some of your favourite poets, and which contemporary collections/performers have recently made an impression on you?
I've been watching a lot of live poetry recently, and I like poets who use spoken word to talk about important topics and questions. I saw Edalia Day's show 'Too Pretty to Punch' recently, and loved the way they talk about gender using poetry, movement, song and animation. I also saw Maria Ferguson's Show 'Fat Girls Don't Dance' in 2018, and I was so struck by raw power of the story, that I still think about it now, nearly two years later. In terms of collections, I'm currently reading Malika Booker's Pepper Seed, which I am loving, and I recently read The Perseverance by Raymond Antrobus, which is just superb. I can see why he's won all those awards!
Is there a Leanne Moden poetry book on the horizon? For instance, could Skip Skip Skip work just as well on the page?
Well, I definitely see Skip Skip Skip as a theatre piece rather than a publication – but never say never! I'm actually working on a brand-new pamphlet of poetry, which I'll be publishing in May 2020 with the wonderful folks at Burning Eye Books. I'm delighted to be working with Burning Eye; they've published so many poets that I love, and they're one of the top indie publishers in the country for spoken word. I'm still a little shocked that they've agreed to publish me, if I'm honest, but I can't wait to get something new and shiny out into the world!
What performances/projects have you got coming up next?
Aside from the book, I'm also continuing to work on Skip Skip Skip, which (in case I haven't mentioned it a million times already!) is my first solo live poetry show. It's about music, identity and belonging, and is the autobiographical story of me becoming a teenage goth in rural Norfolk in 2002. The show premiered at Edinburgh Fringe earlier this year, and I'm now working with a director and a musician to develop it for a potential tour next year. So, yeah, 2020 is going to be a busy one for me! I've been performing poetry professionally now for about ten years and I am still so grateful that I get to do this as a job!
Leanne is online in various places:
Website
Facebook
Twitter