INTERVIEW: FIRE & DUST MEETS EMMA PURSHOUSE
The man with the gap-toothed smile is off back to his flat,
where he lives alone. Ya see that tattoo? he says.
Him proffering a forearm, me fumbling for glasses
because the devil's in the detail. Seventy-five quid that was.
Red hearts skirt a woman's name. For a moment
he looks lost. Done dahn Wednesfield one Fridee
bur' 'er'd dumped me by Sundee. I joke he needs
another wench, one who's called the same.
Fah! He lets out a belly laugh, When ya gunna be back?
Forget tha'! I ay no homin' pigeon! He's wrong of course.
We both are. Heading home to roost, in our respective city lofts.
I pause to wave when I get off, and he's there,
looking out through the glass waiting to wave back.
Because that's what we do here, we wave, we laugh,
we count the cost, natter on buses, cant with strangers,
leak out little bits of our marvellous, glorious lives.
–'Black Country Day Savers' (It's Honorary, Bab, p.10)
Emma Purshouse is a poetry slam champion, performing regularly at spoken word nights and festivals far and wide, sometimes using her native Black Country dialect. Described by Write Out Loud as a "whirlwind of wit and humour", she was recently the first-ever Poet Laureate for the City of Wolverhampton. Her appearances include Cheltenham Literature Festival, Ledbury Poetry Festival, Much Wenlock Poetry Festival, the Edinburgh Fringe, Latitude, Womad and Shambala. In 2017, Emma won the 'Making Waves' international spoken word competition, which was judged by Luke Wright, and her poem 'Catherine Eddowes Tin Box as a Key Witness' came third in the National Poetry Competition in 2021.
Emma is currently editor of The Blackcountryman magazine, and also one third of the poetry collective 'Poets, Prattlers, and Pandemonialists'; along with Steve Pottinger and Dave Pitt, she runs spoken word events, workshops and poetry projects across the English Midlands. Her children's poetry collection I Once Knew a Poem Who Wore a Hat (Fair Acre Press) won the poetry section of the Rubery Book award in 2016, while her poetry publication Close (Offa's Press) was shortlisted for the same award in 2018. Ignite Books published her debut novel, Dogged, in 2021. Emma's latest collection is called 'It's Honorary, Bab' (Offa's Press 2022)
She was our Fire&Dust headliner at Café Morso on 1st June 2023, where her lively poetry set was well-received by the crowd. We caught up with her after the gig, to ask a few questions…
---
HCE: Tell us a little about yourself. Your background, your work, and the themes you like to explore. What inspired you to start creating and performing poetry?
EP: I've always written ever since I was little. I was inspired in part by a poetry book of my granddad's that was in the house. It was a volume that he'd published of his own work, and it was always treated with such reverence (I'm not sure anybody had actually read it J) that poetry seemed important. I liked rhymes when I was little and I read poetry aloud with my dad quite a lot. We had a big children's treasury. My mum encouraged me to write poems.
Performing came later…much later. I wasn't the kind of kid that performed. The whole idea filled me with fear. I started performing a couple of years before my 40th birthday. I knew what I was mostly writing was performancy but didn't have the bottle until Dr Nevel Vassel coerced me into taking part in one of his events. I had an out of body experience, heard a noise which I later worked out was the audience laughing at my punchline and then I was hooked.
HCE: Who is your work aimed at – do you have an ideal audience in mind when you're putting a poem together?
EP: I think my own poems are initially aimed at me…or at least for me. I just tend to write things that make me laugh, or interest me. Or I react to things that upset me or puzzle me. Sometimes it's about saying 'Oi, look at this!' or 'This is how I speak, and this is what happens where I live'. 
I hone things when I get them in front of an audience. Often the original written version of a poem has changed quite dramatically when I look back at it once I've been performing if for a while.
It's different with commissions. For those I'm writing for a definite audience. Often that type of work is about reflecting back to people what they've told you. 
I don't have an 'ideal' audience. Poetry is about conversations…I like nattering to people, it's an extension of that perhaps.
HCE: You were recently Wolverhampton Poet Laureate. If people want full details of what that role involved and how it was affected by the pandemic, they should read It's Honorary, Bab. But can you share a few highlights, and what sort of impact the laureateship has had on your practice as a writer?
EP: I usually get out and about and write about what I see and hear. I ended up writing a lot more researched pieces about Wolverhampton and its history than I think I would have done if I had been able to mooch around the city. 
During the laureateship in a pandemic, I also ended up creating a book of small poems (tanka form) to go with photographs that my dad was taking on his daily walk in lockdown. That wasn't planned at all…it was just a great way of communicating with my dad. We'd post them on Facebook every day and people seemed to like them. My friend Graham Peet offered to make a book with us. We raised money for local charities.
HCE: Did you enjoy writing the prose interjections for It's Honorary, Bab and being able to provide context and speak directly with readers as yourself between poems?
EP: I did very much, again I wanted it to feel like I'm having a conversation with the reader. I also felt that the poems were very different in tone and style and I needed to give them context. Some of them are commissioned pieces. Some are borderline doggerel J. Some are prize winning poems. I wanted to show the range of what you end up doing as a laureate and a poet working at a grass roots level. I also wanted to prove I'd actually done something during my tenure! What I was up to wasn't as visible as it might have been had I been able to run in person workshops and do gigs.
HCE: Your Fire&Dust set was well-structured, with anecdotes and banter and smooth transitions. You always strike us as a confident performer with a compelling stage presence. Any tips for beginners on how to shake off the nerves and be more engaging on the mic?
EP: Thank you for saying that. That means a lot. 
Oh….but that's a difficult question in some respects. Everybody's nerves are different. I run workshops on this sort of thing with my fellow 'Poets, Prattlers, and Pandemonialists' and the same fears that people have do come up time and time again but how they might have to deal with them is perhaps very individual. Confidence builds, I suppose, the more you do things. You will have good gigs and bad gigs and that's natural, but you've not got to carry it with you if you have a bad one.
I think what it boils down to is being yourself only slightly bigger. Don't try and be somebody you aren't as that can make you feel uncomfortable. E.g. if you are a slow and measured person, then make your delivery utilize those things. Likewise if you're like a spaniel on a sugar high (my fellow poet Dave Pitt's MCing comes to mind) then utilize that energy. I'd also say rehearsing so you know your work inside out and back to front (even if you're reading it) is crucial, and for the time you're on stage you take ownership of that space and do what you need to do to make yourself comfortable there. 
I was very freaked out by microphones when I started out. I brought myself a stand and a mic so I could rehearse with them both. I didn't have a speaker to rehearse…it was about holding and working with stand and mic until it became natural. So perhaps another piece of advice is work out what you find awkward about things and find your way round it.
Never apologise for a poem! It's always tempting when you start out, but don't suggest to the audience that they won't like something in case they take you at your word J. A smile works wonders, greet your audience like they're your friends. Poetry people are there because they like poetry. It helps to remind yourself of that. They want you to do well.
HCE: In your opinion, are Walsall and Wolverhampton good places to be a poet/writer, and is there a thriving spoken word scene in this region?
EP: Yes, there is 'stuff' happening. There are a wealth of good writers' groups, and some lovely nights that happen, as well as some literature festivals. When I started out there was nothing happening really. That mostly changed when we had a Literature Development Officer in Wolverhampton. This was Simon Fletcher and he did an amazing job of setting stuff up and bringing writers' together. He also brought in some amazing poets for us to watch. I remember seeing people like Tony Harrison, Jackie Kay, and Matthew Sweeney all at local venues. 
I've learnt a lot from Simon who quietly just gets on and does stuff.
It's the Kevin Costner thing…'if we build it they will come', or, more recently, it's the Josie Long 'sometimes if you want something to exist you have to make it yourself' attitude.
HCE: How did the collective 'Poets, Prattlers and Pandemonialists' get started, and is there a clear vision of what you guys want to achieve?
EP: We got started in a pub! The vision wasn't clear at that point (cider'll do that), but we knew we wanted to work together and have fun. And that's pretty much still the vision.
HCE: Your headline set featured a good dose of comedy, wit and satire. How important a device do you think humour is, and what purpose do you believe it serves in poetry and performance?
EP: It seems to just naturally happen. I start writing something serious and often (not always) there is an element of humour creeps in. People like to smile and laugh. I like to smile and laugh. Sometimes you can sneak things in amongst the smiling and laughing that make people do a double take and think. 
HCE: You mention in It's Honorary, Bab that you enjoy spending time in the archives. Can you walk us through your process for creative research?
An odd fact or a person (usually someone who has been overlooked by history) will start to interest me. I go off down rabbit holes of researching. I once read a whole book on nail-making twice only to create a really short poem with hardly anything of the researched info, but it was there underpinning it. I leave out a lot. If I write a story I try and half the word length after. With poems I do the topping and tailing thing where you see how late you can start a poem and how early you can leave it whilst still enabling it to make sense.
HCE: What, in your opinion, do most well-written poems have in common?
EP: Craft and things to see/hear. I think that applies to page and stage. I like poetry storytelling and being left to make my own mind up.
HCE: What type of poetry do you seek out for personal enjoyment? As a reader/listener, when you engage with a poet's work, what are you hoping to get out of it?
EP: It's a conversation. Like every conversation I want to be engaged and interested. I'm looking for amazing language and distinct voices. I love so much poetry. It changes on a daily basis. I'm currently reading and loving 'Home Child' by Liz Berry, and 'The Thirteenth Angel' by Philip Gross. I've been dipping into 'Mercian Hymns' by Geoffrey Hill for a radio thing I was writing and I'm loving that. I've recently endorsed '20' by Holly Magill. I've always Ioved Holly's writing since I judged the 'Sonnet or Not' competition and she won it. I'm now re-reading '20' again and loving it all over again. There's a cinematic quality about the work…as I said in the question above I like things to see and here.
Last year my favourite thing all year was 'All the Men I Never Married' by Kim Moore.
Performance wise. I love anything that Luke Wright does. I love Joelle Taylor's work. I always feel uplifted when I've watched Roy McFarlane read…he's so warm with his audience, he draws them in.
I like watching Steve Pottinger and Dave Pitt when they are on stage next to me. The show we are in together is about the conversations between us and our poems. I learn a lot from their very different styles of writing and delivery.
HCE: What's next on the horizon for you? Are you already working on a new project/booked for upcoming performances?
EP: I've been in that fallow period after a collection comes out, but a couple of weeks ago I wrote an 'essay' for a Radio 3 slot, and that unleashed a bit of a burst of creativity again. 
I also started looking at a novel idea…but I don't think that's quite got the mileage it needs so I might discard that.
The live performance element of things seems to be picking up again and Poets, Prattlers, and Pandemonialists have a new show on the road. We're heading up to the Buxton Fringe with that in a few weeks. We're also off to the Morecambe Poetry Festival in September…which is a good excuse for a jolly at the seaside.
HCE: What's the best way for people to keep connected with you and your work, or contact you for bookings?
I'm always interested in gigging so do get in touch by email if you'd like to book me.
I'm also on: Twitter and Facebook
Here's my Website…I'm usually fairly good at keeping the events up to date.
You can also check out what I'm up to with Poets, Prattlers, and Pandemonialists by going here.
HCE: Is there anything we didn't cover that you'd like to share with our readers?
EP: You've got a cracking night at Fire&Dust. I hope that people keep supporting it. Thank you for creating platforms for people to share their work and nurture their talents. If you didn't there would be nowhere for poets to grow. 
And if anybody is reading this thinking there's nothing like that in my neck of the woods…remember…just go the full Kevin Costner on it.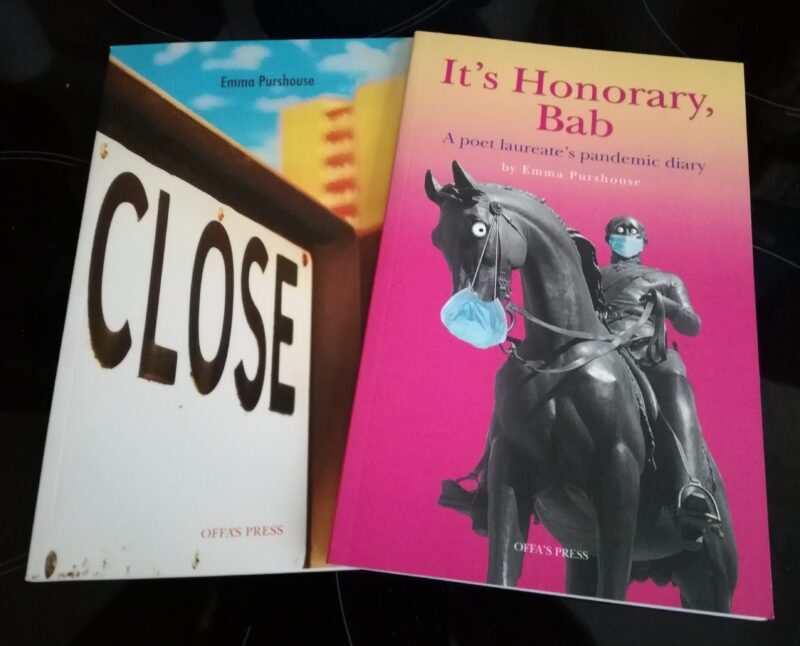 ---
As well as other bookshops and retailers, Emma's two poetry collections for adults are available online direct from publisher Offa's Press and her novel Dogged is available from Ignite Press.
---