INTERVIEW: FIRE & DUST MEETS DAVE PITT
"I dow see ya hair bab
matted with all that womb gloop.
Meybe I see
long locks. Dark auburn
with a shock of bright purple.
at the front.
"What ya think Grandad?"
And we know it dow really matter
what I or anyone else thinks
But it matters to yow,
just a little bit,
that I like it.
And I do.
Of course I do.
I dow see ya eyes bab
peeping out from sleepy lids
Meybe I see them behind
round framed John Lennon glasses
Looking over at me saying,
"Grandad, you read about this?"
And I ay and I dow know nuthin abart it
But yow guide me through it
I think I get it but I goo home
and read about it on Wikipedia anyway.
Just so I can talk to ya about it
next time we meet.
And yow know I get it wrong
And yow dow care.
I dow see ya lips bab
suckling the air. Givin a grizzle for some milk.
Meybe I see em shout out
to someone across the park
Then yow plant a peck on me cheek
and leap up and run over.
And as yow walk arm in arm
yow turn back to me
put your fingers to your lips
and blow me a kiss.
And I see it float through the air.
And I catch it
pull it into me belly
and hold it tight. […]"
– from 'Ronnie' by Dave Pitt
Dave Pitt is an award-winning playwright, performance poet and story-teller. He has performed poetry around the country, both solo and as part of the group 'Poets, Prattlers and Pandemonialists'. Dave's plays have been performed in many places, including in the 14:48 theatre festival in Seattle. He hails from Darlaston and now lives in Wolverhampton.
"Black Country Stormzy" – Jimmy Andrex. Performance Poet
"Dave Pitt took an already superb atmosphere and turned it up a notch or two with a superb set. We definitely hope to bring him back to Oooh Beehive again in the future." – Oooh Beehive, Swindon
"A short story delivered with a comfortable patience that keeps us quiet and loud in all the right places. The final piece of prose brings elbows onto the table tops and some salt in our eyes." – Birmingham Review
In February 2020, Dave was our headline poet at (a very busy!) Fire & Dust night. He treated us to some emotional highs and lows – including football scores, births, the love of his life, and the impact on loyal drinkers when a pub gets shut down.
We caught up with him after the gig, to ask a few questions…
---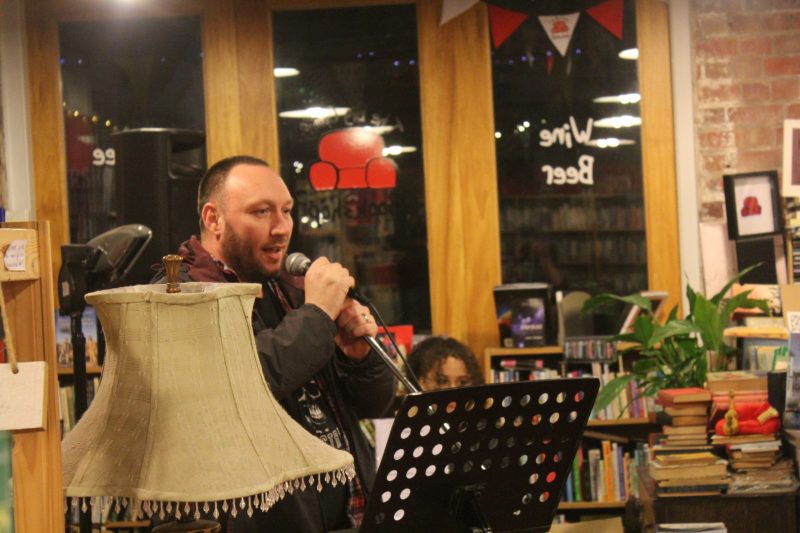 First off: we enjoyed your set for Fire & Dust! What initially inspired you to start writing poetry?
I kind of fell into by accident. I've always written but it started out as plays, films and short stories. I really wanted to do stand-up comedy but didn't know how to start nor had the nerve to try it. So I started doing story-telling to build up my nerve. Then I found a stand-up gig, gave it a go and jumped onto that ship. However, after a few years of that I found I wasn't enjoying it. I came off stage after having a decent gig and just thought, "Meh." I didn't feel anything. I quit stand-up not long after and drifted back into story-telling. Then one night, in a fit of anger, I wrote a poem. Within six months I was doing full poetry sets and haven't looked back since.
Who is your work aimed at – do you have an ideal audience in mind when you're putting a poem together?
That's a tough question and one I struggle with. I'm not sure I have an answer. I think, right or wrong, there's a purity in creating art just for yourself and I do write just for me. But to suggest I never once think about the audience would be wrong. I do want the audience to connect with what I do and hopefully get something out of it. I guess the advantage of performance poetry is you get to see the reactions of audience members as you perform. That's a useful barometer. And also the poems the audience want to talk about after the gig. So I suppose I don't have an ideal audience in mind. I just write, perform and see how people react.
Would you say there are recurring themes in your work?
I'm a working class bloke and that theme runs deep through all my work even the stuff which isn't about the working classes. Exploitation is a theme as well. That links into being working class. Means of production and all that. And mental illness features quite a bit. Again, not always overtly. This all makes me sound like a right barrel of laughs, doesn't it? But humour does play a big part in everything I do. It's all about being from the Black Country. We laugh at ourselves more than at others.
You're one of three performers involved in the group 'Poets, Prattlers & Pandemonialists'. In your own words, what is it that you guys do?
We're just trying to raise the profile of poetry and spoken word and of The Black Country. We put on gigs, publish poets who we think deserve it and get funding to put on interesting projects and spread some money around. We also laugh a lot.
Which do you enjoy most, writing poetry or writing plays? Have you ever combined the two?
When I write, the piece kind of takes over. Sometimes it demands to be a poem or a play. It's almost like I have no say in the matter. I don't mind so long as I'm creating something. Our first PPP show, based on three poets meeting in a pub, was very much a mix of poetry and theatre, and it's something we all still enjoy performing. Unsurprisingly, three poets meeting in a pub was quite a nice thing for us three to write.
From the outside, Wolverhampton seems to have a thriving poetry scene. Would you agree, and is this a recent development?
Yes, it feels like Wolves is thriving and there is an immense amount of talent out there. I'm very proud of the people and the place. There has always been a scene in the area. I remember seeing poetry and spoken word gigs from years ago thanks to people like Simon Fletcher. Maybe it feels like more now because I'm much more in the thick of it. I don't know. But I do know I'm lucky to be where I am and around the people I'm around.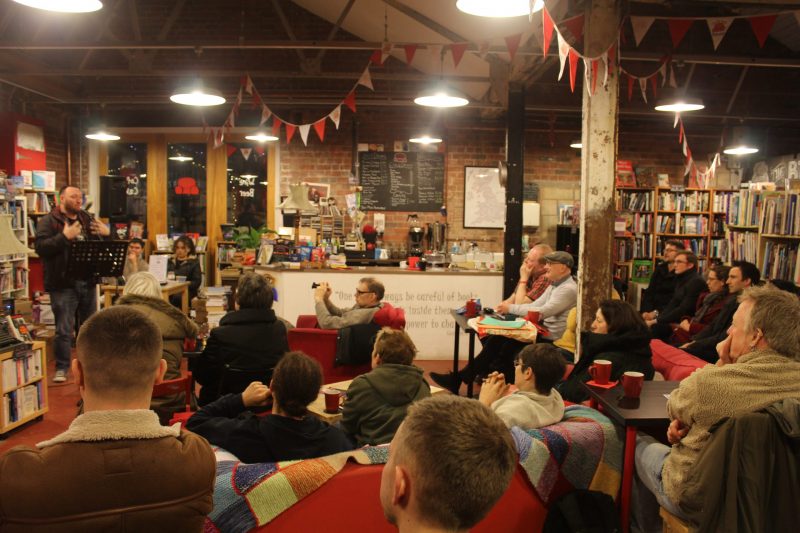 Which local gigs would you recommend for
a) nervous newbies?
We (The Pandemonialists) run a night at the Arena Theatre called PASTA (Poets and Storytellers Assemble; don't blame me for the name. It was an audience vote and I think the last few elections have proved public opinion isn't to be trusted J ). However, this night is set up for newbies. There are no slots. We just ask, "Who wants to go next?" It gives you a chance to say, "I'll do one" when your nerves are distracted during a show. More details about this night are on the Pandemonialists website.
b)      open mic veterans?
Us Pandemonialists also run our Yes We Cant night in Walsall and a seasonal "Home and Away" night in Wolverhampton. Matt Humphries and Rick Sanders also run some nice nights and are worth contacting.
And, of course, if you're feeling brave and won't get too disheartened at the potential loss you could enter a poetry slam. We run slams all over the place.
Do you engage with a lot of poetry yourself, and does this have any influence on your own work? Which collections/performers have recently made an impression on you?
I don't read enough poetry. This is purely a time issue. Between facilitating performances for others, doing my own thing and trying to balance a day job and family commitments it's hard to just sit down and read something for pleasure. When I do get that luxury I tend to reach for a novel. This isn't to say I don't read poetry, but not as much as I'd like or probably should.
I also try not to let other poets influence me. Someone much cleverer than me once said, be influenced by people outside your chosen art form. It's pointless being the John Cooper Clarke of poetry because we already have the John Cooper Clarke of Poetry. His name is John Cooper Clarke. But if you love Edvard Munch then work out why you love Edvard Munch and become the Edvard Munch of Poetry or the Shed Seven of Novel Writing.
That's not to say I don't love the work of certain poets. We had Liz Berry at Yes We Cant in January. I had to wrap the night up after her performance and was basically crying my eyes out on stage because of the beauty and power of her performance. You only need one kidney, so sell the other one to see Liz Berry.
And Casey Bailey… He's always been excellent but he seems to have gone stratospheric in recent months. Full credit to him.
And I know she'll kill me if she reads this, but Emma Purshouse… Time and again I find myself sitting on stage, a few feet away from her as she does a poem I've heard 30+ times in rehearsal and she blows me away. That's a gift.
Do you reckon Poets Prattlers & Pandemonialists will give us an interview too, if HCE asks nicely? We know you guys have had a busy few weeks, with the Wolverhampton Lit Fest going on!
Well, I will, but that's what I'm doing now. I think the other two might. I won't speak for them though. The last time I did that I ended up in an intricate Saw-inspired torture chamber where I had to write a Sestina, but every time I repeated a word I would be jabbed in the eye with a sharpened quill. So, I suppose I'm saying, "You ask them. I'm too scared."
What performances/projects have you got coming up next?
As PPP we always have things in the pipeline, which I'd love to tell you about but I'm sworn to secrecy… I'm also scared of another Saw-inspired Sestina. I will also have a massive personal announcement later in the year which I also can't tell you about. (It's like asking questions of someone in the SAS, isn't it?)
I am doing a story telling project at The Arena Theatre in Wolverhampton called Stories from the Smoke Room. It's a mix of theatre, storytelling, improv and comedy. It's basically five story tellers competing for your attention. It's a lot of fun but crazy.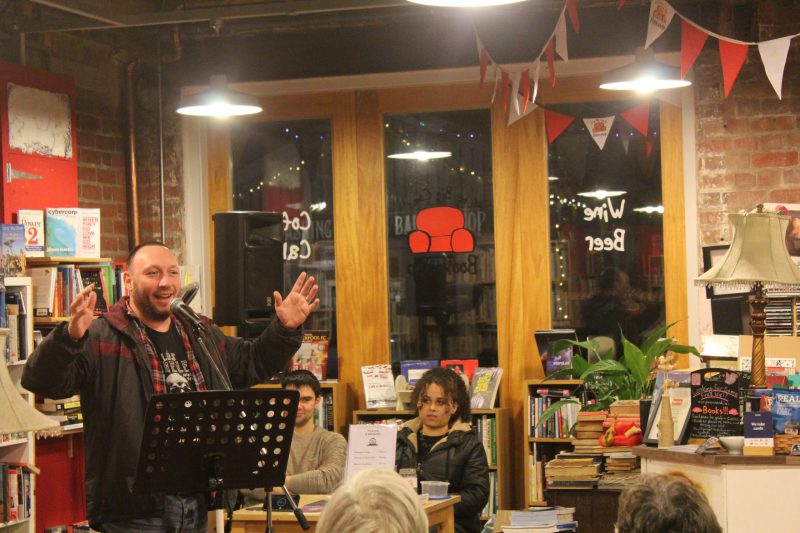 Your book Poetry is Jazz. Welcome to Punk Rock. has sold out, but is available as a Kindle edition. Is there another Dave Pitt poetry book on the horizon?
Yes. And by summer this year. It has to be by summer this year otherwise I don't think I'll have time until about 2025.
Time to plug some social media/website links: if people want to get in touch about gig bookings, etc., where can they find you? Not on Facebook, we've heard…
No, I'm not on Facebook. I hate the place. I have a website and you can contact me through there. I'm also on Twitter but have had horrible experiences with that recently. The Internet, and particularly social media, can be sickening at times. But I'm on Twitter (@DavethePitt) and I monitor it. Even if it looks like all I'm doing is live tweeting me watching Rambo: First Blood Part 2. (Yes, I did this and it was one of my favourite things ever; the live tweeting, not the film.)
Anything we didn't cover that you'd like to share with HCE readers?
Loads, probably, but I can't think of anything. Let's all just be creative, I suppose is the message. What else can we do?
---