INTERVIEW: FIRE & DUST MEETS CLIVE OSEMAN
IT COULD BE VERSE? BY CLIVE OSEMAN
BLACK EYES PUBLISHING
ISBN 978-1-913195-09-0
£8.00/78 pages
---
"What is poetry and spoken word to me?
What do I hope to achieve?
Do I need to get better
or do I just need something
in which to believe,
to be part of a scene?
Sometimes my writing, when personal,
is too much 'tell' and not enough 'show'.
I'm aware if this but it's OK though.
It'll win no accolades or awards
and I don't purport to be a superstar
but my words may strike a chord
with someone who needs to hear them.
I don't set puzzles,
because I want you to know.
I don't portray my father as a crow
and leave you to piece together
the meaning of the words,
then wonder if you really understood.
He was an abusive shit
and I've never once pretended
that my life didn't begin the day his ended.
My depression isn't a black dog
waiting to be stroked
and my physical pain is not personified
as a pissing alien controlling me.
I cope. I have a busy life,
and some don't like the way I tell it.
This is my soul
and I'm not about to sell it
[…]"
—————————--excerpt from 'My Spade Will Always Be a Spade' (p.62)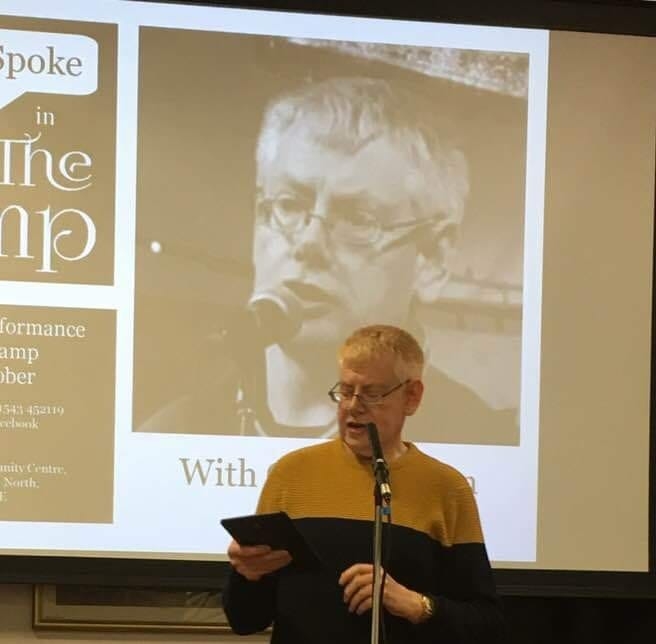 Clive Oseman is a Swindon-based Brummie spoken word artist, comedian and co-host of Oooh Beehive open mic events. He is a multi-slam winner and has twice competed in the UK slam finals, on one of those occasions missing the actual final by a margin less than one point. Clive has embraced the Zoom era and has been described as one of the most innovative of Zoom poets – unafraid to work with the webcam, and always keeping his audience on their toes. In the current climate, he aims to provoke more laughter than distress, but his poetry playfully bats around both serious and humorous material and, since the UK lockdowns began, has shown an ever-increasing level of experimentation. His third collection It Could Be Verse was published by Black Eyes Publishing UK in 2020.
On January 7th, Clive was headline poet at our Fire & Dust poetry night (via Zoom, for the tenth month in a row). We caught up with him after the gig, to ask a few questions…
---
HCE: Tell us a little about yourself and your background. When did you first know you were a poet, and what has been your journey as a writer and performing artist so far?
C.O: I would say I've never really "known" I'm a poet. I started writing at a particularly difficult time in my life around 2003, really just for myself as a way of expressing my emotions. The poetry was woeful but it served a purpose. I then discovered the Japanese short forms of haiku and tanka and pretty much specialised in them for a while. I met Nick Lovell (my co-host at Oooh Beehive) by chance, went along to a few open mics and felt utterly out of my depth. Then I saw Luke Wright headline at Hammer & Tongue in Bristol and fell in love with performance poetry.
HCE: What have responses to It Could Be Verse? been like; are readers connecting with the material in ways you hoped they would?
C.O: Yes, the response has been very positive. I consider myself primarily a comedy poet/comedian, but the more serious poems have struck a chord with people to a much greater degree than I expected.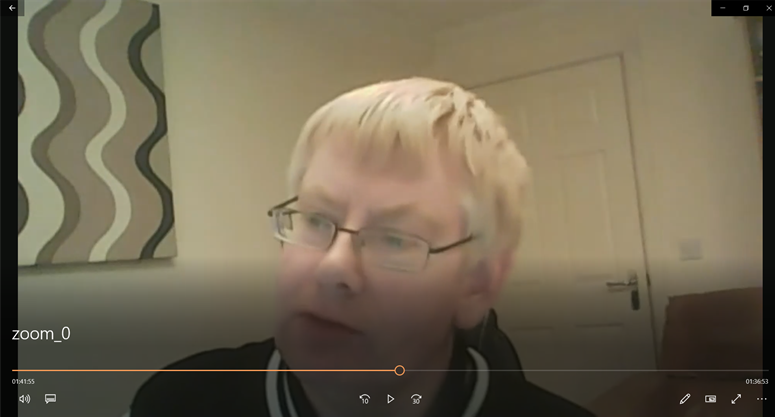 HCE: When creating the more bittersweet poems in your repertoire, is it difficult to strike the right balance between use of humour and delving into heavy topics?
C.O: Yes and no! Sometimes what I intend to be a serious poem takes a wrong turn and ends up being very silly, and vice versa. I write very much on instinct and just see what comes out.
HCE: How do you come up with the narrators/characters for your performance poems – does the inspiration derive from any place/process in particular?
C.O: Not really. Many of my ideas come to me out of the blue. I very rarely try to force myself to write. Most of my most popular poems were quickly typed into the notes on my phone when the idea struck me and then just required editing. Occasionally I'll have an idea, type something quickly then read it the next day and wonder what on Earth made me think it had any merit at all. Sometimes I persevere, sometimes I just scrap it.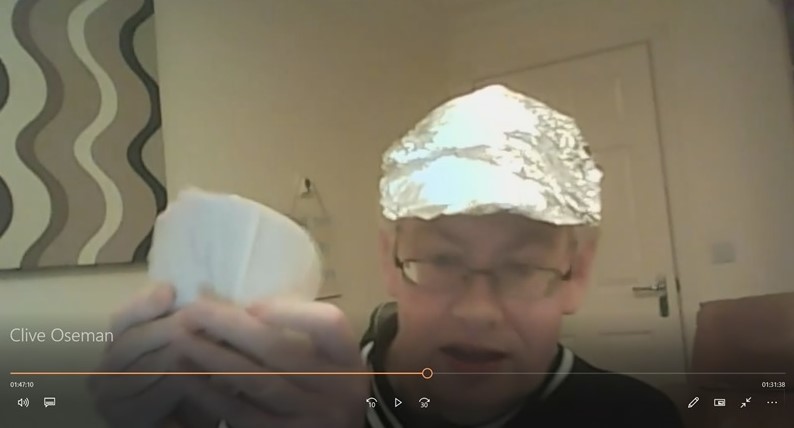 HCE: Have you always been a confident performer, or were you nervous when you first started out?
C.O: Nervous doesn't even begin to describe it! For several months I went to open mics and when one act finished I would sit thinking "Not me! Not me!" as the host was about to call the next name! I felt physically sick with nerves.
HCE: What type of poetry do you seek out for personal enjoyment? As a reader/listener, when you engage with a poet's work, what are you hoping to get out of it?
C.O: I like a wide range of poetry, but performance poetry is my favourite. I love laughing, but I also love well written poems to which I can relate. I also have a love of rap and hip hop and love poetry influenced by that (though would never attempt it myself).
HCE: A lot of writers report feeling creatively blocked for the past ten months, but you seem to be coming up with new work to perform every week! How have you managed to stay motivated and inspired during the pandemic?
C.O: With the exception of the first few weeks when I was furloughed, I've worked pretty much as normal during lockdown so although I've missed live gigs and travelling (and am really beginning to struggle with the lack of social interaction now) it hasn't felt the same as it did in the first few weeks. Oddly, I wrote less when I had all day to do it than I did before or have since, so maybe too much time to think and having nothing else to do is not a good thing!
HCE: You've traversed the online poetry scene more than most – which open mic events would you recommend to newcomers, and which for more experienced performers seeking something a bit different?
C.O: I don't really think of "newcomers" and "experienced performers." I think the best way to develop is to get in there, listen to/read as much poetry as you can, and give it a go! There are so many good Zoom events out there which are very welcoming to poets of all levels, and it's difficult to name them for fear of missing someone out. Obviously, I recommend Oooh Beehive which I co-host with Nick Lovell (and Chloe Jacquet joins us as co host for our slams) and Fire & Dust. I particularly enjoy Crafty Crows, York Spoken Word, Run Your Tongue, Spoken World Online (the online version of Spoken Word Paris), Poetry From the Grassroots, Poetry in the Brew (in Nashville, USA), MMH open mic (Australia), Your Place events in New Zealand, Pic n Mix…. I could go on forever.
HCE: Did it take you a while to get comfortable with doing poetry in a video call setting? What would your top piece of advice be to poets who used to love open mics but find it a challenge to perform at online gigs?
C.O: I got into it very quickly. The first few events felt strange. There were no nerves at all, no real build up to the event and my performances were flat as a result. But the more I did, the more it felt "almost" real, and I liked being able to play little tricks that wouldn't work live…like pretending my Zoom was frozen, or using recordings to make people think there was a zoom bomber. I think the only advice I could give to poets who find it a challenge is try to do it! It's like any change in routine. It feels strange, but we quickly adapt as human beings.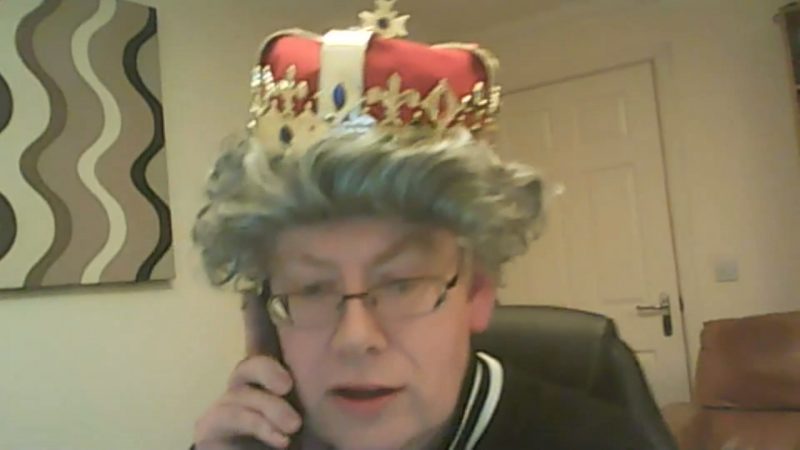 HCE: Any upcoming gigs and future projects?
C.O: I have my debut one man show on Zoom on February 22nd and hope to take it out into the real world in time. It is a satirical take on the life of the Queen. I am a socialist, and definitely not a royalist, but although the show lampoons royalty it does also recognise that being royal would not necessarily guarantee happiness. And of course I have to say it has no basis in truth (honest!).
I have several headlines/features lined up but never reveal details until the event is advertised, though I am excited that one of them is Zoomed from San Francisco!

Oooh Beehive have our regular monthly open mics on the third Friday of every month with some amazing headliners booked, and the second Oooh Beehive UK online slam championship heats will start again in April.
Follow Clive on social media:
Twitter Facebook Instagram Oooh Beehive
Website (under construction)
HCE: Anything we didn't cover that you'd like to share with our readers?
C.O: I'd just like to say that spoken word has transformed my life and I know it has for many people. It is an incredibly supportive community with so much talent that deserves more recognition. Don't be discouraged if someone criticises your work. No one can ever please everyone.
---
Clive's poetry collection It Could Be Verse? is available for purchase online. It is £10 from all the usual places, but available for £8 incl. postage (£10 overseas) directly from Clive via PayPal at cliveoseman@btinternet.com. Visit Eventbrite to register for tickets to his one-man debut show 'Getting to Know Elizabeth'.
HCE comments: It Could Be Verse? is an enjoyable and straight-talking book. It's also full of twists and turns, especially when it comes to mood: the darker poems catch you out with humour, and the ones that seem light-hearted suddenly tunnel into something deep!
---