INTERVIEW: FIRE & DUST MEETS CATHI RAE
"Your cleaner hates you.
Not, of course, in the way she hates Crocs, Jacob
Rees Mogg or the kind of people who talk about
going for a cheeky Nando's,
but, make no mistake, your cleaner hates you.
And just because she knows the names of your
dog, guinea-pigs and husband and remembers to
ask about your son, studying what was it?…
forensic physiology and photography…don't be
fooled, your cleaner hates you.
Sometimes, your cleaner wonders what exactly it is
you do all day, given that you have a woman to
clean your house and a woman to iron your clothes
and another, slightly younger posher woman to
walk your dog…
Oh, they hate you too.
You tell your cleaner that you have 'projects' on the
go as you waft to your study on the 3rd floor, your
room of one's own…
What you don't do up there…ever…is bring down
the multitude of mouldy and malodorous mugs,
some homage to a long-gone undergraduate
lifetsyle and your cleaner would like you to know
that emptying an ashtray into a wicker wastepaper
basket is the same as not emptying it at all but
with additional hoovering work.
Your cleaner hates you."
___________________–excerpt from Cathi Rae's Your Cleaner Hates You, p.7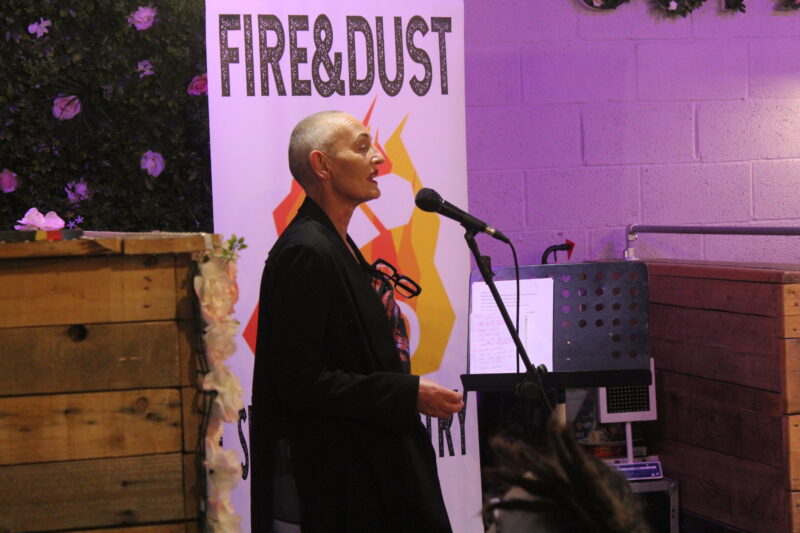 Cathi Rae is an award-winning and widely published poet, a multiple slam champion, a body positivity model and a campaigner against ageism in fashion. Described by Joelle Taylor as "a spoken word icon", Cathi has performed at various poetry events and festivals. Her work is rooted in the lives and experiences of ordinary working people, using everyday language to give a voice to those who don't get many poems written about them. She is currently funded by The British Research Council to work on a project using collaborative processes with marginalised individuals. Cathi's work is featured in several anthologies, and her debut collection Your Cleaner Hates You and Other Poems was released in 2019 with Soulful Publishing. Her second collection Writing Elegies for Dead Men I Didn't Meet is in pre-publication preparation and will soon be touring as a one-person show.
Cathi was the guest headliner at our Fire&Dust poetry night on 12th May 2022. Her poetry set was well-received by the audience and we caught up with her after the event, to ask a few questions…
---
HCE: Tell us a little about your background and journey as a writer so far. What inspired you to start creating and performing poetry?
CR: As with many people, I wrote dreadful teenage poetry and then life happened and I didn't write creatively until my mid-40s. My writing life began again via my interest in strange short experimental fiction, which took me to the world of spoken word performance and that gateway drug – the open mic slot. It's only a short jump from strange prose to poetry, and the joyous discovery that there was a world interested in poetry where you didn't need to have stacks of publications or qualifications to be able to perform your work. I've been working seriously as a poet for about 15 years now – proof positive that it's fine to start a new creative career much later in life. The spoken word and slam scene have allowed me to perform and share my work and to become a much better poet – there's something about standing up in front of an audience that tests you and your work in a very direct way.
HCE: Would you say there are themes or motifs that you gravitate to in your work?
CR: As the child of working-class economic migrants to the UK – I'm very interested in class, disadvantage, the invisible and giving a voice to those experiences. I like to use very real experiences around poverty, disadvantage and invisibility. The collection Writing Elegies for Dead Men I Didn't Meet used accounts of real men's suicides expressed via social media – a conscious attempt to take bald statistics and make them real and related to actual events. My current big project – a PhD in creative writing – is a collection of poetry based on long interviews/conversations with individuals who carry a label of marginalisation; again, telling the real stories behind the label of 'homeless' or 'drug user' or 'mental health service users'.
HCE: Who is your work aimed at – do you have an ideal audience in mind when you're putting a poem together?
CR: My ideal audience member is someone who comes up to me afterwards and says I don't like poetry, but I like what you did or, even better, that they want to write their own work now. My work is generally not showy or loud – I want to talk about things that matter to me in ways that engage other people and to use language of the everyday. I want my work to be accessible and not buried in form or poetics – although I do love the pleasure of finding exactly the right word. My work is small 'p' political – telling the stories of ordinary lives, making visible people who don't often have poems written about them. I hope that audiences can find points of recognition and visibility within my work.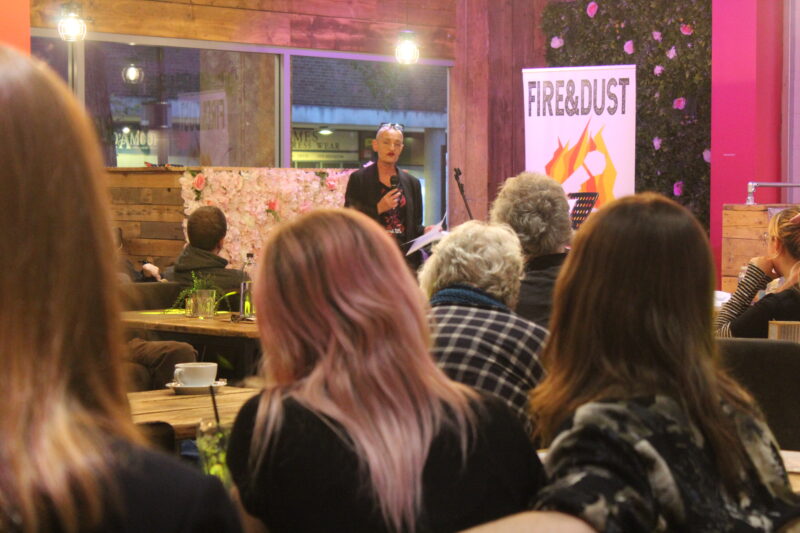 HCE: There's often sharp observational humour in your poems. How important a device do you think humour is, and what role do you believe it plays in poetry and performance?
CR: I'm not good at overtly funny poetry and really admire poets who are laugh out loud, but I do try to write pieces that lure the audience in with lightness and then move to something more difficult. A lot of my work comes from an anger with the world we live in, but I want to take people with me, so humour, putting a sharp spin on something, seems to be a more effective method of drawing an audience in. It's not the only answer – sometimes you need to be angry, but satire is probably more effective than shouting.
HCE: Do you enjoy competing in slam events? What are some good ways to prepare for a slam?
CR: I have somewhat mixed feelings about Slam – it's great when it goes well, less so when it doesn't. It's a very effective way of developing your performance skills and honing writing with particular constraints (time and subject matter). It is a very good way for new and emerging voices to get noticed; it's certainly helped my career, and you can learn a lot by listening to successful slam poets. It's probably useful to develop a thick skin, to not take rejection to heart and to understand that your job is to do the best by your poem.
If people are interested in taking part in slams, I would recommend attending slams, really taking note of what works well, but staying true to what you want to write about – a poem written to be a good slam poem may not be your best work.
HCE: In the worlds of fashion and social media, you seek to spotlight and celebrate ageing bodies and challenge ageism. Do you think literary scenes and communities are doing a good job of spotlighting and celebrating older poets, in particular older women poets – and if not, what are some approaches to it they could take to improve this?
CR: I was really pleased to see so many older poets at Fire&Dust – many spoken word events seem to almost exclusively be a space for the under-30s. There are so many unhelpful upper age limits when it comes to funding, mentoring and other opportunities, and these simply exclude so many potential new writers. It's a terrible assumption that emerging or new voices are aged under 30. Ageing adds power and experience to our writing and adds other perspectives to the spoken word scene – we make the world richer.
I would love to see funding and opportunities that specifically target emerging writers aged over 45, and challenge promoters to look hard at their booking policy to ensure that their policies of representation include challenging ageism.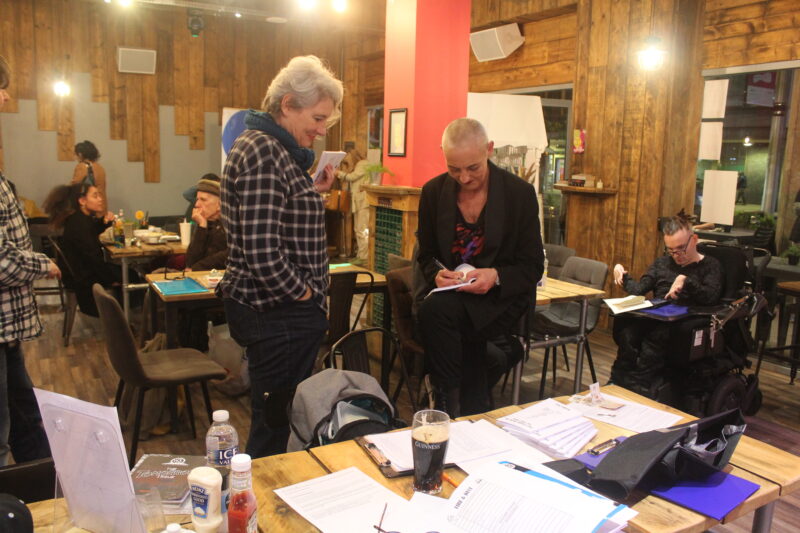 HCE: In your opinion, is Leicester a good place to be a poet/writer/creative?
CR: Leicester is a great place to be a creative person – there is a thriving spoken word scene, lots of networks of collaborative practise and it's small enough so that making links and meeting other people is possible, and people seem open to new ideas and new ways of working. Oh, and it's very easy to get to other places from!
HCE: Poets too often fall into the trap of preaching to their choir on the mic and end up bombastically stating the obvious…which evokes applause, but usually not new understanding or empathy. Your work seems to skilfully negotiate the balance between creatively exploring a topic while keeping your message accessible – do you have any advice for writers on how to evade the shouty trap and achieve more nuance in their poems?
CR: Oh, I have lots of opinions on this topic – firstly read poetry, read outside your interests, interrogate poems and try and really understand how the poet has used language. Secondly, always ask yourself the questions – can I say this in a more interesting way, can I come at this from an oblique angle, can I use personal experience (or other people's experience) to move from the general to the specific, can I focus on the small to make bigger points. I was talking to a homeless person last week and he said that he often eats dumped takeout food because people simply drop unwanted fresh food – if I want to talk about homelessness, I'm going to talk about that because its quietly shocking and puts forward real experience rather than a generic rant about Tory housing policy.
HCE: Your collection features a number of 'list poems'. What is it that attracts you most as a writer to cataloguing as a poetic device?
CR: I love a list poem and use the form a lot in creative writing workshops – we all know how to write a list, so it doesn't have the anxiety and weight of trying to write a "proper" poem. I love the neatness of a list, the possibility of numbering, and the best list poems are a collection of micro poems/snapshots.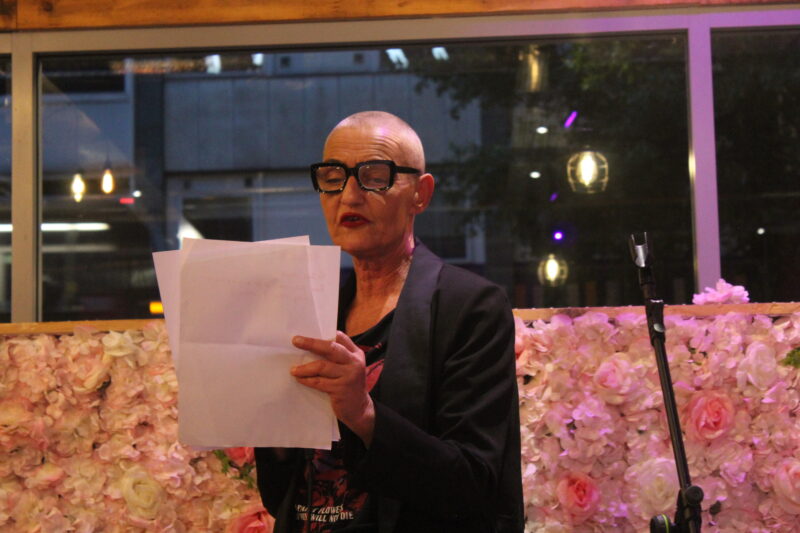 HCE: What type of poetry do you seek out for personal enjoyment? As a reader/listener, when you engage with a poet's work, what are you hoping to get out of it?
CR: I love poems that stop me in my tracks – that make me see something differently or see language used in ways that I've never thought of and once I've got over the base envy of why didn't I see that? – I'm usually just excited. Work I've really enjoyed recently (and I read a lot of poetry) includes:
Adam Kammerling – Seder
Rick Dove – Tales From the Other Box
Kathryn O'Driscoll – Cliff Notes
Anything by Caroline Bird
Joelle Taylor – Cunto and Othered Poems
HCE: Who or what would you say are the biggest influences on your writing?
CR: Kenneth Goldsmith and his work on uncreative writing – the use of found text and other people's words have been a huge influence of my recent collections and work in progress. Joelle Taylor – her writing and performances set the bar so high. The recent Red Skies online writing workshops have been invaluable in helping me look at work in different ways
HCE: What's next on the horizon for you? Are you already working on projects/booked for upcoming performances?
CR: I'm performing around the Midlands over the next few months – but I do have spaces for other performances. I'm poeting at Burning Woman Festival in Derbyshire in June and at Camper Calling Festival in Warwickshire in August. I'm teaching at Attenborough Arts centre at the moment and will be delivering a range of poetry and creative writing workshops nationally – I'm always happy to deliver bespoke creative writing courses and workshops.
I'm currently a writer in residence at a homeless charity in Leicester and of course the big project – the PhD – continues to trundle on like the leviathan it is.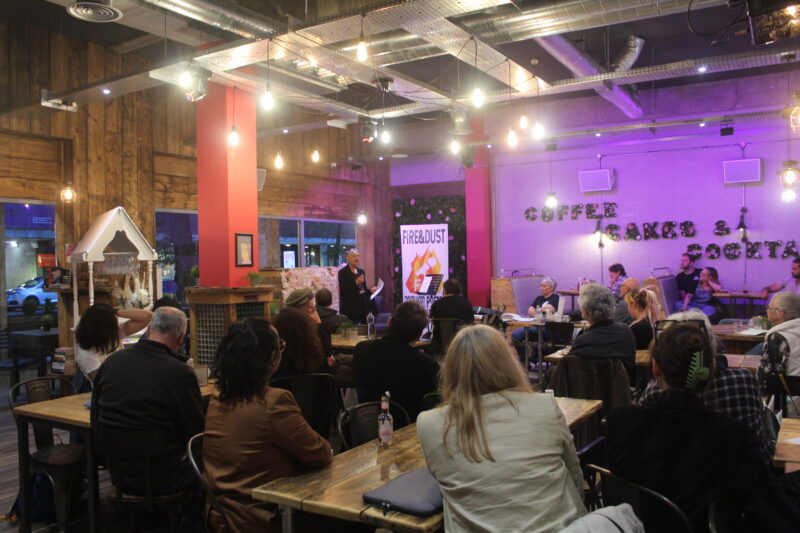 HCE: What's the best way for people to keep connected with your work or contact you for bookings?
Instagram
Or to book me for performances/workshops and the like: cathirae62 AT yahoo DOT co DOT uk
HCE: Is there anything we didn't cover that you'd like to share with our readers?
CR: No, these have been really thought-provoking questions – thank you.
---
Your Cleaner Hates You and Other Poems is available online – visit publisher Soulful Group's website.
---