INTERVIEW: FIRE & DUST MEETS ANN ATKINS
Some days I'm entertainment, sunshine and slot machines
donkey rides and ice creams.
Others, I'm out of season, boarded up shops
sandbags to fight the floods,
though it's not really seasonal,
can't always predict when the storms will come.
More often it's dull, no sunshine, no showers,
just clouds and nothing much going on.
The pub's open, but only an old man with a dog
making a pint last, doing a crossword
telling the barman how he hates it when the tourists come.
The barman nods, but knows without them there's no job.
On those days the time drags, but it's easier to manage
online, laughs and smiles, postcard pictures and selfies.
Occasionally letting a glimpse of the past sneak in.
You there for all of it, not just for the good times
not judging when the waves break over the shore
But sitting with me until the tide goes out, then clearing up.
You don't allow me to merely exist,
like some rundown seaside town no one wants to visit.
You're days out and proud parades,
showing off my glory days.
You give me hope when all I have is doubt.
You seem to think that I'm not some once was great
before-the-pier-was-taken-away place
where the good times were all long ago.
But that there's a future,
not the same as in the days before package holidays
created a paradigm shift,
but still worth investing in.
– 'Coastal Defence' by Ann Atkins
Ann Atkins is a poet who likes playing with words and finding inspiration in unusual places and the trials of life, often dishing up her observations with a dash of humour. Ann is a Some-Antics Online Slam winner, was Scriptstuff New Year Slam Champion in early 2020, and has been featured as part of Positive Images Festival for three years in a row – headlining in 2019, hosting spoken word event 'Positive Words' the following year and participating in the 2021 'Food for Joy' Project. Recently, she has been interviewed on radio programmes Coventry Creates (BBC Coventry & Warwickshire) and Brum Radio Poets. Her work has also been published in several anthologies and magazines. Since the gigs went virtual in April 2020, she has been co-hosting/hosting at Fire & Dust. Originally from the Black Country, Ann is now based in North Warwickshire.
On 6th May 2021, Ann Atkins was the guest headliner at our Fire & Dust poetry night. Her poetry set was very well-received by the audience and we caught up with her after the event, to ask a few questions…
---
HCE: Tell us a little about your background and journey as a writer so far. What inspired you to start creating and performing poetry?
AA: I wrote quite a bit of poetry during 2007/8 in response to a traumatic time. I didn't start writing and creating the kind of poetry I perform now until a friend suggested I look at 'Fire & Dust' and 'Pure Good and Right' open mic nights in February of 2018. I didn't even know what an open mic night was before I went. I attended a few times before I was inspired to write and got the courage to perform.
HCE: Who is your work aimed at – do you have an ideal audience in mind when you're putting a poem together?
AA: I'm not sure I do, sometimes there might be a person who I'm thinking of, but more often I'm working out my own complex thoughts. Other people seem to like it or relate to it, so that's great.
HCE: Would you say there are themes or motifs that you gravitate to in your work?
AA: Most of my work is observational and I think quite conversational in style; I'm not sure if there are recurring themes, possibly mental health, grief and loss as they're things that have directly affected me.
HCE: There's often humour in your poems. How important a device do you think humour is, and what role do you believe it plays in poetry?
AA: I choose to use humour as life is hard enough. If I can make someone laugh or smile, I've done something worthwhile. I find it can also be a useful vehicle for challenging preconceived notions.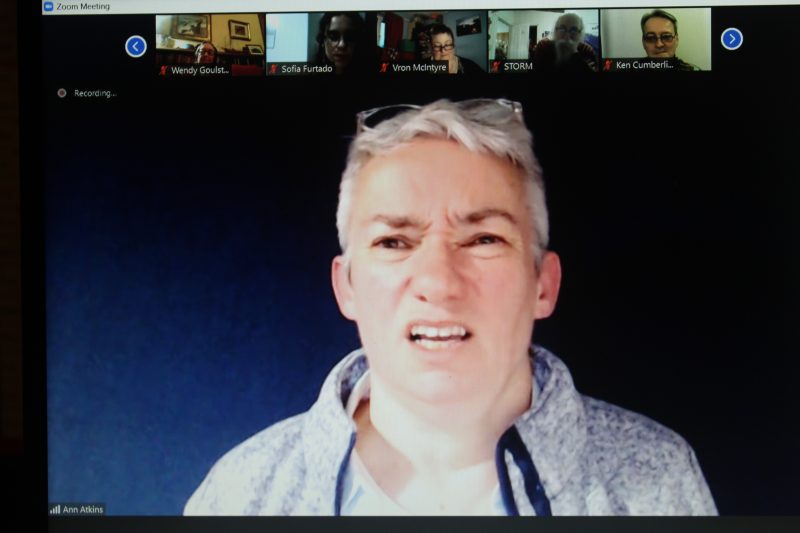 HCE: Do you enjoy competing in slam events? What are the big differences for you, when it comes to choosing poems to perform for a slam vs. poems for a headline set?
AA: I used a couple of my 'slam' poems in my headline set as they fitted the theme I wanted to use and usually get a good reception from audiences. I have a love/ hate relationship with slams: it's nerve-wracking being judged. I like the performance aspect – it's easier to be a bit more dramatic in a slam than a quiet open mic. I don't like being unranked or knocked out in the first round of a slam; I don't like to admit I'm competitive, but it's nice to win. I've gone out in the first round of one slam and won at another with the same poems, so slams shouldn't be taken too seriously. Some poets have trouble cutting to the 3-minute limit for slams; I don't find it easy to write pieces that are long enough.
HCE: Some of your poetry deals with your own life experiences in a direct and honest way. Is this an emotionally draining thing to do? What is the top piece of advice you would give other poets for tackling heavy/personal topics in their writing?
AA: I find writing helpful for processing experiences and emotions. I can say things about my life in a poem that I find difficult in conversation. When I perform, it's on my own terms and if other people can relate then that's a good thing. My advice: performing personal poems can be draining, always look after yourself and don't feel you have to share everything you write.
HCE: Throughout the Covid-19 pandemic, online meet-ups and communities have been a much-valued resource for isolated writers. You're currently involved in quite a few workshop groups – what attracted you to these, and do they play a role in your writing process?
AA: When the pandemic hit, I had a headline gig lined up, a feature set because I'd won a mini-slam, and a place in a prestigious slam at a poetry festival. I'd been following Mark Grist on social media, he advertised a writing group on Zoom called Write Club. We meet on Mondays for writing exercises and set personal targets for the week then have a catch-up on Friday afternoons to check in. It's been a real lifeline. From that I found out about Allographic, which has a Write-in on a Sunday afternoon, and of course Cov Stanza who were meeting monthly in the back room of the Broomfield Tavern have moved to Zoom, so I can keep in touch with local poets, get feedback on poems, etc. I think it's good to get feedback and to try different styles to keep your writing fresh, but the most important aspect has been the social support. I'm looking forward to getting out and about to meet some of them in person.
HCE: Does it seem to you like most people find their own way to creativity? Or do we all need more encouragement to engage with this side of ourselves once reaching adulthood?
AA: I think it's important to engage with our creativity as adults. There's a quote I like, I think it's from the wise philosopher Anonymous – 'You need three hobbies: one to make you money, one to keep you in shape and one for creativity.' I think that's a good idea, though finding the time and staying motivated for all three is a different thing.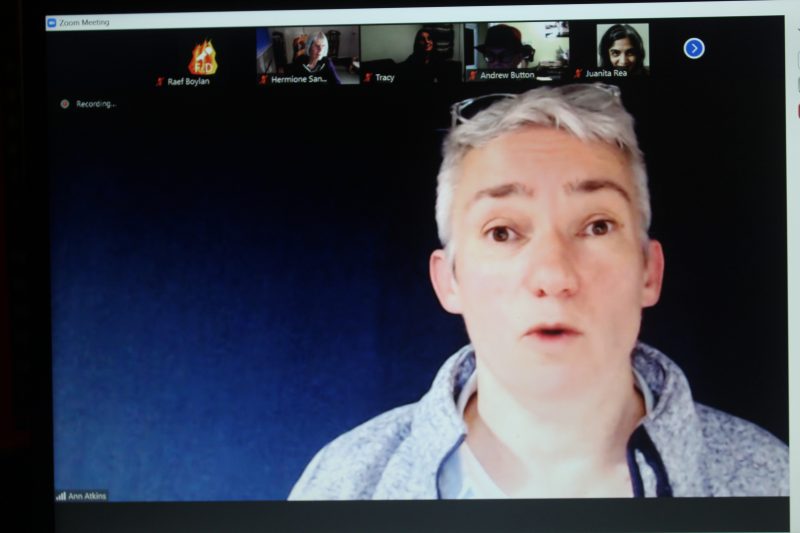 HCE: Would you say poets tend to place too much value on being published as their end goal? For you, is publication what's most important, or do you focus more on other aspects, like growing your reputation as a performer?
AA: It's up to the individual. Personally, I like the immediacy of performing in front of an audience; where you can instantly engage with people and get their reactions. When sending poems off to competitions and journals, you don't know if people have read them or liked them and sometimes poems get rejected because they've had too many of a certain type etc., and it can be disheartening. Of course, I would like to be published as well; I need to be a bit more disciplined to actually send poems in.
HCE: What type of poetry do you seek out for personal enjoyment? As a reader/listener, when you engage with a poet's work, what are you hoping to get out of it?
AA: There are so many, my partner jokingly says I'm not allowed to buy more until we get another bookcase! Poets who have made a big impression… Emma Purshouse; I heard her at the second open mic I went to and thought wow, I don't have to change my accent or be super serious. Tina Sederholm; I love her attitude and positivity and clever wordplay. I'm really looking forward to getting her new collection This is Not Therapy that's out in July. I also like some of the more well-known names, like Caroline Bird, Hollie McNish, Ian McMillan and Brian Bilston. I like poetry that's accessible; I'm less keen on classical poetry and things I don't get even on the third or fourth reading. I think it's important to read all kinds of poetry if you want to write it, but I also find at most open mics there's something that has that wow factor.
HCE: Who or what would you say are the biggest influences on your poetry?
AA: I suppose I started with listening to interesting song lyrics, for example, Lucy Spraggan and Pink. I think Kaycey Musgraves' Follow Your Arrow is really clever.
She will probably cringe but Emilie Lauren Jones from our own Fire & Dust is a great poet and runs superb workshops that helped me develop a lot. We also worked through Jo Bell's 52: Write a Poem a Week. Start Now. Keep Going. (a book of poetry prompts), giving each other feedback each week and that also pushed me to improve.
HCE: It's not a simple question to ask or answer in 2021, but…what is next on the horizon for you? Are you already working on projects/booked for upcoming performances?
AA: I have an offer of a headline at Allographic open mic online (date TBC). When in-person events can start again safely, I have a short feature at Cafe Grande Slam in Dudley and a headline at Kenilworth's Pure Good and Right. I'm also putting something together for the PBH Edinburgh Fringe Online, featuring some Fire & Dust poets. The best way to find out what I'm up to is to follow my Facebook page. I rarely post unless I have big news so it won't bombard your timeline!
HCE: You've traversed the virtual poetry scene pretty well since the first UK lockdown. What would your top piece of advice be, for poets who used to love open mics but find it a challenge to perform at online gigs?
AA: Go as audience and listen first time, you'll probably notice that there's a lot of positive comments in the chat and people are usually friendly. When performing, I switch to gallery view so I'm not staring at my own face (unless that's what you like). Look into the camera and perform for one person, I look out for expressive /friendly faces. In some ways it's easier, nobody can see if you have your words on your screen. Practice first; I recorded myself on Zoom with only me in the meeting before my headline set and watched it back so I could see what others would see. Oh, that's lots! Do it, this is a great opportunity to experience a wide range of poets from all over the world, something good that's come from this awful situation.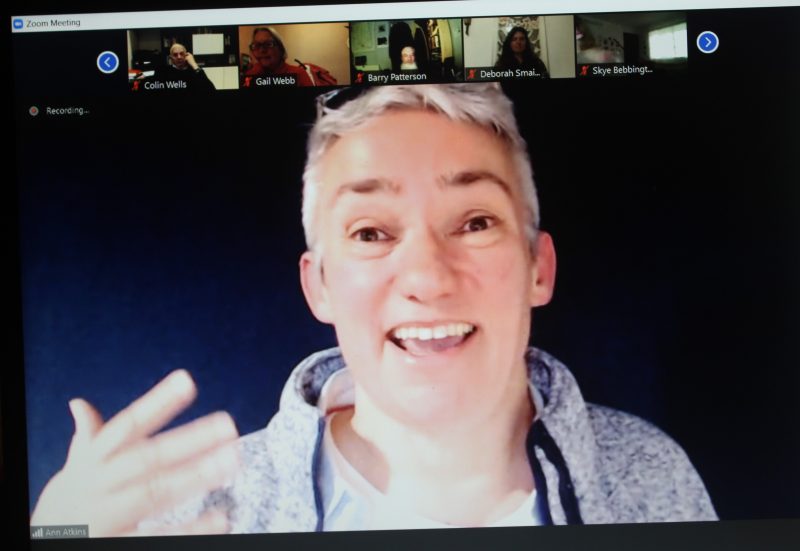 HCE: Is there anything we didn't cover that you'd like to share with our readers?
AA: I'd like to say a big thank you to Raef and the Fire & Dust poets. From sitting at the back at The Big Comfy Bookshop and wondering how people write like that and have the courage to stand up, to headlining three years later, it's been quite a journey! I'm not sure where it will take me next, but I'm going to enjoy the ride.
HCE: What's the best way for people to keep connected or contact you for bookings?
---