INTERVIEW: FIRE & DUST MEETS ANDREA MBARUSHIMANA
V20 BY ANDREA MBARUSHIMANA
The Gloucester Poetry Society
E-book: £3.95/24 pages
---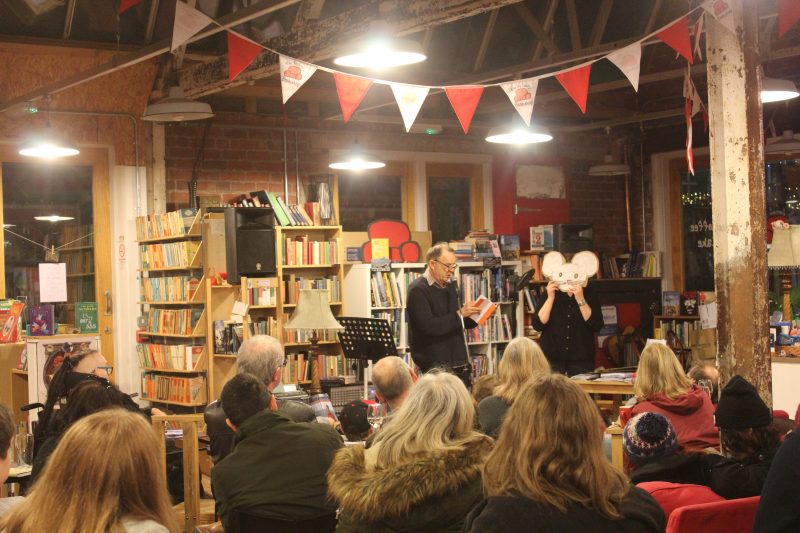 "He builds it for a moustronaut
deputised to fly his dreams from shed to cosmos
an ambitious boy
all ignition and accelerant gorged on Sci-Fi
mouse's first blast off makes it a few stories high
Rocket boy ascends, becomes a Rocket Man
jet engines, the cut and thrust of aeronautics
finally the Space Agency calls
Rocket Man spins in triumph
the earth spins
the galaxy spins
the politicians – spin
the bankers all fall down […]"
– from 'Rocket Boy' (V20, p.6)
Andrea Mbarushimana is a poet, community connector, artist and peace activist. Her short collection The Africa in my House was published by Silhouette Press in 2017, and she has since won the inaugural V20 pamphlet prize (2019) with Air Show. Andrea has headlined events in the UK and Ireland, delivers workshops, and is not afraid to take poetry onto the streets. She especially loves writing bespoke poems while you wait.
At Fire & Dust poetry gigs, we're often privileged to have Andrea along as an open mic performer. But in January 2020, she joined us as the night's special guest poet. Her headline set featured readings from her new pamphlet plus other new poems – and, excitingly, a Fire & Dust first: Andrea's poetry puppet show!
We caught up with her, to ask some post-show questions!
---
First off: we enjoyed your set for Fire & Dust! What initially inspired you to start writing poetry?
I always wrote poetry. I loved AA Milne's poems and some funny poems I had in a big Anthology, but mainly it was my family: they were always making up poems and rewriting famous poems to perform at events. I have a poem my Grandad wrote about everyone and remember my Nannas and Aunty Mary performing a rewrite of Shakespeare's witches scene from Macbeth every year for Halloween, at my Nanna's birthday party.
Who is your work aimed at – do you have an ideal audience in mind when you're putting a poem together?
I initially write for myself. Then, when rewriting, I sometimes deliberately make the poem less grounded in reality and more open to interpretation, to let people put their own spin on it – I don't have a particular audience in mind though. With pamphlets and performances it's different. I think you need to think about an audience at that point. You need to try to work out how people will engage with the work. You might consider creating a narrative, introducing changes of pace, focus and emotional intensity.
Nature, birds and animals make a lot of appearances in V20. Were all the poems in the pamphlet written specially for your 'Air Show' narrative, or did the theme reveal itself when you were fitting the poems together?
I have a lot of poems…and I began to put together a kind of nature pamphlet, with a focus on birds. Then at some point the focus changed to a 'taking flight' metaphor. I then brought in poems about family and growth and wrote a few poems to link together the themes (the Rocket series, which form the centre of the pamphlet). I also changed the odd word in existing poems to create a dialogue between them.
How does it feel to have sent two poetry books (so far) out in the world, and is there a third already on the horizon?
It's amazing. Especially as I look around and see so much talent – people who haven't yet been published. I don't quite know how it's happened but I feel very fortunate. I'm awful at getting out there and selling my books. I'd like to create a kind of show around 'Airshow' with the puppets and some backing tracks, various devices…so there's that…
I have more than a hundred poems, and enough that I'm happy with to form a cohesive collection. I also have another pamphlet that's nearly ready. Even now, I'm still not sure how to go about getting that collection published…
What do you think are the most important elements for creating a "good" poem?
It's crucial that the poet believes in the poem – that they are fascinated by what's in there – but it's equally crucial that it's not just for them and about them. I appreciate work that comes from some sort of imperative, whether emotional or intellectual. Other than that – there are different poems for different purposes – I like form and free, funny and serious, long and short, rambling and tight, prose poems and poetry comics…. One thing I would say, is that I don't like being told exactly what to think. I don't like poems that assume you will agree with them, that are didactic. There's got to be a bit of mystery or uncertainty – some space for, or conversation with me, the listener / reader. Who, of any of us, really has it all figured out?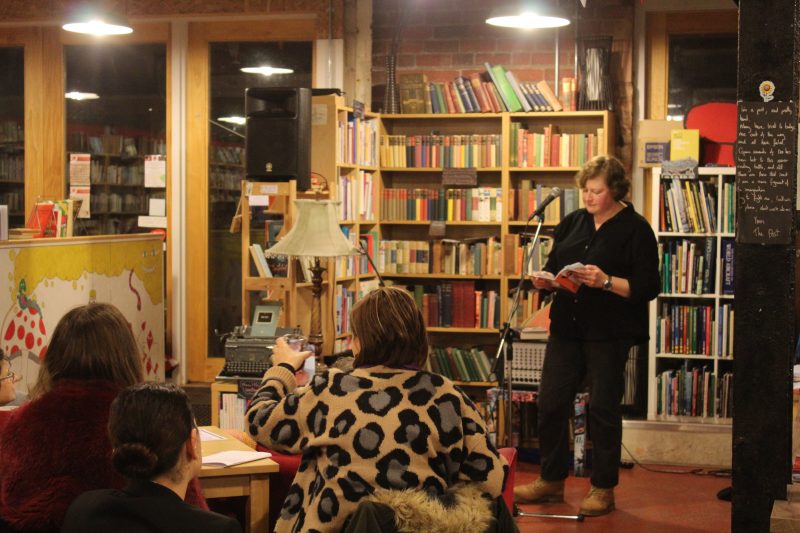 Which poetry gigs have you recently been to that you'd recommend for
a) nervous newbies
b) open mic veterans?
I recommend Fire & Dust all the time – there are such diverse voices and such a warm, supportive environment. I recommend Wordplay at the Belgrade with Nine Arches, because of the quality of the Headliners. I recommend PGR** especially to people who are nervous about performing, because it's small and friendly – you can always hide in the treehouse (yes, I have done that)! I have loved Yes We Cant at the Pretty Bricks, Wordwise in Derby and Tales Between the Ales and I can't wait to get to Funkenteleky, which sounds awesome.
**Pure & Good & Right, Tree House Bookshop, Kenilworth
Do you most enjoy poetry on paper or in performance? Do you feel there is a distinction between writing for the page and for the stage?
I consider myself primarily a page poet, but performing has improved my page poems massively. It can be such a buzz if it goes well, but I always get nervous. I think it pays to try to do both. Sometimes it's good to throw a complex poem into a performance to shake things up and it is certainly not a good idea to underestimate an audience. Both page and performance take work and I respect people who put the time in: in performance, I get frustrated when there's a great page poet who performs really badly and equally frustrated when there's a great performer who has nothing to say or says things artlessly, because both ways it's lazy and disrespectful to the audience. Even the best page poet needs to perform these days, so you've got to have pieces that are simpler, more passionate, more rhythmic and can create a vibe.
The Fire & Dust crowd were treated to a brilliant poetry puppet show as part of your set, which people will hopefully get to see again one day. You're a visual artist as well as a poet – do you find these two interests complement each other? For example, are there plenty of projects out there calling for collaborations between visual art and poetry? And do you find one form works better than the other for self-expression?
They don't complement each other as much as I'd like. I wish I had the time to experiment a bit more with using art and poetry together. I don't switch – I can be painting and writing on the same day. Both are equally useful to me in terms of self-expression. Poetry has taken over because it's easier to fit into my life in terms of space / time. It feels like the art community has more gatekeepers and it doesn't feel as open, accepting or encouraging. Despite the fact I had a solo exhibition at the Herbert, I still struggle with calling myself an artist or demanding to be taken seriously. I think that the F&D community has lulled me into a false sense of security with Poetry though, because I hear that poetry can be cliquey too.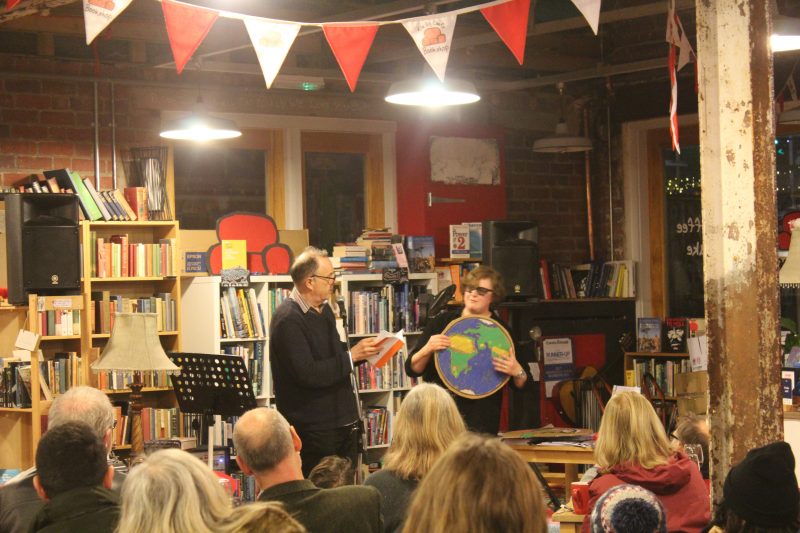 What sort of visual mediums do you most enjoy working in/with?
I love drawing, painting in acrylics and oils, reworking images on Photoshop and drawing cartoons. I've exhibited photography before – I got away with it because I have a good eye, but I've not got the skill I would like. I've designed logos and T-shirts and I love silk painting. The most fun I've ever had is doing community murals. I love community arts, which I've done for years and I'd like to do more community poetry, or community poartry (sorry, Rick!)
Like HCE, you're proud to be born and based in Coventry. Cov is going to be UK City of Culture in 2021 – what are you hoping to see happen here for writers and artists over the next few years?
For writers: I am hoping for support for local poets to create a bigger and more solid infrastructure for progression. As I said before, there's so much talent and it's difficult for people to move up, get published, get booked for gigs. It would be great if there was more mentoring available. Getting a local Press back in Cov would be fantastic. Attracting attention for the city's voices via a festival might be a good route to finding financial support.
As far as the arts go, I would like more infrastructure to enable artists to partner with schools, businesses and community groups. I would like the arts to be valued – have a louder voice. The benefits of creativity in all its forms for health, wellbeing, education and productivity are well documented. I'd like the city council to attach a public arts clause to all new building developments, which includes working with the local community via residencies. I'd like funding for small scale, local projects – which were great for me when I was starting out. I'd like bigger commissions to prioritise Coventry artists, and where commissions are won by national and international artists I'd like them to have to work with local artists in a mentoring capacity to ensure that people here are able to have career progression.
Do you engage with a lot of poetry yourself, and does this have any influence on your own work? Which collections/performers have recently made an impression on you?
I read a lot of poetry. I spend a lot of money on poetry books. I am LOVING John McCullough's Reckless Paper Birds. I love Ocean Vuong and the pamphlets I get with my Rattle magazine subscription. I like the Emma Press Anthologies and love the Sidekick Headbooks… I'm trying not to talk about poets I know because it would sound sycophantic, but I genuinely love reading Jamie Thrasivoulou for his attitude, Antony Owen, for the density of his imagery, and Matt Black for his humanity. I love Deborah Alma's poetry – it's so witty and sensual. Jacqueline Saphra is just great on the page. I started out on Wendy Cope, Olga Broumas and Mimi Khalvati, plus the classics – Coleridge, Keats… Jack Mapanje is awesome. You can't go wrong with the Bloodaxe books Being Human, Staying Human and Being Alive. I got them all second hand on Amazon really cheaply. I love Emma Purshouse's books – particularly The Nailmaker's Daughter and her kids' book, which is amazing: It's so clever in its wordplay. I enjoyed Bella by Nellie Cole after I heard her at a reading and I find it in my head a lot. Similarly, Imtiaz Dharker and Liz Berry, whose lyricism is just gorgeous.
I read poems by unpublished poets that I really love… I thoroughly believe that thing of reading in order to write. Last week I got four poetry books out of the Coventry Central library – it has loads and you can request them, too. I tried to create a library of lit mags at the Treehouse Bookshop, but it didn't work. I haven't given up though…I also have a subscription to Mslexia. I'm looking for stuff that's a bit more experimental at the moment, so if you find anything….!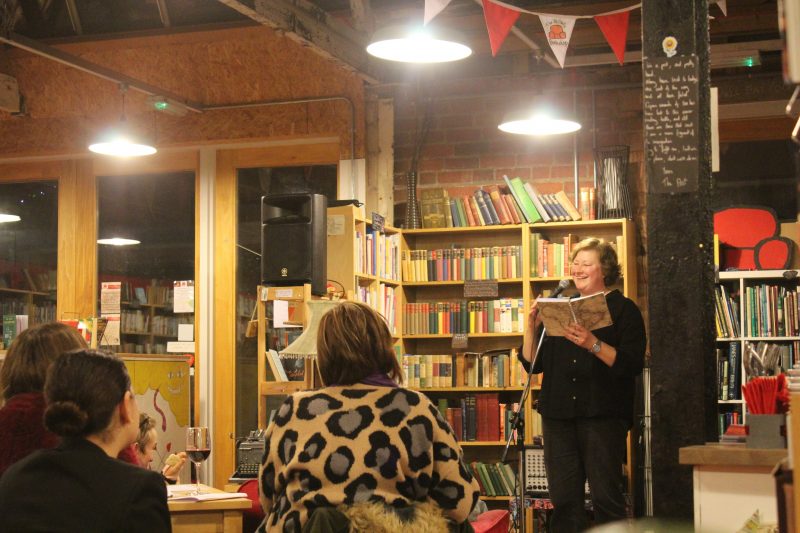 If people want to get in touch about gig bookings, where can they find you? Time to plug some social media/website links!
Twitter
Anything we didn't cover that you'd like to share with HCE readers?
Err…can I list some more poetry books I'd recommend? No? Oh well…Can I say though, I read a LOT of prose, too. I think reading prose also helps with writing poetry.
---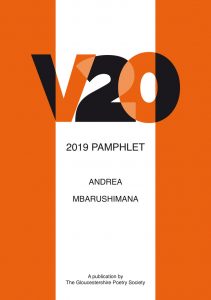 Editor's note: an e-book version of V20 is available online from Gloucestershire Poetry Society, and Andrea's poetry debut The Africa in My House is available online from Silhouette Press. 'Aftermath', a poem by Andrea, was recently published in HCE's The Classified Issue. You can also buy either book direct from Andrea – get in touch!
Stella Backhouse's review of V20 can be read here on our blog.