INTERVIEW: ANTONY OWEN RETURNS TO FIRE & DUST
---
COV KIDS BY ANTONY OWEN
Knives Forks and Spoons Press
ISBN 978-1912211791
£8/48 pages
---
My suicide note was going to be a timed email
the time was the moment I became born.
I had hoped to trick God this way,
leave my body filled with water
for the burning I feared mostly.
My suicide was going to be in a rundown hotel
yet the sun would have risen on my cold body
and moon would have kissed me goodnight.
I had planned a Spotify list to listen to
to drift off into the woodwind place
thinking of faces I loved.
My second suicide note was to the chambermaid
they would have found me all twisted up
like a lightning tree disgracing wind.
They would have needed therapy,
five minutes to turn the room
we all have targets to meet. ;,\
My wife saved me with her ears taking this all in.
The colour from her face slid into the nothing.
The tears from her eyes fell into full stops,
the beat from her heart sprinting
to save me from the other me.
______________________-'The Hotel I Planned to Kill Myself In' (from The Battle,
_______________________collection forthcoming with Knives Forks and Spoons Press)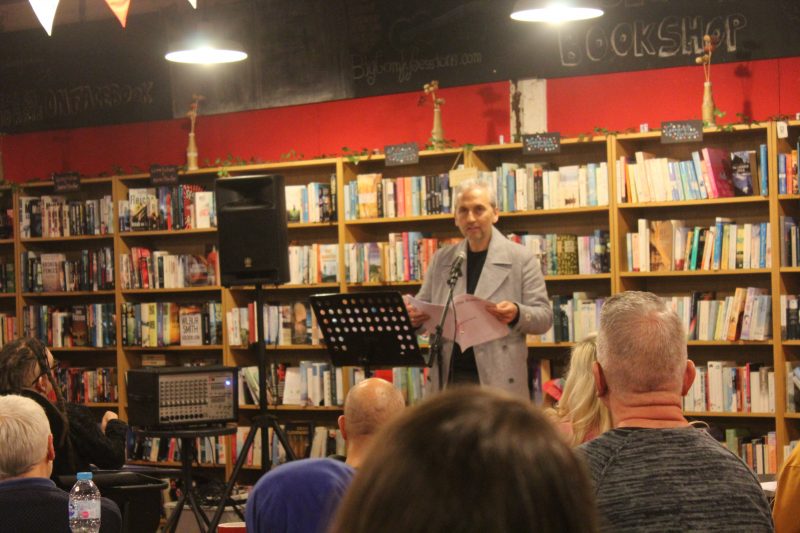 Antony Owen is an award-winning Coventry poet and the author of eight published poetry books since 2009. His collection The Nagasaki Elder was shortlisted for the coveted Ted Hughes Award, and in 2020 he was named as a Bread and Roses award winner. Antony is known as a leading "peace poet", for his work frequently explores compassionate perspectives on war by focusing on the victims and aftermath of conflict. His work is taught at regular poetry workshops in Hiroshima and also appears in a national UK peace education resource by CND Peace Education. In 2021, Antony has had two new books published: Cov Kids by Knives Forks and Spoons Press, and then bilingual collection Phoenix by Thelem Press, conceived as a project of the twin city partnership between Coventry and Dresden.
On 4th November, Antony Owen returned as a headliner at our Fire & Dust poetry gig. We caught up with him after the event, to ask a few questions…
---
HCE: You've done interviews with us before, but can you tell our readers a little about your background and offer an overview of your work?
AO: I was raised in the 70s and 80s just four doors from the main entrance of the main gates to Jaguar Cars, so was right in the working-class heart and my memories are vivid and inspired a lot of what Cov Kids is about. Growing up in the 80s was both a violent and tender time, in that it was cold war and cold politics, which affected warm people, and I felt an ominous danger of the end of the world seeing news of hunger strikers, terrorist attacks, the Falklands War, a threat of nuclear war, the coal miners' strikes and a Thatcher government that made me think England treated working-class communities like shit. This inspired the war/peace poet side of me whilst the other more political and playful side of me shows in work like Cov Kids and Margaret Thatcher's Museum.
HCE: At the gig, you mentioned that you're working on your forthcoming collection The Battle and gave us a sneak preview of some poems. Are you able to give people a little insight into the premise of that book?
AO: The Battle is about my battles in my struggles with depression and the one battle you don't win, by way of a suicide attempt, of which I had at 14 and again very closely in 2016. People forget the battles we win with depression in that valour of getting through a normal day but normal days are not what I think are normal anymore. You can win 1,000 battles yet it only takes one where you lose hope to the point of giving up. The Battle is the antithesis of expected stoicism in men and alpha male peer pressure systems prevalent in modern times. I do not hold back in this book – it even deals with erectile problems attributed from anti-depressants and the chemical Frankenstein new normal we have accepted is the norm to cope with modern day pressures. It is my most personal book and – I can't believe – my ninth book. I have to give credit here to Alec Newman at Knives Forks and Spoons Press who has always encouraged me to push myself to new levels. It is my third book with them and I feel at home with this press.
HCE: How are you finding the experience of putting together your next manuscript, compared to previous collections?
AO: I had a deep bout of depression this summer and wrote most of The Battle in a few days whilst I had that absolute clarity and purity of no filter which has given the work a raw sense of courage and purpose. The only other collection where I physically felt drained writing it was The Nagasaki Elder (V Press) in 2016. I do not believe writer's block should exist for a poet because you should never think about what you should write of – it should be as natural as feeding yourself.
HCE: Who is your work aimed at – do you have an ideal audience in mind when you're putting a poem together?
AO: Everyday people who probably do not have much time for poetry yet love music, so I find hope that they will give poetry another go from how it was presented in their youth like cold semolina.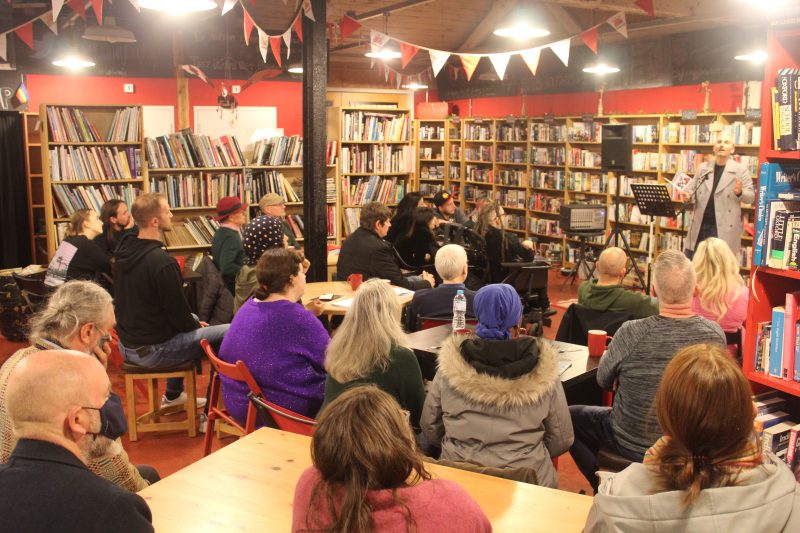 HCE: Some of your new poetry deals with your own life experiences in a raw and honest way. Is this an emotionally draining thing to do? What is the top piece of advice you would give other poets for tackling heavy/personal topics?
AO: Yes, but I wrote it as two people in two years have told me my openness of depression has stopped them from taking their own lives and given strength to them. I'll take that. My advice to poets is to abseil into darkness but make sure someone is watching your every step, because you do not get out without some of it tattooed into your soul. You have to master controlling your emotions but the work usually is strong and true.
HCE: Is there anything our arts communities could be doing to support better mental health in writers and other creatives?
AO: I think the support is there if you look for it but when you're depressed everything seems huge and heavy. Writers should not be treated any different to anyone else.
HCE: Your witty social commentary in Cov Kids got some good laughs from the crowd during your Fire & Dust set. Did it make an interesting change to dive into writing about your home city, compared to peace and conflict and other sorrowful topics?
AO: Yeah, I love reading from Cov Kids as it has a real attitude and swag…like a Cov Kid. I am pleased the crowd enjoyed it. Not a book for the children, is it.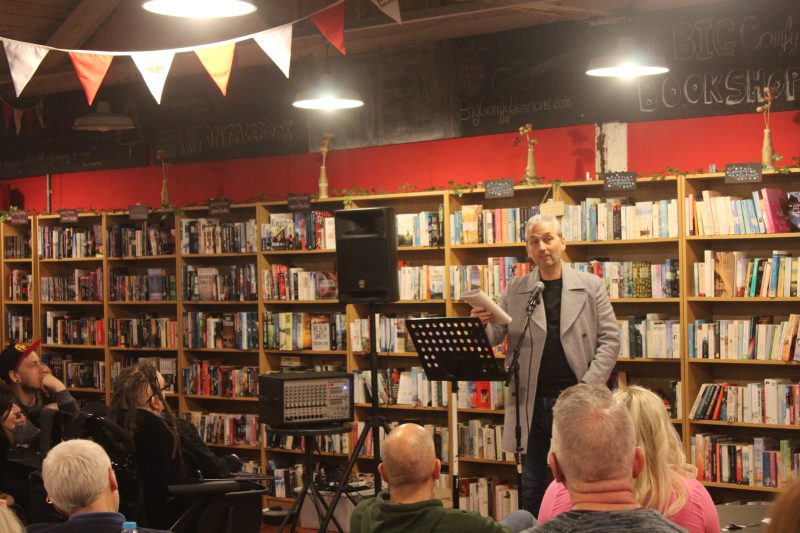 HCE: In your opinion, is Coventry city a good place to be a poet/writer/creative?
AO: Yes and no. 'City of Culture' frustrate me; so many established, grassroots arts on a voluntary basis was going for years before we won the bid and these are not getting supported just because it ain't new, which is bad form. It used to piss me off but I've carried on doing my own thing and let them crack on. I think Cov is buzzing at the moment with creative culture but we need to get our heads back up, as Covid has beat us all up a bit and we are becoming a hermit culture, and that is not good for our vibe.
HCE: What type of poetry do you seek out for personal enjoyment? As a reader/listener, when you engage with another poet's work, what are you hoping to get out of it?
AO: The writer I respect most in modern poetry is Wendy Pratt for her unflinching bravery on writing about infant loss. Her work is astonishing. I massively respect Jamie Thrasivoulou for turning Derby into a poetry province he is a force of energy. Too many poets to mention but at present those two poets make me happy to be in its coals, burning away. I get a lot from poetry but am more inspired by film, art and music. I hate the snobby part of poetry when someone guffaws when you say you don't like Tennyson or Byron. Deal with it, this isn't an intellectual cockfight.
HCE: Some creatives struggled to feel inspired and motivated during the COVID-19 pandemic, but you managed to publish two new collections. Any advice for people who are contending with writer's block?
AO: You have to feel a poem as well as write or read one. Do not emulate and innovate. Be the writer your instinct tells you to be. If you are writing for Insta hits, stop writing.
HCE: What would you say is the best accident or unplanned event that has helped your writing/writing process?
AO: Hiroshima.
HCE: It's becoming a slightly better question to ask and answer, compared to earlier in 2021…what is next on the horizon for you? Are you already working on new internationl projects/booked for upcoming performances?
AO: Yeah, watch this space. My tenth book will be a collaboration.
HCE: Anything we didn't cover that you'd like to share with our readers?
AO: Yes, go and live your life.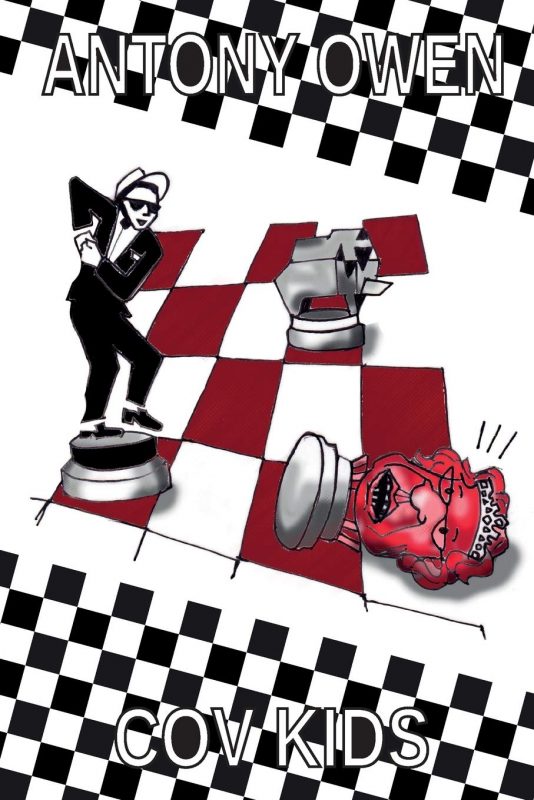 HCE: What's the best way for people to keep connected with you and your work?
---
Antony's latest poetry collections can be purchased online from Knives Forks and Spoons Press and The Poetry Book Society.
Praise for 'Cov Kids':
'Antony Owen takes us back to his adolescence in Coventry; to Park Lane nightclub 'where posh girls licked salt from our piss stained hands.' These poems are odes to youth and pop music, lyrical and lippy, full of fag-butts in urinals and gum-grey bras. They filled my heart and left me 'drowning in the landfill of first light.' – Luke Wright
---