Dog Poetry – with Matt Black! Competition &
Book Launch/Open Mic Event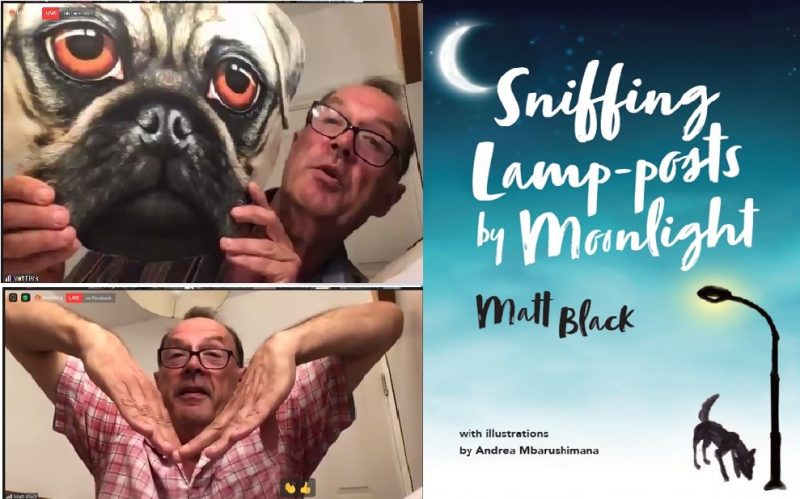 Great news: Matt Black has just released his new collection Sniffing Lamp-posts by Moonlight: moving and entertaining poems! For the past two years, Matt says he has been obsessed with writing about dogs, having written and toured a one-man show called The Snoopy Question as well. This book is not only inspired BY dogs and themed ABOUT dogs, but one that is also fundraising for dog rescue charities (everything over the production costs of £3 per book is being donated to Honiley Dogs Trust in Kenilworth and Broken Souls Rescue in Coventry). 
There are opportunities for YOU to get involved, on top of buying a copy of this fun read – Matt is now running a related poetry competition, and will be launching the book at a Zoom gig on Thursday 12th November.
---
Competition: 'Inspired by Dogs'
Matt's competition aims to encourage as many people as possible to celebrate, honour, think and write about dogs (or other animals), whether you have them as a pet or not.
The three winners will each receive a cash prize (respectively, £25, £20 and £1), a free copy of Sniffing Lamp-posts by Moonlight, and will have the chance to perform their poems at the book launch event.
If anybody wants ideas for how to write their poem, please email Matt (address below) and he will send you an 'Inspired by Dogs Inspiration Pack'. For some great poems about dogs, which might inspire you, he suggests you look up 'dogs' on Poemhunter.com.
Competition Guidelines:
The deadline for entries is midday on Monday, November 2nd 2020.

Please send a poem of up to 40 lines, inspired by a dog/ dogs.

Please email it as a Word doc  to matt.black@pop3.poptel.org.uk
or post it to:
Matt Black, 44 Gresham Avenue, Leamington Spa CV32 7RA, United Kingdom
Avoid putting your name in the file, so that entries are as anonymous to the judges as possible.

Winners will be notified by Monday November 9th, and we'd love it if the winners can read their poems at the Inspired By Dogs online event.
---
The Event: 'Inspired by Dogs: A Barking Good Evening of Poetry'
The gig will take place via Zoom on Thursday 12th November, starts at 7.30PM. For more access or to register for a free ticket, please visit the Eventbrite page.
The event will feature:
Book launch for Sniffing Lamp-posts by Moonlight, with readings from Matt Black
Readings by poetry competition winners
Dog poems from some guest poets
Dog/animal-themed open mic spots
Lots of dogs and other pets appearing on camera to say hello, we hope!
---
Sniffing Lamp-posts by Moonlight can be purchased online from Matt's website for only £10 (or £5 for those on low income).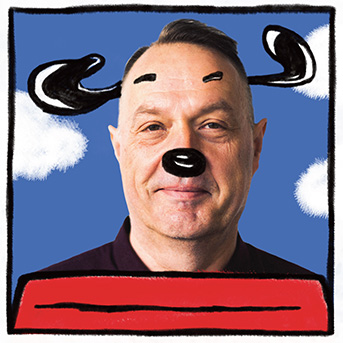 MATT BLACK writes for adults and children. He is a regular performer at Coventry's Fire & Dust nights, but lives in Leamington Spa.  A specialist in commissions, Matt is a joyful mischief maker, a serious entertainer, a reluctant grown-up and a celebrationist. He was Derbyshire Poet Laureate from 2011-2013. His poems are published in magazines and his most recent collections for adults are Tales from the Leaking Boot (Iron Press, 2018), and Spoon Rebellion (Smith Doorstop, 2017). His play The Storm Officer toured in 2020 and his next publication is Sniffing Lamp-posts by Moonlight (Upside Down, 2020) featuring poems inspired by dogs, based on his one-man show The Snoopy Question. Check out Matt's website for more info.