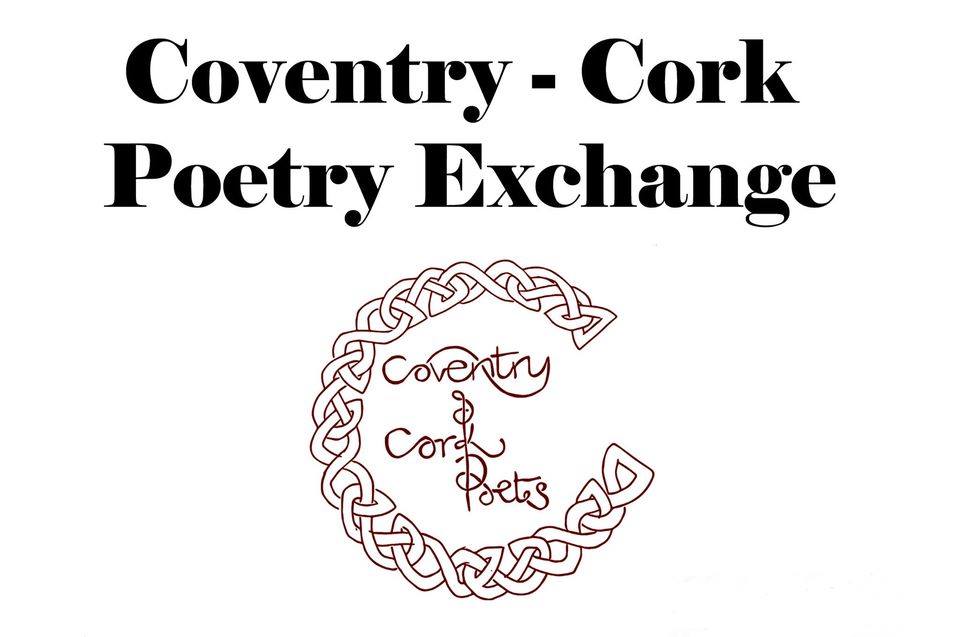 It's that time again!
The annual Coventry-Cork poetry exchange is now in its fifteenth year. Next week, for the second leg of the 2023 exchange, two talented poets – Rosalin Blue and Cathal Holden – will visit Coventry (UK) as representatives of Cork (Ireland).

In 1958, Coventry became Cork's first ever twin city. This connection was formed due to a high number of Cork people emigrating to Coventry at that time, to work and settle. The Coventry-Cork poetry exchange has been going since 2008, as a scheme for writers to promote international peace, friendship and cultural understanding between the two places as creative communities.
Thankfully, in 2023 the poets are able to set foot on Irish and British soil respectively as part of their experience. (In 2020, the exchange happened virtually via Zoom events instead of in-person adventures, and in 2021 there was still uncertainty around flights and quarantining, so the 'Twin Skies' anthology was produced and published. This book celebrates all the poets on both sides who had taken part in the grassroots exchange programme since it began.)
In addition to performing at poetry events overseas, the four poets take a tour of significant landmarks, network with other local writers, and pay state visits to both the Coventry and Cork Lord Mayors.
In August, two rising stars of Coventry's local poetry/spoken word scene (John Watson and Devjani Bodepudi) travelled to Cork and headlined at legendary gigs O'Bheál and DeBarra's. Now, across November 1st-3rd, Cork poets Cathal and Rosalin will be welcomed to the West  Midlands as guest poets, including a special event at The Tree House Bookshop in nearby Kenilworth and Fire&Dust open mic at The Litten Tree Showrooms in Coventry city centre. We're hoping to have good turnout for both events, with tons of representation from Cov creatives to help our Irish visitors feel welcome – so please save the dates in your calendars!
Event Details
Wednesday 1st November, 7.30-11PM
The Tree House Bookshop, 4 The Square, Kenilworth, CV8 1EB
Pure&Good&Right: Cork Poets Special
Hosted by John and Kim Watson. Featuring: headline sets from Rosalin and Cathal, plus poetry open mic and music performances. Sign up for an open mic slot on arrival. Doors open 7.30pm, gig starts 8pm. BYOB/drinks on sale. £4 entry/£2 concessions. Everyone welcome!
Thursday 2nd November, 7.30-10PM
The LTB, 1 Warwick Rd, Coventry city centre, CV1 1EX
Fire&Dust: Cork-Coventry Special
Hosted by Ann Atkins and Raef Boylan. Coventry's monthly spoken word poetry event. Featuring: headline sets from Rosalin and Cathal, plus poetry open mic. Slots are 3 mins max., sign up on arrival. Drinks on sale at the venue. Doors open 7.30pm, gig starts 8pm. Free entry/Pay As You Feel donations. Everyone welcome!
Here Comes Everyone is grateful to acknowledge the continued support of partner organisations who have funded and/or championed the exchange scheme, in 2023 and previous years: Coventry Association of International Friendship (CAIF), Coventry City Council, Coventry Peace Festival, Nine Arches Press, Writing West Midlands, Cork City Council, Ó Bhéal and DeBarra's Spoken Word. Special thanks for their involvement also goes to Paul Casey, Moze Jacobs, Ann Atkins, John Watson, The Long Valley in Cork, DeBarra's Folk Club in Clonakilty, the team at The Tree House Bookshop in Kenilworth and The LTB team in Coventry.
---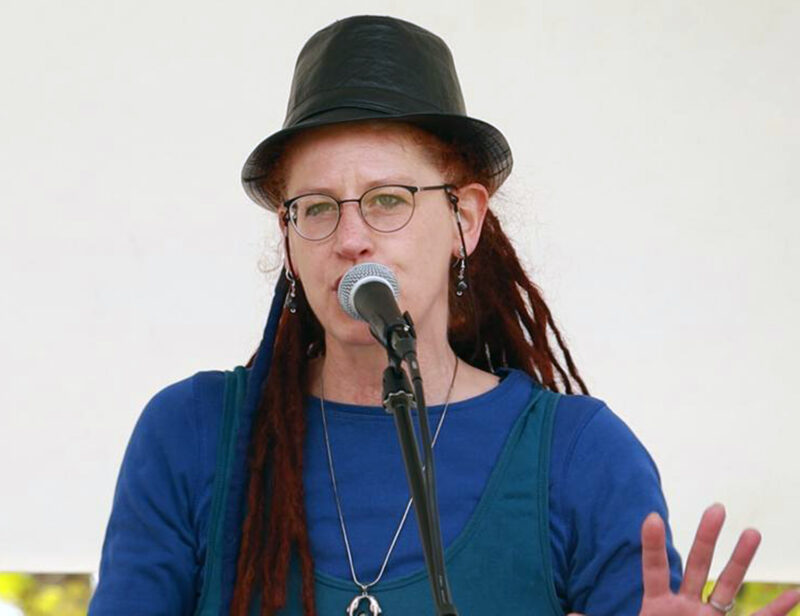 ROSALIN BLUE is a bilingual poet from Münster (Germany), who has been on stage since 1995. Since 2000, her poetic home is Ó Bhéal in Ireland, and she has performed at many events in Cork and county, as well as festivals across the country, including Electric Picnic and LINGO. Her poetry has been anthologised in On the Banks, A Journey Called Home, and Cork Words 2, and published in magazines including Southword, Revival, Crannóg, A New Ulster and Solstice Sounds II. In 2023, one of her poems was shortlisted for the Fish Poetry Prize. Since 2020 she has facilitated the Blue Mondays Writing Group and edited/published their 2021 poetry anthology. Rosalin's books include: "In the Consciousness of Earth" (Poetry), Lapwing, 2012; August Stramm, "You Lovepoems" (Translation from German), Münster 2015. The launch of her first album of poetry to music is imminent in 2023. Currently she is studying for a Diploma in Translation. You can find her on YouTube and Facebook.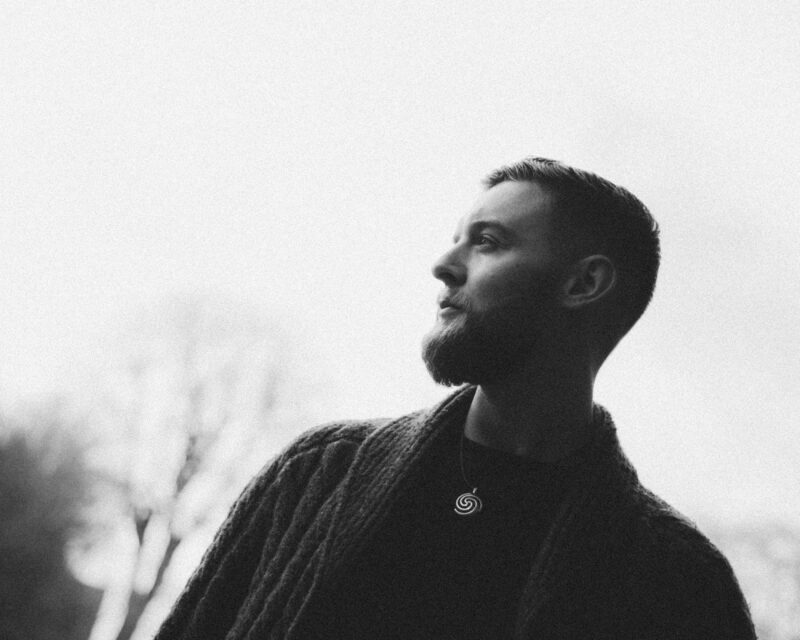 CATHAL HOLDEN is a poet and storyteller from the dingle peninsula. His words grow at the crossroads between the old world and the new, rooted in the Irish oral tradition of the seanachaí and branching into modern realms of spoken word and hip hop. He writes for firesides and forests, for love lost and found, for the festival stage and the city street alike. Cathal has been writing, performing and publishing all his life, winning multiple slams and accolades and appearing at numerous festivals as well as writing for radio and screen. He's currently working on a retelling of Ireland's ancient origin myth, Lebor Gabálá Érenn, with a cast of professional voice actors and original music.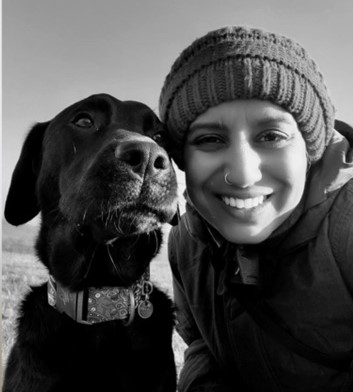 DEVJANI BODEPUDI is a writer, poet and teacher of Indian origin who grew up in Coventry and currently lives in Warwickshire. She has been published widely, including in Stanchion Zine, Sunday Mornings at the River and Honeyguide. Amongst other things, Devjani has published a novel with Holland House and a children's book with Parakeet Books. Her debut poetry pamphlet, FOR THE DAUGHTERS CARRIED HERE ON THE HIPS OF THEIR MOTHERS was published by Fawn Press early this year and has won a 2023 Saboteur Award for 'Best Poetry Pamphlet'. Devjani is currently studying for her MA in Creative Writing at the University of Birmingham and is working on her second collection.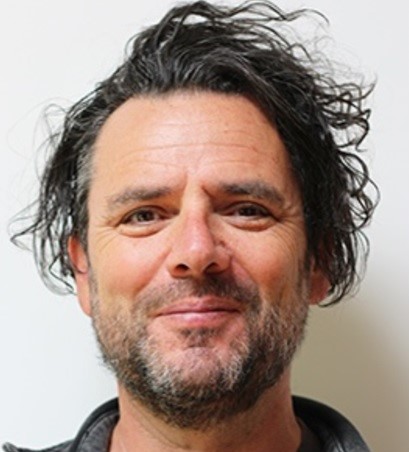 JOHN WATSON has been a vehicle design sculptor since his early-20s. He has travelled extensively to work for all of the major automotive companies in Sweden, Germany, Czech republic, France, Spain and the UK. John has been the host of 'Pure Good & Right' in Kenilworth, one of England's longest running poetry events, for the last ten years or so. He has had his work published in Here Comes Everyone and The Idler magazines. He has been a featured poet at 'Fire&Dust' in Coventry, 'Hush' in Earlsdon Carnegie Library, the 'Sheepdip' sessions in Princethorpe, and at the Leamington Spa Peace Festival, as well as featuring on the mic at Leamington Spa's hugely popular 'Art in the Park.' John took on the role of Warden at a natural burial ground throughout the recent pandemic. Since finishing there last winter, he has been writing up his experiences, working them into a six episode screenplay.
---