ART EXPOSURE INTERVIEW: HCE MEETS NEIL J. CATLEY
Interviewed by Raef Boylan
Neil J. Catley is a freelance street and architecture photographer based in Coventry, UK. Known around the city for avidly capturing its iconic landmarks with his camera, in particular the cathedral quarter, some of his work is on display in Playwrights restaurant on Bayley Lane, including the menus and a mural that covers one whole wall. He has also worked for Warwickshire Wildlife Trust. Neil is the founder of community initiative Confidence Through Photography, a group that enables people with anxiety and mental health difficulties to meet new friends and practise taking photos.
---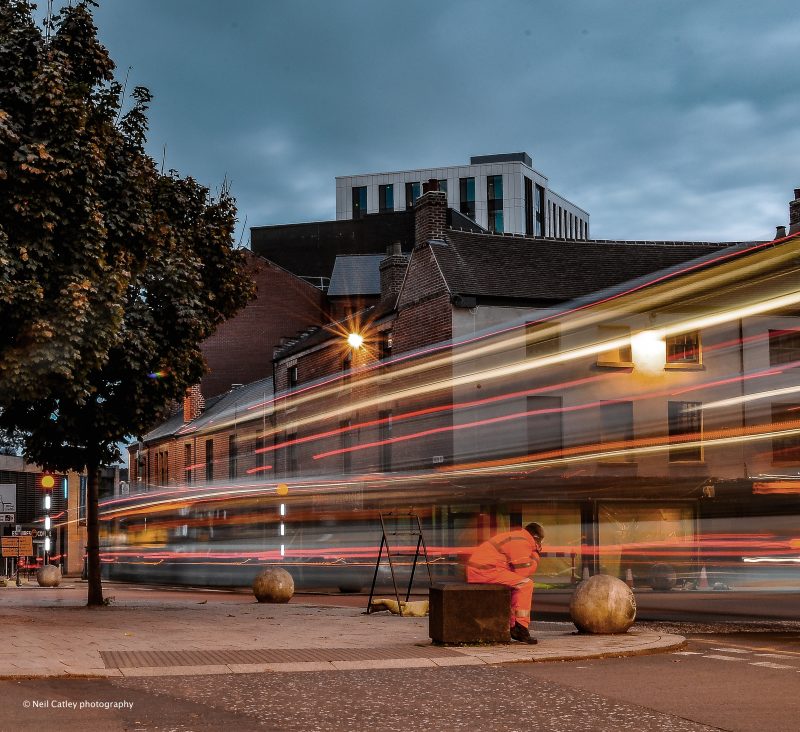 RB: When did you first get into photography, and what has been your journey as an artist so far?
NC: I first got into photography at the age of twenty-one with a simple gift from my mum, a camera. I was agoraphobic for five years. I didn't leave the house and, if I did, I would have severe panic attacks!! I first started out with nature/landscape photography. I did that for five years and decided to change my style four years ago to street/architecture photography, and I have never looked back.
RB: Would you say there are recurring themes in your work?
NC:  Yes, I love to capture local landmarks and the streets of Coventry. I have been documenting the cathedral quarter for four years now, and can still find a new angle every visit.
RB: Can you tell our readers some more about the Confidence Through Photography group? How did it get started and what usually happens at your meet-ups?
NC: Confidence Through Photography is a photography group dedicated to help those living with anxiety and mental illness to gain confidence through a creative outlet. We usually meet every two weeks on a Saturday, to take photos around Coventry, and we do a mid-week social every week on a Wednesday. I started the group about two and a half years ago because I wanted to help people in the same boat as me, and those who enjoy photography. We partnered with (mental health charity) Coventry and Warwickshire Mind and had a little funding from them, which went on public liability and a day trip for the group.
If someone local is interested in joining the group, they can contact me through the Facebook page or my email.
C.T.P. member Robert Gibbs describes it as a "fantastic group that are very welcoming, open and friendly. Everyone shares their interest of photography and my son and I love attending the chats and tours, taking photos. My son and I were completely new to photography, but Neil and the group welcomed us and have been amazing with their hints and tips and sharing experience. Neil puts so much into the group, and is always ready to share ideas and his expertise. We really appreciate the effort that goes into running the group and events and cannot recommend CTP enough."
RB: The ShopFront Theatre in Coventry recently hosted an exhibition of images from yourself and the group. Was that your first exhibition?
NC: It was an honour to have my first exhibition at Theatre Absolute and to include work from members of Confidence Through Photography. The title was 'Best of Coventry' and I really enjoyed choosing the photos for the display.
RB: I like taking photographs but often feel curbed by self-consciousness when using my camera in public. I wish I could make myself invisible and just take my time with what I'm doing! Have you ever felt this way, and how did you manage to conquer it?
NC: Yes, I manage to conquer it by sitting down nearby and taking in the scene. I do this for about ten minutes until I'm ready to take photographs. For Confidence Through Photography meets, we sit and chat in a cafe first.
RB: What's one of your favourite Neil J. Catley photography pieces?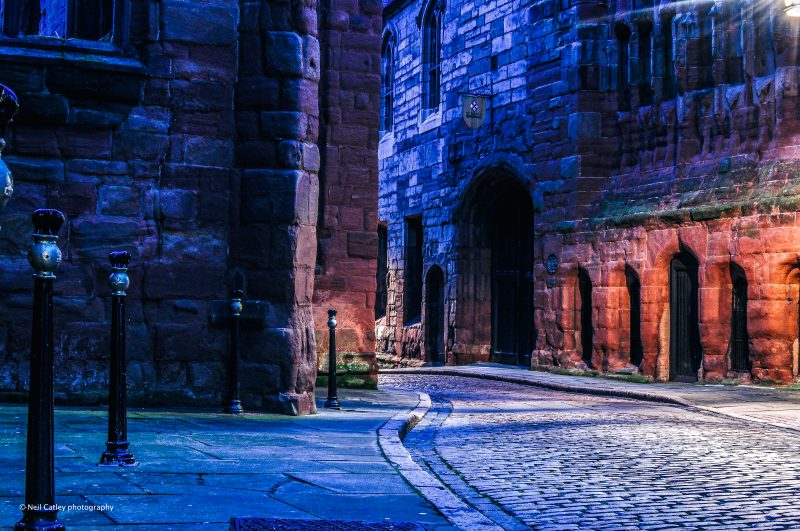 NC: This is a recent night photograph capturing Bayley Lane, which is my favourite spot in Coventry. It's a place in the city centre. I love Bayley Lane's cobblestone streets, and the leading lines.
RB: Do you think engaging in creative activities can help people to cope better with mental health difficulties?
NC: Absolutely, yes. I find taking photos is a great stress reliever and it's part of my medication/coping strategy.
RB: Please share some technical insight with us. What gear have you been taking out with you recently and what are some recommended settings for outdoor shoots?
NC: I use a Nikon D90 with a Nikon 35mm lens. I tend to use these settings in the daytime: ISO 200 F11 shutter 125/160 of a second, while at night I tend to go for ISO 200 F16 and a ten second exposure, plus a tripod.
 For my post-processing, I use Adobe Lightroom. It's brilliant – I was told to down the highlights and up the shadows, and Lightroom's sliders for adjusting this have improved my post-processing. I've been editing for about six years now. When I first started, I used Corel PaintShop for basic editing. There is also a good editing software called Photoscape X, which is free and easy to use for beginners. 
RB: How do you educate yourself to develop your skills and take better photographs?
NC: I love using prime lenses, it makes me concentrate more on my shots – and I always use the light meter!!
RB: Are there any other artists you admire/enjoy? What sort of influence or impact have they had on your own work?
NC: I don't really have an influence, but I like to watch Craig Roberts' e6 Vlogs and Thomas Heaton's channel on YouTube; it gets me in the mood to take photos.
RB: It's not an easy question to ask or answer in these current Covid-19 times, but…what are your future plans? Any new projects on the horizon?
NC: I intend to do another photography exhibition for the group, and I'm planning one for myself too. I'm looking forward to starting the group back up again. We're online at the moment. Covid-19 has hit us hard, as we can't meet up, but I do have a group where we talk. It can be a bit awkward – people enjoyed the social side of C.T.P.
Time to plug some social media:
Neil on Facebook   C.T.P. website   C.T.P. on Facebook   Neil on Twitter
---
To get a further sense of Neil's photography style and talent, an interactive exhibition of his work can be viewed here.
---