In The Classified Issue (November 2019), "everyone" was…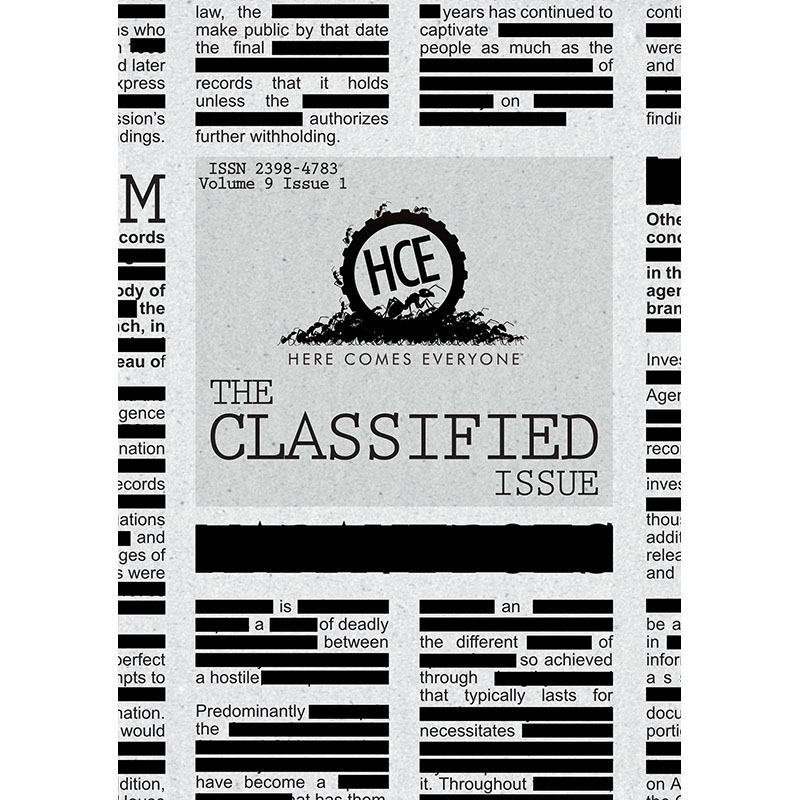 ---
JEANNA ANDERSON – 'THOSE FILES ARE CLASSIFIED, MA'AM'
Jeanna studied art and creative writing at William Woods University. She is best known for her poetry but is also branching out into the autobiography world. When she's not writing, she's volunteering or kayaking or staring into her cat's eyes to find the secrets of the universe.
---
ANNELISE BALSAMO – THE RIDDLE OF THE FIRST AND THIRD
Annelise Balsamo is a writer and secondary school teacher, and lives in Australia.
---
CHRISTIE BARNES – BLINDED
"I'm a dancer, teacher and performer. I've taken the subject and tried to freeze it in a dance move. I went for the twisting and a bent angle in the body as a covering, trying to hide something rather than be open. The nose diving forward is trying to find something out, the secret, the conspiracy, etc. The arm up in the air behind me also ties to find and understand but is blind seeking. The face being covered is being unable to see the classified thing. There's a struggle trying to find truth. I wanted to try and make both happen. Looking for the secret, but also hiding one."
---
ROBERT BEVERIDGE – FLING
November 2018 marked Robert Beveridge's thirtieth anniversary as a publishing poet. When not writing, he makes noise in Akron, OH. Recent/upcoming appearances in Pink Litter, Triadæ, and Welter, among others.
---
MATT BLACK – INTRODUCTIONS
Matt Black was Derbyshire Poet Laureate, 2011-2013. Recent collections are Spoon Rebellion (Smith Doorstop, 2017) and Tales from the Leaking Boot (Iron Press, 2018). His play The Storm Officer tours in 2019-20. He has performed in 50 venues in 5 hours on a tandem bicycle, invented the world's first Poetry Jukebox and created (with Jonny White, sculptor) the Fanti-Elastical ZingZong Poetry Imagination Machine. This is his website. 
---
MARC BRIGHTSIDE – THE YELLOW LINE
Marc Brightside is an author of poetry and realist fiction for adults, currently residing in South London. Marc first discovered poetry at university under the tuition of Julian Stannard, and since obtaining his Master's degree he has been published in various outlets across the UK, including a top ten placement in 2016's National Poetry Competition. His poems have also appeared in video form. He is affiliated with Poets Anonymous and The Poetry Society, having performed by invitation at the latter's Poem-A-Thon charity fundraiser in Summer 2017, and his work has been reviewed as 'Bleak…darkly humorous', displaying 'an occasionally shocking sense of realism.' His debut poetry collection Keep it in the Family is available via Dempsey & Windle Press.
—————————————————————————————————————————
KEITH BLOODY MARY – WE'RE GOING TO NEED A BIGGER BOAT
"I like to sate people's desire to chuckle at bad puns, cheeky euphemisms and swear words by placing images together that – quite frankly – should have been left apart. Collage making allows me to act out the part of Dr Frankenstein, taking parts of other people's photographs and fusing them together to make something that is often extremely odd. I like to frustrate myself by only using images from magazine supplements and free DIY catalogues, which means that I don't always find a picture that I'm looking for, resulting in the piece I am attempting to create getting altered entirely from the original layout. Although the images I use are limited, the themes of the work are diverse, though I regularly find myself taking inspiration from science and philosophy topics. I like to drink wine while I make work, as it adds an element of chance and mystery to the process when I return to the work the next day. My name isn't really Keith Bloody Mary, I just like working under a different name to confuse people (it makes things like admin particularly hilarious for everyone involved). I make artwork because I think I'm funny."
---
MATT BRYDEN  LIFE MODEL
Matt runs the Somerset Young Poets competition. He is the winner of a Literature Matters Award from the Royal Society of Literature. His website is here. 
---
MIKI BYRNE  – SNEAKING INTO THE CADBURY FACTORY
Miki has had two poetry collections and a pamphlet published, plus over 500 poems included in poetry magazines/anthologies. She was a finalist for Gloucestershire's Poet Laureate and a nominee for the Pushcart Prize. Miki has read on TV and on radio many times. She also ran a poetry writing group at The Roses Theatre, Tewkesbury. Miki is disabled and now lives near Tewkesbury (Gloucestershire, UK).
---
NEIL J. CATLEY – RESTRICTED
Neil is a street and architecture photographer based in Coventry (UK), who has a huge passion for the city's streets. He has been taking photos for over ten years.
---
STOREY CLAYTON – OVERHEARD IN UBER
Storey Clayton is a current MFA candidate in Creative Nonfiction at West Virginia University. He's worked as a youth counsellor, debate coach, strategic analyst, development director, rideshare driver, and poker player. In the past year, his nonfiction has appeared or been accepted in over a dozen literary journals, including Pleiades, Mud Season Review, Typehouse Literary Magazine, Barely South Review, and North Dakota Quarterly. You can learn more about Storey at his personal website, The Blue Pyramid.
---
MARY COURTNEY – IT COULD NEVER GET OUT
Mary is an artist-poet from Coventry, UK. Her website can be found here.
---
LAUREN DELAPENHA  – DIAGNOSIS
Lauren Delapenha recently completed a Master's in Creative Writing at the University of Oxford, and is currently working on her first collection of poetry. She is the winner of the 2019 Grindstone Literary International Poetry Prize, as well as the 2018 Poet Laureate of Jamaica and Helen Zell Young Writer's Prize for Poetry. She lives in her hometown of Montego Bay, Jamaica, where she frequently loses staring contests with a barracuda who lives in the seawater near her house.
---
MATT DUGGAN – ODE ON SELF-CENSORSHIP IN A POST-TRUTH AGE
Poems have appeared in various journals such as Ink, Sweat and Tears, The Journal, A Restricted View from Under the Hedge, Osiris Poetry Journal, L'Ephemere Review and Eye Flash Poetry Journal. Matt has a new full collection 'Woodworm' (Hedgehog Poetry Press), published in April 2019. He has read his work across the world including U.K. Italy, Greece, and Boston, New York and Philly in the States.
---
SHERRIE EDGAR – FOLLOWING
Visual artist Sherrie Edgar uses film and sound to reflect our environments and feelings. Edgar's work is experimental, capturing what she sees and the intangible. Her work has been shown in various local exhibitions. Recently winning the Coventry Art Prize, she is set to continue explorations of isolation, alienation and loneliness. 'Following' is a short moving picture Edgar made using 8mm film, depicting a 1968 classified surveillance film, discovered from 1968, showing the secret service of Britain and Russia.
---
PAT FINDLAY – WELCOME TO THE OPIUM DEN
Pat Findlay enjoys writing poetry and flash fiction. Writing to a theme for HCE has allowed her to take her writing into new territories. She loves to let her brain go wild and feels lucky to have such a fulfilling hobby.
---
MARC FOLONI – ETERNO (ETERNAL)
Global nomad, Marc Foloni, is a 28-year-old visual artist from Brazil who travels the world living some months in each country, part of his creation process. In 2018, he has been in residence in Peru, Colombia and Mexico. Foloni uses psychological and communication concepts as means of inspiration for his artworks, which have the main object the creation of strong psychological portraits. His artwork is ornate with patterns, which refer to memories of handcrafts produced in his native city, a small town in the Brazilian state of Paraná called Astorga. During his artistic trajectory, Marc had his artworks exhibited in countries like the United States, Brazil, Portugal, Spain and Colombia, in individual as well as in collective exhibitions. Recently, the artist was selected to join the "Art Fair Malaga", the second biggest art fair in Spain, taking place in June 2017.
---
ALISON FRANK – THE RUSSIAN
Originally from Toronto, Alison Frank lives in London. Her most recent short fiction includes 'Faking It' in Streetcake, 'A Present to Herself' in So to Speak, and 'Meet Me at Café Bambi' in Confingo. She is also the author of Reframing Reality: The Aesthetics of the Surrealist Object in French and Czech Cinema.
---
TIM FRANKS – DRONE
Tim Franks is a member of the Room 204 project supported by Writing West Midlands. He lives in Wolverhampton. As a teacher, he wrote history textbooks and poems and prose for younger readers for OUP and Pearson. In addition to short stories, he is working on his second novel. His novels, so far, are political crime fiction. His short stories have appeared on Radio 4, 4Extra and in anthologies alongside Kit de Waal, Alison Moore, Clare Morrall, Nicholas Royle, David Gaffney, Kerry Hadley-Pryce, David Calcutt and Rachel New.
---
LAURA T. FYFE – AUTHORISED ACCESS ONLY
An award-winning non-fiction writer and Director of the Scottish Writers' Centre, Laura Fyfe lives in Stirling and suffers from a chronic low boredom threshold. She writes poetry, fiction and non-fiction and facilitates writing workshops and communities. Laura's poetry explores a variety of subjects, ranging from political rants to moments of zen contemplation. Her first book, Wellspring, draws on her experience of helping writers defeat procrastination. Her second book, Magpie Mind, was released in April 2019 and is available here.
---
LOUIS GALLO – THE WORD "MOIST"
Louis Gallo's work has appeared or will shortly appear in Wide Awake in the Pelican State (LSU anthology), Southern Literary Review, Fiction Fix, Glimmer Train, Hollins Critic, Rattle, Southern Quarterly, Litro, New Orleans Review, Xavier Review, Glass: A Journal of Poetry, Missouri Review, Berkeley Fiction Review, Mississippi Review, Texas Review, Baltimore Review, Pennsylvania Literary Journal, The Ledge, storySouth, Houston Literary Review, Tampa Review, Raving Dove, The Journal (Ohio), Greensboro Review, and many others. Chapbooks include The Truth Changes, The Abomination of Fascination, Status Updates and The Ten Most Important Questions. He is the founding editor of the now defunct journals, The Barataria Review and Books: A New Orleans Review. He was awarded an NEA fellowship for fiction. Louis teaches at Radford University in Radford, Virginia.
---
ANNE GOODWIN – A PEEK INSIDE THE HOTHOUSE
Anne Goodwin's debut novel, Sugar and Snails was shortlisted for the 2016 Polari First Book Prize. Her second novel, Underneath, was published in 2017. Her short story collection, Becoming Someone, on the theme of identity, was published in November 2018. A former clinical psychologist, Anne is also a book blogger with a particular interest in fictional therapists. 
Check out Anne's website and Amazon author page. 
Twitter: @Annecdotist
---
MARTIN GREENACRE – THINK OF ENGLAND
Martin Greenacre grew up in Suffolk before studying history at the University of Edinburgh. He recently completed a master's degree at the Strasbourg School of Journalism, and has written for Le Monde, among others. He still lives in France and is currently seeking representation for his first novel. You can find him on Twitter: @MartinGreenacre.
---
MATT HARRIS – UNHOLY FRENZY
Matt is a writer from Liverpool whose poetry and short fiction have previously appeared in HOAX, Confingo, The Alarmist, The Nottingham Review and others. His website is here. 
---
STEVE HARRISON – CLASSIFIED ADS
Steve Harrison was born in Yorkshire and now lives in Shropshire just off the M54 or in The Shadow of The Wrekin on his poetry days. His work appears in various forms from The Emergency Poet collections, Emma Press, Popshot, Riggwelter and Strix, to Wetherspoons News. He regularly performs across the Midlands and won the Ledbury Poetry Festival Slam in 2014. He has two pieces on YouTube as Steve Harrison poet.
** 'Classified Ads' first appeared in Wenlock Festival anthology 2015. **
---
SHAUN HILL – A GAY MAN'S PRAYER
Shaun Hill has shared his words with huddles of humans across the country, reading in beds, bars, and festivals like UK Young Artists' Takeover 2019. He is a Young Poet with the Birmingham Hippodrome and has appeared in Magma, Under The Radar, and on BBC Radio 4.  Find out more here. 
---
AMY JOHNSON – FROM THE ARCHIVES: ST BEES SCHOOL
Artist and writer based in West Cumbria. Amy's research explores folklore and landscape through words, photography, audio, collage and installation.
---
JERRY T. JOHNSON – I DO NOT DARE DIVULGE
Jerry T. Johnson is a Poet and Spoken Word Artist whose poetry has appeared in a variety of literary journals and anthologies. Jerry often features at a variety of spoken word venues in the New York City area and he currently lives in Danbury, Connecticut with his wife Raye.
---
PEN KEASE – BECAUSE CLEANLINESS IS NEXT TO GODLINESS
Pen Kease taught English and History in Secondary Schools for nearly twenty years and now holds an MA in Writing from the University of Warwick. Her poems frequently explore relationships between the individual and society. Recent poems have been published in Atrium, The Blue Nib, Algebra of Owls, The Recusant, Militant Thistles, The Beach Hut, The Thimble, and Prole magazine.
---
SUCHANDRA KUNDU – POLLINATED CITY
Suchandra has a B.Sc. in Multimedia and Animation, a B.F.A. in Fine Art Painting College of Visual Arts and an M.F.A. in Fine Art Painting Government College of Art and Craft. Some shows and exhibitions in which Suchandra has participated are: Kochi Students' Biennale (2018-2019), a Group Show at Birla Art Gallery in 2018, a Group Show at Altamira Art Gallery in 2016, and the Annual Exhibitions of College of Visual Arts, Garia (2014, 2015, 2016 and 2017). Suchandra has freelanced as a visual artist, computer graphics expert and designer (of logos, posters, stop motion, etc.), and also worked as a Drawing tutor for school children. This artist also enjoys Still Photography, music and going to the cinema.
---
JOHN KITCHEN – BLACK & DECKER CALLIN'
John Kitchen is a retired primary headteacher based in Leicester, UK. He writes plays and poems. The latter have been published in HCE, IS &T, London Grip and by The Emma Press. He has been read on BBC Radio 3 by Imogen Stubbs.
---
NICK LUMB – CLASSIFIED INFORMATION
Nick Lumb divides his time between Lincolnshire and North Yorkshire, and has a love of storytelling and folk tales. He has had short stories published in Strange Whitby Tales and Writing from North Lincolnshire, in which he won the Fathom Prize in December 2018.
---
BÉATRICE MACHET – SURVEY 
Béatrice Machet is the author of 14 poetry books in French, and three in English. She is used to collaborating with artists from all kinds of disciplines, with whom she performs her poetry. She is part of a text/sound composers group in France, Ecrits/Studio, based in Lyon. She taught creative writing at the university of Macau, is called for teaching and performing in schools and colleges. Béatrice translates many Native American contemporary poets into French and managed to gather and get anthologies of Native authors published in France. Her work is translated into Dutch, Romanian, Bulgarian, Spanish, Albanian, Russian and even into Chinese. She is published in numerous poetry magazines in France and abroad, and lives between France and the United States. Her website is here.
---
DS MAOLALAI – JESUS IN A BOX
DS Maolalai is a poet from Ireland who has been writing and publishing poetry for almost 10 years. His first collection, Love is Breaking Plates in the Garden, was published in 2016 by the Encircle Press, and his second collection, Sad Havoc Among the Birds, was published by Turas Press in 2019. He has been nominated for Best of the Web and twice for the Pushcart Prize.
---
ANDREA MBARUSHIMANA – AFTERMATH
Andrea Mbarushimana is a poet, community connector, artist and peace activist. Her short collection 'The Africa in my House' was published by Silhouette Press in 2017. She is the winner of the inaugural 2019 V20 pamphlet prize with 'Air Show' and she has headlined events in the UK and Ireland. Andrea delivers workshops and is not afraid to take poetry onto the streets. She especially loves writing bespoke poems while you wait. Her website is here.
---
ANGELA MCGOURLEY – SOMETHING IN THE WATER ROUND HERE
Based in Stoke-on-Trent and studied at Staffordshire University. "My work is mainly drawing or textiles. Many of my ideas are about anomalies in nature. In my submitted piece there is the idea of a chemical classification symbol being adapted to warn of an area around the local canal and disused potbanks being affected by such aberrations."
---
JESSICA MCGUFFEY – DONOR
Jessica McGuffey is a full-time mother, part-time textile artist who lives in the Pacific Northwest. Her poetry has appeared in Literary Mama, Thunderclap!, Breadcrumb Scabs, Madroad: A Breadline Press West Coast Poetry Anthology, and Perspectives: Poetry Concerning Autism.
---
DEIRDRE MCMAHON – SCHOOLED
Deirdre McMahon was an enthusiastic primary teacher in Ireland before escaping to do a MA in Literary Translation and Writing at Warwick. She now spends her time working as a carer, translator and tentative poet.
---
DAVID MCVEY – A SOUND SILENCED
David McVey lectures in Communication at New College Lanarkshire. He has published over 120 short stories and a great deal of non-fiction that focuses on history and the outdoors. He enjoys hillwalking, visiting historic sites, reading, watching telly, and supporting his home-town football team, Kirkintilloch Rob Roy FC.
---
HANNAH PARKES – I WAS HAVING A CIGARETTE WHEN HE FELL
Artist living and working in Birmingham. Studied fine art at Coventry University and graduated in 2016. Since then Hannah has been working predominantly in drawing and printmaking. "My work focuses on the deprived communities within Birmingham, depicting tower blocks and the young people who live in and around them. My prints are overlaid with blocks of colour, inspired by Russian suprematism, adding an additional narrative to the work."
---
BARRY PATTERSON – R'LYEHOCENE
Barry Patterson is a writer & performer living in Coventry in the West Midlands. Originally a science teacher he has worked in museums & nature reserves as a guide & these days, his alter ego, the Wild Man of the Woods is Britain's widest travelled & longest running green man performance. He is also a well known figure on Coventry's poetry scene & his first collection, Nature Mystic was published by Heaven Tree Press in 2008. In 2012, his poem Advice to a Geordie Miner Lad at Pooley was mounted as public monument at Pooley Pit Head near Polesworth in N. Warwickshire. He is currently the Poet Laureate of Wroth Silver, one of the oldest continuously recorded public ceremonies in Britain, & his most recent chap book, Land Mandala, covers ten years of journeys through sacred landscapes in England, Tibet, Scotland & Bhutan. 
Find out more here and here, or email: barry@redsandstonehill.net
---
LAURA POTTS – JANE DOE #503
Laura Potts is twenty-two years old and lives in West Yorkshire, England. Twice-recipient of the Foyle Young Poets Award, her work has been published by Acumen, Aesthetica and The Poetry Business. Having worked at The Dylan Thomas Birthplace in Swansea, Laura was nominated for The Pushcart Prize and became one of the BBC's New Voices last year. Her first BBC radio drama aired at Christmas. She received The Mother's Milk Writing Prize and a commendation from The Poetry Society in 2018.
---
CAMOUFLAGE – GEORGANN PROCHASKA
Georgann Prochaska studied literature at Illinois State University and taught high school for thirty-four years. She is the author of a mystery series. The most recent: Murder Comes to the Vineyard. The Case of the Girl Who Didn't Smile was named by Lascaux in their 2016 top ten. The Case of the Ex Who Plotted Revenge won second place in the Royal Dragonfly Mysteries. Murder Comes to Grindstone launches in 2019.
---
JEN JACKSON QUINTANO – FORCEPS
Jen Jackson Quintano is the author of Blow Sand in His Soul: Bates Wilson, the Heart of Canyonlands, and her essays have appeared in numerous publications and anthologies. In addition to writing, she runs an arborist and wildland firefighting business with her husband. She resides with her family in Sandpoint, Idaho.
---
MARINA Y PUNTO – HOLY SIN
Born in 1987, from a very young age Marina felt the urge to express herself through art. Her work is influenced by graffiti and street art, advertising design and mass media, which she decontextualises to develop a social and political protest, poetically exhibited. She has a Bachelor in Fine Arts from the University of Granada, and has made a handful of exhibitions in her country of origin; participated in several collective projects; and elaborated diverse commissioned works of mural painting, graphic design and photography. Although in the last few years her artistic production has been a bit dissociated from the professional level, Marina continues to use creativity to consider her own role in the world, first as a human being but also as a woman, the latter being the main theme in most of her recent work.
---
ZHANA RADEVA – ART CENSORSHIP
This year Zhana graduated from Graphic Design at Coventry University, UK. "I do freelance design work and illustration in Publishing. My illustrating style is black and white, very Edgar Allan Poe and Tim Burton inspired."
---
SAM REESE – GATHERERS
Hailing from Aotearoa, Sam is an insatiable traveller and self-confessed short story nerd. Sam has published fiction in Brittle Star, Headland, and Storgy, and published a debut collection of stories, Come the Tide, with Platypus Press this year. When not writing stories, Sam is usually writing about them; The Short Story in Midcentury America won the 2018 Arthur Miller Centre First Book Prize.
---
RICHARD RISEMBERG – WINDOW LIGHT
Richard Risemberg was dragged to Los Angeles as a child, and has been working there in a number of vernacular occupations since his teens while writing poetry, articles, essays, and fiction, editing online 'zines, sneaking around with a camera trying to steal people's souls, and making a general nuisance of himself, which is his forte. He attended Pepperdine University on a scholarship won in a writing competition, but left in his last year to work in jobs from gritty to glitzy – most recently a stint managing an adult literacy program at a library branch in one of the poorest neighborhoods of the city. All has become source material for his writing. Richard's work has appeared in the Los Angeles Downtown News, the Los Angeles Business Journal, Momentum, and a wide range of literary publications. He has pieces slated to appear soon in North Dakota Review, Edify, Fear of Monkeys,  Wood Coin magazine, Adelaide Literary, Backchannels, and Mondays Are Murder by Akashic Books. He's survived long enough to become either a respected elder or a tedious old fart, depending on your point of view, and is still at it. It hasn't been easy for any of us.
His website is here.
---
HERMIONE SANDALL – I FEAR I DON'T BELONG
Hermione Sandall has been a drama teacher and, with her husband, a long-distance yachtswoman. She lives in Shropshire.
---
ANTHONY STEVENS – DJINN, SMOKE AND…
"My name is Anthony Stevens. I am a UK-based, self-taught Artist. I use my work as a form of therapy and self-expression. When not producing art, I also work as a Peer Support Specialist and engage in Buddhist culture and peace activities. Primarily, my work is about expressing and processing trauma and its after effects. I guess it's me dancing with my inner dynamics so that I can find a rhythm that is both constructive and wonderful. My work is heavily influenced by my practise of Nichiren Buddhism and chanting 'Nam-Myoho-Renge-Kyo', especially the concept of 'Nothing is wasted'. This has become manifest by my choosing to work primarily with scrap fabrics and hand embroidery. By choosing to do this, I am forced to look creatively and perceive potential in what may seem to be useless and beyond repair. This is in direct correlation with how I strive to perceive my life and my experiences. As with life, it is sometimes a painstaking and frustrating process, but ultimately I feel joy and satisfaction with the result."
---
RYAN STOVALL – CLASSIFIED
Ryan Stovall is a former adventurer, world traveler, and Green Beret. His work recently won the Wright Award from Line of Advance, was runner up in Proud to Be's annual poetry contest, and has appeared in or is forthcoming from Rosebud, Geometry, The Cape Rock, Here Comes Everyone, and others. Ryan lives with his family near Bangor, Maine, in the United States.
---
MOK TING-YAN – PEOPLE WILL SAY I AM A MONSTER WITH WHAT I HAVE DONE
MOK Ting-yan (b. 1992) graduated from the Fine Arts Department of The Chinese University of Hong Kong in 2015. Working mostly on mixed media, she emphasises on demonstrating the existence of an incident or an object through "Archive". By collecting and recording related information, she gives an account of their nature so as to express her feelings toward them. Being skillful in using found objects to produce her artworks, she realized an object's characteristics through "deconstruction" and "reconstruction". When she is working on it, she will create something new from it and refine it; or further add her own imagination and intention into it. With her creative mind, a simple daily commodity can be regenerated to something surprising that can give you similar but different feeling, or perhaps present you with a totally new interpretation and context.
---
ANDREEA ZIMBRU – THE RIDDLE
Andreea Zimbru was born and raised in Falticeni, a small city in the Moldavian region of Romania. After finishing an Art High School in Suceava, she moved to Cluj-Napoca, Transylvania, to complete her studies. She has graduated with a BA Degree and a Master Degree in Painting from the University of Art and Design from Cluj and currently is studying for a PhD in Visual Arts at the same institution.
---
---