INTERVIEW: FIRE & DUST MEETS CASEY BAILEY

ADJUSTMENT BY CASEY BAILEY
Verve Poetry Press
ISBN 978-1912565023
£9.99/78 pages
---
I have mastered the art of finding humour in my failure.
I have come to know we all have gifts,
that we all have limitations,
and some of us get it wrong more
spectacularly than others.
As a footballer, I have scored more goals
against my goal keeper than against theirs,
some of those goals were stunning.
Beautiful disasters, fluorescent volcanic eruptions,
Tsunamis that wave their majesty at the world.
-from 'Beautiful Disasters' (Adjusted, p.43)
Casey Bailey is a writer, poet, spoken word performer, rapper and secondary school senior leader, born and raised in Nechells (Birmingham, UK). In the last year, Casey has been commissioned nationally, by the Local Government Association, and locally by the West Midlands Combined Authority and Birmingham Civic Society. Casey's contribution as a writer, an educator and a dedicated member of his community have been recognised by the Birmingham Mail's 'Birmingham Live', and he was named as one of Birmingham's '30 under 30' of 2018. His work and achievements have now led to being offered a place on Writing West Midlands' prestigious 'Room 204' project. Casey's short poetry collection Waiting at Bloomsbury Park (Big White Shed) was released in 2017, and his debut full collection Adjusted came out with Verve Poetry Press this year.
Casey headlined at Fire & Dust in November 2018. We caught up with him after the gig, to ask a few questions…
At HCE, we don't like to pigeonhole, so…in your own words, what do you do? And what can audiences expect if they come to see a Casey Bailey poetry set?
They can expect to see a happy poet, delivering some depressing poetry. Not always depressing poetry, but mostly. Always a happy man though. I try to share poetry around real life issues so you can always expect that.
What inspired you to start writing and performing poetry?
I have always written lyrics; watching poetry videos online and reading poetry books inspired me to start writing and sharing my poetry.
Who is your work aimed at – do you have an audience in mind when you're putting a poem or track together?
My work aims to give a voice to voiceless people, particularly those who come from inner city areas like mine and from a position of deprivation. I also aim to write in a way that sheds light on these people and their situation, for people who are not from the same environment.
Are there recurring themes in your work?
At the moment, the recurring themes are:
– Mental Health
– Growing up in a ghetto environment
– Societal issues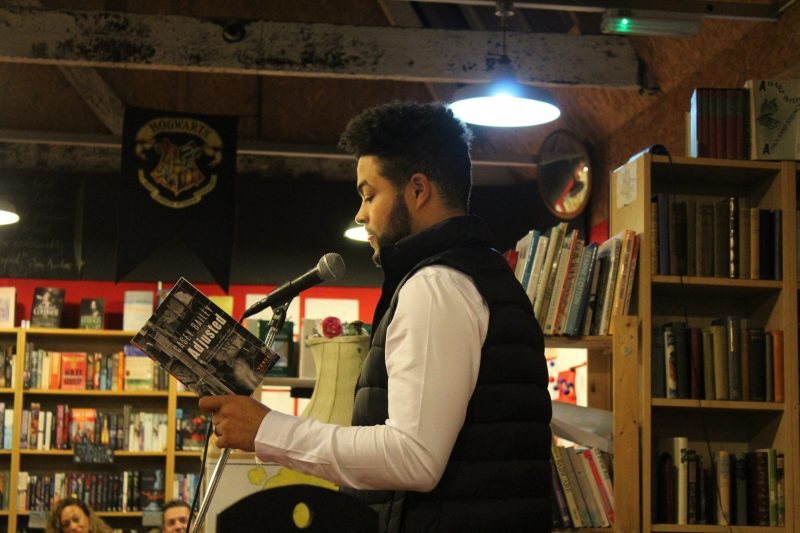 What messages(s) do you hope readers take away from your collection Adjusted?
Adjusted, for me, is about growth. For others – I hope they find what they need from it, I don't think it's for me to decide what that should look like.
Tell us more about BRAP. Do you enjoy mentoring poets and teaching workshops?
I love mentoring and supporting poets and I really enjoy leading workshops. For me, there is more joy in providing a platform than having one so I love to connect with poets who are coming from positions that I have been in and support them on their journey.
Are you a big reader of poetry? Which collections/performers have recently made an impression on you?
YES! I love to read poetry, the books that I keep returning to at the moment are – Raymond Antrobus: The Perseverance, Charley Barnes: A Z-hearted Guide to Heartache, and (still) Liz Berry: Black Country.
What, in your opinion, are the essential elements for a positive poetry gig experience?
A good host, who can tie things together without taking over, a venue that doesn't let the coffee machine roar though poems (lol), and, most importantly, a generous audience who want to listen to poetry.
We like how you promote three fellow poets at the end of Adjusted by including a sample poem from each. Is that an idea of your own, or a tradition we'll be seeing in other Verve Poetry books?
This is a theme from Verve books and you will see it with others. I am still so excited that I managed to share the work of Reuben, Sophie and Hannah with others, and you can now get Hannah Swings' own debut collection, This Dress Has Pockets from Verve.
Where can people get hold of your books?
The Verve Poetry Press website, Waterstones, Foyles, Amazon, and from me at performances.
What projects/performances have you got coming up next?
I'm working on a lot of things, but the thing I'm most excited about is a theatre piece that I am working on with Apples and Snakes and the Birmingham Rep, called Grime Boy.
I'm about to do a residency at the Royal Shakespeare Company as part of the process and I can't wait!
Plug some links/social media here:
Twitter: @MrCaseyBailey
Website: https://baileysrapandpoetry.com