INTERVIEW: FIRE & DUST MEETS ANTONY OWEN

THE NAGASAKI ELDER BY ANTONY OWEN
V-Press
ISBN 978-0-9935508-2-9
£9.99/64 pages
"Shocking to read, but at the same time strangely beautiful and gentle
[…] relevant to our times, hard hitting, and brilliantly written."
– judging panel of the 2017 Ted Hughes Award
Antony Owen is a poet from Coventry (West Midlands, UK) with an interest in exploring the aftermath of modern conflicts, which he considers are largely overlooked. He is author of five poetry collections and has received widespread critical acclaim for his peace poetry and research. In April 2018, Antony won the Museum of Military Medicine Commendation in 'Writing Armistice', a British Army poetry competition. His latest collection The Nagasaki Elder (V.Press), inspired by atomic bomb survivors' accounts taken in Japan, was shortlisted in 2017 for the Ted Hughes Award.  He was also a winner of the 2016 Peace & Reconciliation Award for Coventry, and a poetry competition finalist for The Wilfred Owen Story and The Shine Journal Award. Additionally, his work has appeared on the BBC for National Poetry Day, in Morning Star and over 50 journals worldwide, including Here Comes Everyone.  The poet's work has been translated in Mandarin, Japanese and Dutch and a sixth collection is due in 2019 with Knives, Forks & Spoons Press.
We caught up with Antony Owen after his Fire & Dust gig, to ask him some questions…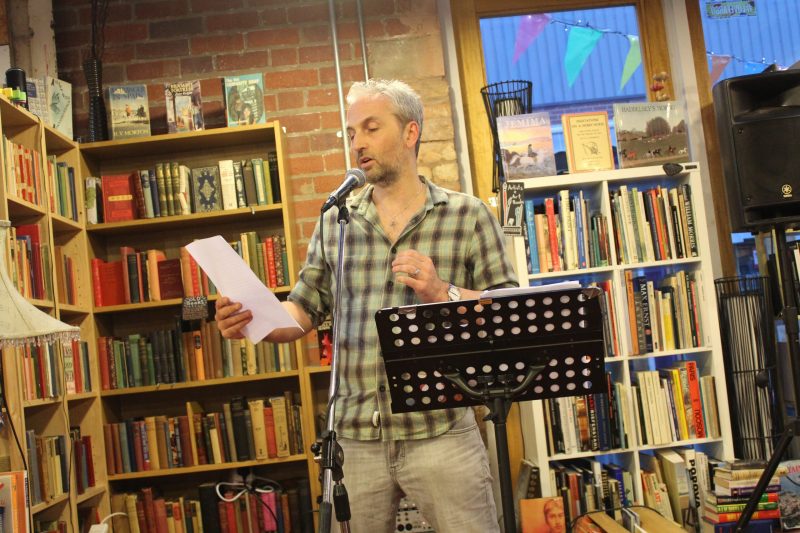 When did you first know you were a writer?
The moment someone who heard me read and told me that I was, back at The Tin Angel in the mid noughties when the open mic poetry scene was taking off. The Tin Angel was the birthplace of modern Coventry poetry and saw poets like Kei Miller and Coventry's own Barry Patterson launch books there.
What first inspired you to tackle conflict as a subject in your poetry?
Threads in 1985, which was a docu-drama based on a one megaton nuclear bomb destroying Sheffield and the horrifying effects it had on people and the climate. It was emotionally violent and did not propagate myths on the savagery of nuclear weapons. It scared the hell out of me and made me look at the world and realise responsible 'civilised' people who lead the superpower nations like Britain and America are maniacs. It is worth adding that the one megaton bomb depicted in Threads was about 70 times more powerful than the atomic bomb dropped over Hiroshima.
Other than peace and class, would you say your work has recurring themes?
No, not really. My debut collection was mostly juvenilia and consolidated a mix of poems written from when I was 20-30 years old on the personal, polemic and political. The other four collections covered many themes reflecting multi-cultural Britain, which, in light of Brexit, was ahead of its time in 2014. A recurring theme is always conflict because we are a violent and passionate species capable of inflicting such massive pain and damage on each other and our planet. This fascinates me as it defines us yet we are both human and primal, at war with each other not seemingly aware of what we are truly looking for.
Do you think enough working-class poets and writers get a chance to have their voices heard?
It's getting better. Poets like Martyn Hayes, Jamie Thrasivoulou and Dave Lordan are forces of nature writing some charged contemporary work. The problem is not the amount of working-class writers but the opportunity of main stage focuses on the work of working-class writers in major poetry magazines and arts organisations. Also, with some poetry competitions and magazines charging £15-£25 entry it excludes these voices. We need to hear the song of the common birds as well as the peacocks strutting around a stage of, well, just peacocks. Shout out to The Bread and Roses poetry competition for working-class writers: free to enter and high quality poetry entered.
Can poetry have a genuine impact on real world problems? For instance, do you believe a politician's attitude towards war or injustice could be changed by reading a powerful poem?
Yes it can, as Malala Yousafzai said after being shot "The extremists are afraid of books and pens". I remember a poem being read by a Marshall Islander at The United Nations about how nuclear tests destroyed her homeland – and it made them dip their heads in shame so yes, art can change things. Look up the film Days of Glory about the Algerian troops who fought for France in WW2 and were not acknowledged for their sacrifice. After the French President saw this film in 2006, he changed policy that all those troops should receive financial support and laws and attitudes were changed.
If world leaders discovered your poetry and went to Hiroshima like you did, to speak to survivors about the horrific devastation of a nuclear bomb…do you think they'd try harder to avoid war and find peaceful solutions?
I would like to say yes but look at Obama, who visited Hiroshima and won a Nobel Peace Prize for pledging (and remember the word pledging) to rid the world of nuclear weapons and reduce proliferation of weapons of mass destruction. It ended up being all talk, yet he was awarded the peace prize. We cannot just talk about doing things – we must only talk about it after it is done. I intend to run a marathon but I won't do it because I can't be arsed to, so I don't expect to get a medal for it.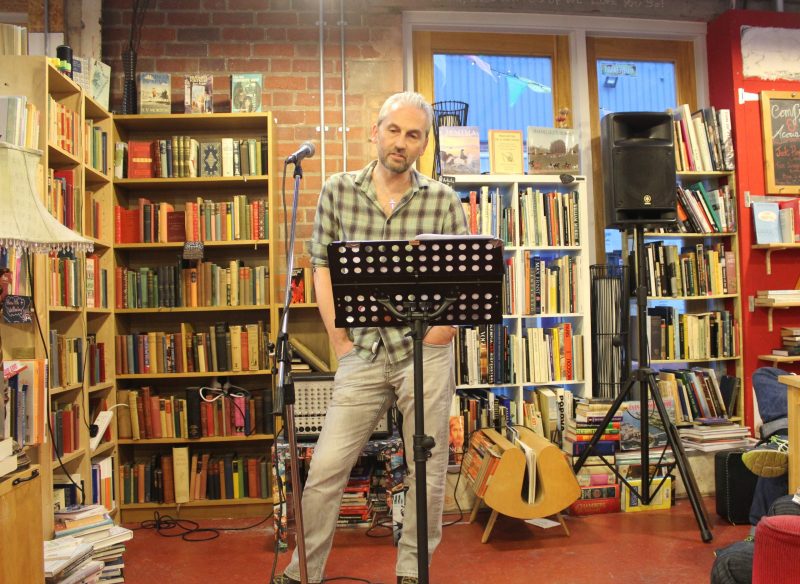 How often do you write a poem, and do you have a writing routine?
Whenever something stirs me, angers me, which, in these times, is often. I always listen to music when I write – film scores relax me so Angelo Badamenti, Gabriel Yared, Luke-Sital-Singh and far too many to mention. The writing environment has to be calm, as this tempers the mood for being able to control emotion so a poem does not become over-wrought. Like a composer, we have to create an opus and control that epiphany and crescendo a poem needs.
What do you think are the most important elements for creating a "good" poem?
Don't try and pick something to write about – let it pick you. Most importantly of all, a good poem could be technically brilliant but it has to engage someone. For example, the instruction manual of a car is technically well-written but I wouldn't want to read it unless I had to. Find something to get people to connect to poetry as the voice for what subject you are representing, surprise and wow them.
Your poetry is straight-talking but always features standout imagery and well-crafted language. Talk us through your writing process?
I write on the vibe and structure as I go. I think I am a little like Jackson Pollock the artist, as we approach art like we are bringing the world of our mind into the blank canvas. I feel that talking about process is like snapping the wand to see what is in there, when the magic is actually in the mystery. Film has been a massive influence – poems are only part of what inspires me. The poems are out on our streets and not in closed room, invite-only, university poet readings.
Members of the HCE team have experienced Antony Owen performances at various events. You have a captivating reading voice – although your words are impassioned, you always sound calm and in control. Did you have to work hard on that, or does it come naturally?
I'm always nervous or filled with adrenaline, which is charged from the work. I guess it comes naturally but you have to believe in yourself, as many will try to tell you what being a poet is and make out they've read every poet that ever lived – which is bollocks. Be your own writer; innovate, do not emulate.
Were you nervous when you first started sharing your work in public? Any tips for our readers about how to improve their open mic performances?
Look left to right at the audience and pay them a look of respect as they are listening to you, so don't waste their time on explaining your poem for 10 mins and reading for less than a minute. Your most articulate voice should be the poem. Believe in the poem and make your mistakes but learn from them.
Do you read a lot of poetry yourself? Which collections or writers have recently made an impression on you?
Yes and no. A good book can make me read book after book, but then a bad collection of poetry can make me angry and immerse myself in film and photography. I can't list all the writers but my poet of the moment is Roy McFarlane and his powerhouse new collection on deaths of people attributed to prejudice and racism including those in legal custody. He deservedly received a standing ovation at his launch and the book is called The Healing Next Time (Nine Arches Press). Another brave writer exuding a raw honesty and vulnerability is Katy Wareham Morris.
Editor's note: good news, Roy will be headlining at our Fire & Dust poetry night in February 2019!
In 2015, you were selected by CND Peace Education (UK) to be one of their first national patrons in 2015, and your poems feature in a national CND peace education resource to schools. What did being a patron of CND entail?
Sharing peace connections with organisations we mutually discover and helping their educational footprint in UK schools. I am an active patron, though of late I've been quiet as I have been finishing my next collection of poetry (out next November with Knives, Forks and Spoons Press).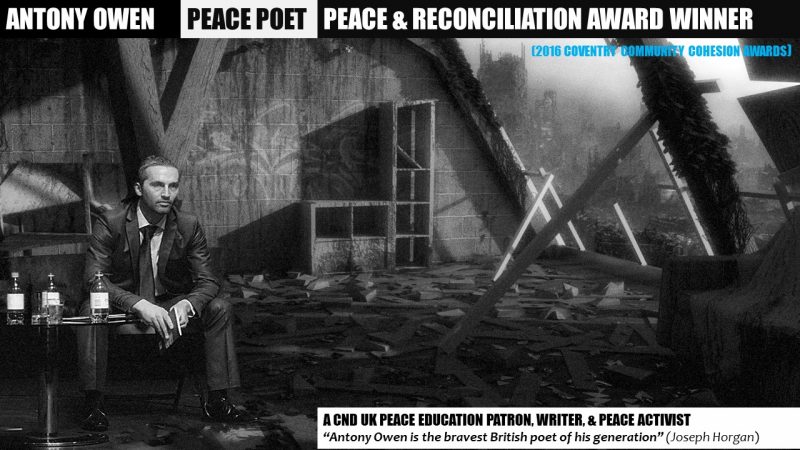 HCE editor Raef was blown away by some of the things he learnt at your 'Atomic Sun' poetry workshop. What tips can you offer our readers about setting up and running a creative session?
Thanks, it was an emotionally charged workshop as I showed my video with an atomic bomb survivor taken in Hiroshima. To be honest. the best workshops for me are educational and not about teaching people to write a poem but to feel it. It's like holding cold wet clay and then the processes of sculpturing it to resemble what we intended. You have to bring something new to a poetry workshop and allow time for attendees to respond. I am at my most uncomfortable at poetry workshops: they are emotional and exhaust me, as I am deeply connected to my subjects.
Like HCE, you're proud to be born and based in Coventry. Cov recently won the right to call itself UK City of Culture 2021 – what are you hoping to see happen for writers here over the next few years?
Consultation, fairness, an understanding from COC of what writers there are and the subjects they specialise in. If I see one more bloody poet with a parrot on his head from Clacton-on-Sea paid to do a workshop at a local library, embarrassing poetry as a twee art form, then I won't be happy. We have some good people at COC but some of them are disconnected. What were the RAF doing in Coventry in the summer with kids climbing into tanks that invaded Ireland? We are a city of peace and the council should not have done that. The RAF also ignored the contribution of the Polish and Romanian pilots in WW2 / Battle of Britain, who make up part of our cities and workplaces. I want to see Coventry not embarrassed by stupid and ignorant decisions like this.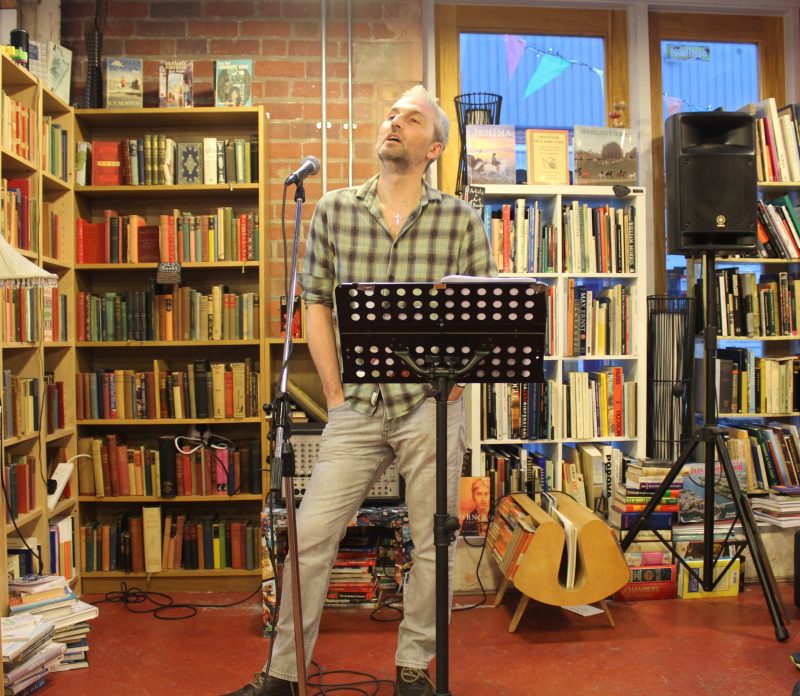 Would you like to tell our readers about some upcoming appearances and/or future projects?
I've a new book out next November called The Unknown Civilian and it is the best work I have done. It focuses on the past 100 years of conflict, starting with the death of soldier/poet Wilfred Owen, to the death of an unknown poet refugee in 2018, washed up on a Mediterranean shore. It essentially is asking us to look at remembrance and ceremonies differently, and to not speed-read apps on history –
to actually surface from the Androids and see the real lost world from past to present.
Any social media/website links you'd like to promote to our readers?
Nah, just find your own feeling, I am out there in the virtual world but find me in the real one, and support a small press and buy one of my books if you want to.