FIRE & DUST MEETS LIZ JOLLY
Summer 2018
Each night we sweated, restless, disturbed
every morning brought another Perfect Day
we were disordered,  used to sharing
rare bright hope of sun
by smiling at strangers.
Featureless blue and bloating heat made
stark days press down, stretching us beneath their weight
crisping trees, bleaching verges
while we heard of the thirst of bees
the creak of bergs calving in lukewarm oceans
we were shown swarming cattle with xylophone flanks
dwindling rivers of drowned fish
flames and smoke all over the world
eating edges of wilderness, rampaging through cities
And, raised with apocalyptica
well versed in reckonings
we're hurtling in our heads towards an end.
waiting to see who will saddle up the last pale horse.
 –Liz Jolly
We invited poet Liz Jolly, a regular at our Fire & Dust nights, to headline the gig on Thursday 1st November. Her readings were, as always, well-received by the crowd.
HCE caught up with Liz, to ask a few questions about poetry and writing…
---
How long have you been writing poetry, and what inspired you to start?
I think I have always played with words and tried to write "poetry". Rhymes, music hall songs and recitations were something my grandmothers shared with me when I was little. I was an early reader and loved the neat compactness of a poem on a page. The wonderful Puffin books were at their height in the 1960s when I was growing up, and school radio was a big part of our primary education – these programmes gave us an opportunity to hear fantastic poetry read aloud by brilliant voices. As a teenager, song lyrics, sex and drugs and rock and roll came together in Christabel, the unfinished Coleridge Gothic ballad. I spent a whole term in English lessons trying to complete it (in atrociously contrived rhyming couplets). I was supposed to be reading Rudyard Kipling.
As a lifelong, intermittent insomniac, poetry is one of the best bedfellows in the small hours.
Do you write in any other forms, or is poetry your one true love?
I have written and devised short dramas for young people, and have several drafts of a radio play. I have tried to write short stories, but writing poetry is more portable, like having a stone in your pocket to turn over.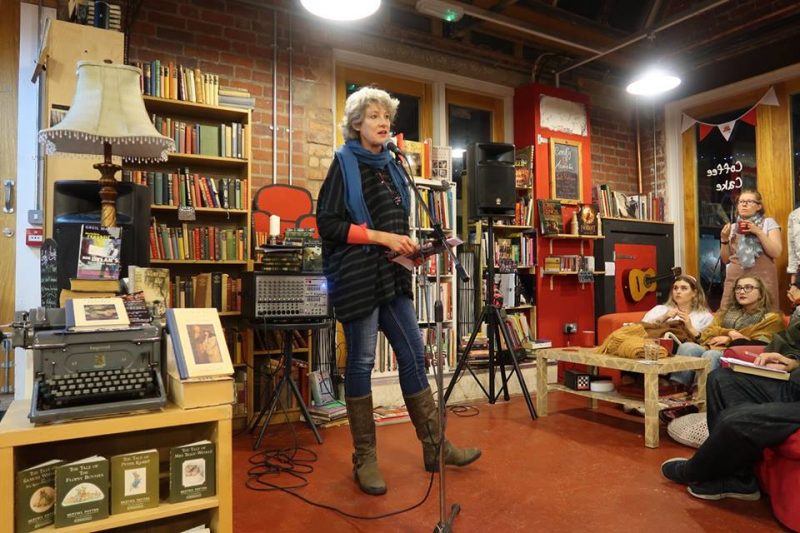 Are there recurring themes in your work?
The meeting point of the personal and the universal. How emotion and reason combine with memory and the present senses to remind me of my tiny humanity in a huge world, which is all I really have.
When you write a poem, would you say you write more for the page or for performance? And what do you regard as the key differences in approaching these two platforms?
I don't know. I do know I write on the page and enjoy reading aloud. Publication is something for a later stage in my life, I think.
In your opinion, what are the most important elements for creating a "good" poem?
Editing and honesty.
Who are some of your favourite poets, and have any contemporary collections recently made an impression on you?
Oh so many! Alice Oswald's Memorial is a favourite I go back to again and again, Liz Berry is an utterly inspiring reader and writer, Brenda Shaugnessy, Imtiaz Dharker, Tiffany Atkinson, Roy McFarlane… Does Seamus Heaney count as contemporary?  But, the thing about spoken word poetry is that you get the live experience of hearing the words, in congregation with other people, just as the writer intended them. So any poet who reads aloud is my favourite in the moment of listening to them. The ephemeral nature of vibrating air in live performance shared: music, word, dance; these things are hard to own and therefore commodify. They are pure experience that passes through you and affect you in some way.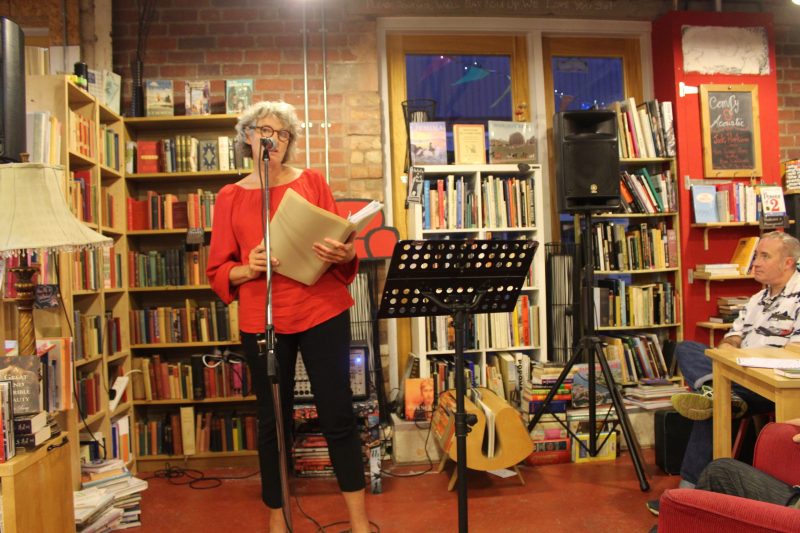 We enjoyed your Fire & Dust set. It's clear from your reading style that you're very much in tune with your own work. Any tips for beginners on how to be more confident and engaging at gigs?
I think it is sad that so many women preface their set by apologising for taking up space and time, read shorter sets and are far fewer in number.
We all need to slow down, lift our heads up, breathe, look at our audience and let the words fly and settle where they will.
Your poetry is impressively well-crafted, and packed with haunting images and appealing language. Have you ever published a collection, or do you intend to?
Thank you. Publication is something else, it needs time and resilience to pursue, there are so many journals and competitions, and it's not for me at the moment. I feel a direct sense of connection when I read aloud, if the words mean something to other people in that moment of live performance, that's brilliant and enough for now.
Do you have any links/social media/upcoming projects or performances to plug?
No, but I do think this is a great time to be making and sharing poetry in the West Midlands. The magic that happens at Fire & Dust, Pure & Good & Right (Kenilworth), Scriptstuff at the Temperance (Leamington) is really lively and strong, thanks to those who make these things possible.
---