HCE MEETS TOM MCCOLL
BEING WITH ME WILL HELP YOU LEARN BY TOM MCCOLL
Listen Softly London
ISBN 978-0993535307
£8.00/78 pages
---
---
In this interview, HCE talks to Tom McColl about being a writer and his published collection of poetry and short fiction (Being with Me Will Help You Learn).
When did you first know you were a writer?
Well, I always wanted to be a writer, that's for sure. I always enjoyed writing stories and poems as a kid, and though I don't know where it came from, I seemed to possess, from an early age, a pretty weird and wild imagination. But, despite getting a poem published, at the age of 17, in a West Midlands Arts mag (and, amazingly, getting paid for it!) – then going on to get poems published in various small press mags in my 20s and 30s – it's only in the last few years, in my 40s, that I feel I've started to have what it takes to really be a writer, in terms of the discipline and focus required for it all to come together.
Not that I've ever regarded writing simply as a hobby, though – it's always been my one big obsession in life, and often at the expense of many other things – but in terms of me regarding myself as an actual writer, I've never felt able to say that, yes, I truly am one now, not least because it's always been something where I've set the bar very high for myself. Maybe too high, but then you've always got to aim as high as you can (or high as you can't – and then push yourself until you can).
The main thing, though, is to always feel you're on your way – that there's always some momentum – or else there's no point. And I've kept going – to the extent that I now have a book out with a new small press – so who knows where this drive will take me?
What inspired you to start writing poetry?
Song lyrics were definitely a very big influence in this regard. In my early teens, I got into artists and groups like Kate Bush, Adam Ant, Soft Cell and Madness, who all produced very interesting, idiosyncratic, intelligent lyrics that, even without the music, were able to stand up on their own as impressive pieces of work.
I remember, with Kate Bush in particular, poring over the lyric sheet to her album, The Dreaming – studying how she'd write, and loving the clever word play, half-rhymes and subject matter, and how the lyrics were dream-like yet still firmly rooted in reality: Sat in your Lap, There Goes a Tenner and Pull Out the Pin were particular favourites. I definitely had no musical ability, so couldn't hope to emulate Kate Bush in that regard, but I did start writing poems using her lyrics as inspiration – and that's pretty much where it all started from.
Would you say your work has any recurring themes?
Being With Me Will Help You Learn is quite an eclectic collection, covering all kinds of themes and subjects. In many ways, it's me trying to create, essentially, my own folklore – this weird and wonderful world of Thomas McColl – but even so, within this metrical melting pot, there are a few recurring themes. For instance, both A Warning to all EC Pedestrians and In Search of Pedestrianland are all about pedestrian liberation, while both Resignation and Tom's Presentation are about the drudgery of work; then there is Open Mic and Takeaway Poetry Joint, which are both about the perceived value of poetry, while both The Revolution Will Not Be Displayed and the poem that ends the collection, The Full Stop Rebellion, are all about issues surrounding censorship and the abuse of language.
Is there a particular message that you wanted to convey with this collection?
Many of the poems in my collection highlight the unease that ordinary people often feel about how the world is constantly changing – and much faster than ever before, so that things very quickly become surreal and off-kilter and no longer make sense – but even so, there's no getting off: This ever-changing world still has to be navigated, no matter what, and the poems in this collection are, to some degree, about how we, as individuals, cope with that (or don't – as the case so often is, unfortunately).
How often do you write a poem? Do you have a fixed writing routine?
I don't have a fixed writing routine, as such – but whenever I can write, or edit, I will. And it's often a case of making time: for instance, it's amazing how much I can get done during the short 20-minute tube journey I take to and from my work each day. Instead of picking up the Metro or looking up crap on my phone, I'll do, at the very least, a bit of editing on a poem I've printed out – and even if I only manage to correct one line or finally find the right word to describe something, that's often enough to get me over what can sometimes be a major stumbling block, and therefore really helps to speed things up when I then have more time to sit down and write – which, again, is as and when the opportunity arises.
There's a lot of cynical humour in your poems. Do you think humour is an important device in poetry, and what do you aim to achieve with it?
I do think humour is an important device – but, for me, it can never be just for the sake of it: It has to be in the service of saying something serious, making a serious point.  My intention, when adopting a light-hearted tone, is to throw people, and put them on the wrong-foot with a poem that's both humorous and, in some way, unsettling.
Let's face it: one of the main elements of humour is taking people by surprise, but being taken by surprise can also be, for people, a very unsettling experience.
So, maybe approach my collection with caution. But do buy it. Trust me, you'll be surprised.
In general, do you write your poetry more for the page or for performance? 
I've always written my poetry for the page, and always will, but it's great that many of the poems in Being With Me Will Help You Learn work well in performance too, as I'm someone who believes very much in promoting their work as much as possible, and reading at live events is a great way of doing that.
Poems from the collection that go down well live include The Full Stop Rebellion, S, Cardboard Crime, Takeaway Poetry Joint, and this one, Open Mic:
I went to an open mic poetry night,
read my poems to rapturous applause,
promoted my booklet,
did not sell a single one.
The following week,
I was back on the open mic,
filled my five minute slot
simply by repeating:
"16 AA batteries for a pound,
16 for a pound",
and by the end had sold
one hundred packs.
When the poet Emma Lee reviewed my collection on her blog, she described the best poems in my collection as having 'multi-layers – they can be read at face-value during a performance but also offer a deeper message when read from the page' – which I thought was a great and very nice way of putting it.
What, in your opinion, are the essential elements for a "good" poetry gig?
An event with an appreciative and responsive crowd that's well-paced, with an eclectic, varied bill of both featured poets and open mic, all genially kept under control by a friendly and fair but firm host.
One of the main things is making sure an event doesn't over-run – even the best ever gig with the best acts and atmosphere can get ruined by the host not keeping a rein on proceedings. All too often, performers (even experienced performers who should know better) go well over their allocated time, either because they haven't timed their performance or their ego has suddenly got the better of them – and there's nothing worse than an event that's haemorrhaging audience members because they need to catch last trains etc. when there are still a number of people due to read.
Any writing tips you'd like to share with our readers?
Well, when writers are asked to give writing tips, they almost always come out with that old chestnut, 'read more', which is all very fine – and, of course, they're right – but it's also annoying on two counts: 1. Where do you find the time to read more when there's so little time and you need that precious time to write? And, 2. You know, deep down, that the only reason the writer being interviewed is telling you to 'read more' is because they're hoping that what you'll end up reading more of is their latest book (which, helpfully, will be advertised at the bottom of the page) – and you'll, ideally, then go on to buy and read their backlist too.
Still, it really is important to read more (and, yes, I really do want you to buy and read my book), but it's really important to write more too – and to not let pretty much anything get in the way of you simply cracking on with it, no matter how much or little you've read in your life – so please be assured that my book's a very accessible read and easy to simply dip in and out of, so perfect for people who haven't really got any time to spare – and, even better, I don't have a backlist.
Have you read any new poetry collections lately? Who are some of your favourite writers?
The last book I read was Adele Fraser's Intense World Fortress, from Eyewear Publishing. It's a pamphlet-length poem in which the narrator, who's neurodivergent, addresses her partner/lover and, in doing so, expresses an intensity of emotion and feeling which, though spiralling into freefall inside her mind, within this poem at least, never loses its grip – and by its sheer power retains its grip on the reader too, long after the last line is reached. In any event, it's one of the best things I've read in a long time.
As it happens, I own all of the Silhouette Press books, and they're all excellent and highly recommended. I'm very happy and honoured to be quoted on the back of the first of those books, Neil Laurenson's fab and funny collection, Exclamation Marx! And other pamphlets I'm quoted on the back of are ones by Lucy Humphreys (Kintsukuroi) and Matt Duggan (A Season in Another World) – published by Hesterglock Press and Thirty West Publishing House respectively – both excellent collections.
You were published in The Idiots Issue and Boy/Girl Issue, back in 2012 and 2014 respectively. What attracted you to our magazine, as a good home for your writing? 
When I first came across HCE magazine, it had already been going for a few issues, and looked like it was steadily gaining a good reputation but still had a very inclusive feel about it, or at least didn't seem up its own arse, and I liked the idea of the themed issues…
…which continues with the latest issue I've read – The Brutal Issue. I like the more compact size, the new layout is cool and, as ever, it's a good mix of excellent poetry, fiction and artwork, with relatively well-known names (such as Laura Potts and Jamie Thrasivoulou) being featured alongside lesser-known names (with my personal favourite being Piety Exley, with her brutal but beautiful poem, Gory).  And a feature about the on-going Disappear Here project is slotted in nicely with its emphasis on the Coventry ring-road and other Brutalist structures.
What gigs/books/future projects have you got coming up?
I have various manuscripts out on submission. One's been shortlisted by a publisher, which is very encouraging, so I'll have to wait and see what happens with that.
At the end of September (the 25th), I'll be performing at the always very lively and varied Celine's Salon in London – which will now be at a new venue, the Troy Club in Fitzrovia, having previously been at the Society Club in Soho – and I'm always on the look out for gigs, so if anyone reading this wants to book me, please do get in touch.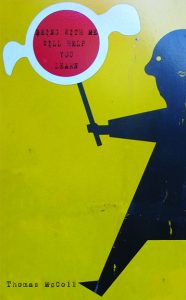 Where can people get hold of a copy of Being With Me Will Help You Learn?
From my publisher, Listen Softly London (more info about the book is here) or from Amazon – and I always have copies on me at any gig I'm reading at.
---