INTERVIEW: FIRE & DUST MEETS SOPHIE SPARHAM
PLEASE MIND THE GAP BY SOPHIE SPARHAM
A Way With Media Ltd
Foreword: Benjamin Zephaniah
£6.00/62 pages
---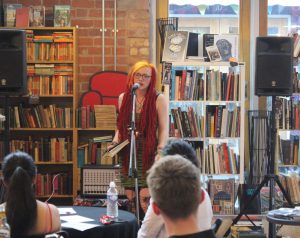 How would you describe your work? What can people anticipate if they come to see a live Sophie Sparham performance or buy your book?
I try not to limit what I write, but my poems tend to focus on working-class issues, the LGBT+ experience, feminism and mental health. I'm passionate about giving a voice to the voiceless and giving people hope. I want to give focus to people that are normally ignored in society and represent the people that aren't usually represented. 'Please Mind the Gap' is about the rich and poor divide in society, focusing on everyday issues of poverty in modern day Britain. 
When did you first start writing poetry, and what inspired you to get into spoken word?
I've been writing poetry since I was in primary school – I remember writing a poem about bees buzzing around a hive. I also used to make fan fiction books about Babe the Sheep Pig and the Undertaker from WWE being friends. I carried on writing in my teens as a way of coping with depression, but only started performing spoken word about three or four years ago.
Who is your work aimed at – do you have an audience in mind when you're putting a poem together?
My work is for everyone, I don't want to alienate anyone from coming to a show. Some poetry can be really inaccessible for everyday people and that's never been something I've wanted to do with my work. I've always wanted to attract people who might not be into poetry as well as people who love poetry and have been involved with the scene for a long time.
You recently gave a TEDx talk at the University of Kent, where you discussed the potential within poets to make a difference by communicating their truths. Have you encountered many direct examples of poetry changing the world, like the nurse who wanted to help LGBT+ youths after she heard you perform 'Hold My Hand'?
I did a show, I won't say where, where the people were quite snobby and wrote very highbrow poetry (no idea why they booked me). I went on stage and got a bad reaction, but nevertheless I had a good night. A few days later a boy messaged me from the show and told me he'd wanted to kill himself, but my poem 'Black Dog' had made him want to choose life and he told me he was going to try and do that. That meant so much to me. 'Black Dog' is about my friend who took his life, and I wrote it to try and encourage people to speak about mental health issues. I've had a few people react to that poem; I once had a girl sit and cry in my arms after a show. I'm very awkward with situations like that! But it encourages people to talk about these issues and that's exactly what I wanted so job done!
Who are some of your favourite poets/writers/artists? Have they had much influence on your work?
This is where I sound like an old man. I'm influenced by so many different people. When I first started writing I started off listening to song lyrics and was very inspired by people such as Bruce Springsteen, Tom Waits, Pearl Jam, Soundgarden, Marilyn Manson, Jimi Hendrix, Tom Petty, Public Enemy, Napalm Death…the list goes on and on… In terms of poetry, I'm really into Pascale Petit and Caroline Bird. They are soooooo clever. Benjamin Zephaniah was also a big influence growing up. 
I've got mad respect for the Midlands crew; people like Nafeesa Hamid, Joshua Judson, Jamie Thrasivoulou, Emerciana Desouza and so on. There's too many to name! Sorry guys!
When it comes to challenging social inequality, your words are unflinching. Do you think enough working-class poets and writers get a chance to have their voices heard on issues like this?
I think we need more working-class voices in literature full stop and we don't hear enough of them.
I understand why people don't get their voices heard, as sadly to write you need time and people who are working every hour under the sun to pay their rent, feed their child and look after their family don't have much of that. But things are changing and there are more schemes for working-class people, which is great.
Writing professionally is so bloody hard to do on a budget, especially when you're starting off! People think my life is easy because I don't post sad statuses or complain online, but I gave up everything to write and perform and that's what people don't see. I gave up my career, my nine-to-five wage and worked three part-time jobs where I had less responsibility so I could have more time and begin writing more and trialling workshops. After a year and a half, I managed to get them down to one part-time job and now I still work in a shop alongside spending the rest of my time doing things related to writing, gigging etc. 
This isn't me complaining at all, because I understood the sacrifice I had to make. However, saying all that, I regret nothing!!!!! This is the happiest I've ever been in my life. I was totally miserable before and now I get to go out and gig, travel around meeting wonderful people and do work that I care about.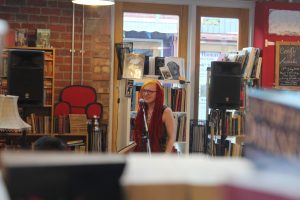 The Fire & Dust crowd were not only captivated by the well-crafted poetry, but also your no-bullshit style and voice. Have you always been a confident performer, or were you nervous when you first started sharing your work in public?
Mate, I'll tell you a secret: I'm the most nervous performer you'll ever meet. I proper poo myself before every gig. I've always been like it! However, once I'm on stage and start talking, everything seems to click into place. I've never been a very confident person, despite what people think, but for some reason I can't get enough of gigging! I feel like I know what I'm doing more now, but the nerves never seem to leave!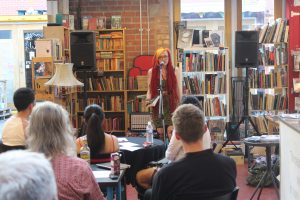 In your opinion, what elements are needed for a great spoken word gig experience? (And did you find any of those elements at Fire & Dust?)
A warm welcoming environment, experimental/challenging poetry, people with a fire in their belly. Yes, I found all these things!
Which regular events in Derby can you recommend for
a)nervous newbies
b)open mic veterans?
We have many great nights that would suit both these sorts of people. All the nights in Derby welcome both new and experienced performers, plus we have a lovely community that are always open to hearing new people speak. I would recommend Word Wise at the Maypole, Twisted Tongues at The Old Bell and She Speaks. You can Facebook search them all.
What projects/performances have you got coming up next?
The Edingburgh Fringe! Ahhhhh. I'm at The Three Broomsticks next week. It's in room one, 4.15 – 5.15pm, 19th – 25th August. It's my first time up there for the Fringe and I'm scared! After that I think I'm going to go away and write something new. I have an idea in mind, but I'm not saying owt yet! 
Any social media/website links you'd like to promote to our readers: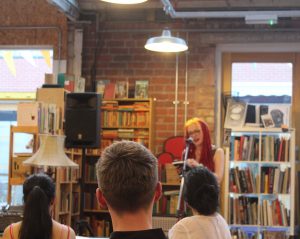 Of course! Add me!
Twitter: @SophieSparham
---
---