12 Women You Should Know
By Sofia Furtado
From the Renaissance to our day, here is a list of twelve women that you might have already heard of, but nonetheless should know. As the feminist movement advances, promoting universal rights with regards to equal pay, reproductive justice, objectification, and dismantling hurtful gender stereotypes, it becomes more and more important that we remember and acknowledge, not only the accomplishments of feminism as a political movement and literary theory, but also the women that took, and are still taking, part in social change and improving the lives in their communities. That we remember the faces and voices of those who stand out not only for their talent and artistic merit, but also for the courage and resilience they displayed, and the lives they lived.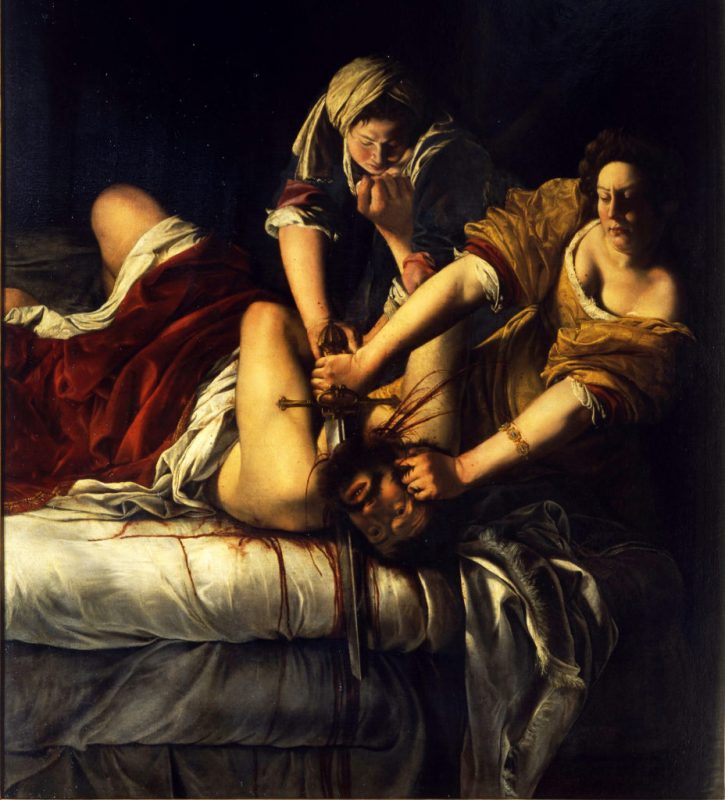 Artemisia Gentileschi (1593-c. 1652)
Born in Rome, Italy, on July 8, Gentileschi is often considered one of the most accomplished female painters of the Baroque era. She developed her artistic skills with the help of her father Orazio, a successful painter himself, creating and thriving in what was at the time a male-dominated area. At the age of 18, Artemisia was raped by one of her father's colleagues, Agostino Tassi. The public nature of the trial proved very damaging to Gentileschi's reputation and resulted in Tassi being released, and Artemisia being tortured as a means of verifying the truthfulness of her accusations.
After the traumatic event, most of the artist's paintings started focusing on female protagonists from the Bible or the Greek Mythology, such as "Cleopatra" and "Minerva". Her famous painting Judith Slaying Holofernes (on the left) depicts Judith slicing the throat of Assyrian general Holofernes with the help of her maidservant, in order to save the Jewish people. Judith's story is depicted in many other paintings following this one, usually characterized by a skilful use of light and shadow to convey a sense of danger and dramatism. Artemisia enjoyed the patronage of several important families in Florence as well as commissions from King Philip IV of Spain and Queen Henrietta Maria of England. She also befriended many intellectuals of her time, including the famous Renaissance genius Galileo. Artemisia continued to paint for the rest of her days, and died in Naples around 1652. Her life and artwork are still an inspiration today, as we observe how her talent and perseverance allowed her to transcend the constraints and prejudices of her time. As Artemisia has said herself, "You will find the spirit of Caesar in this soul of a woman."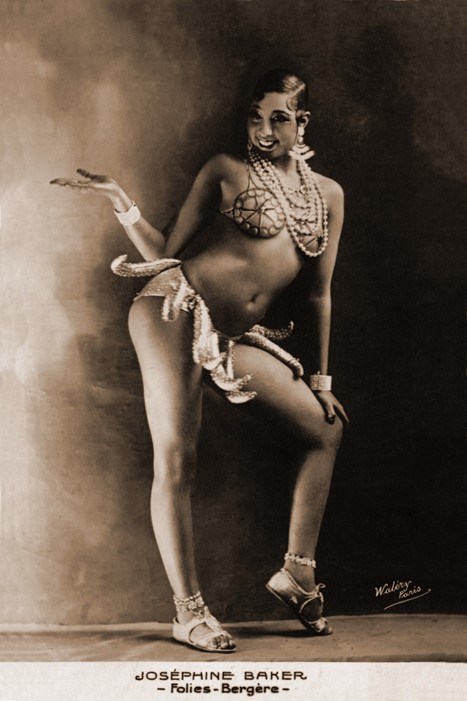 Josephine Baker (1906-1975)
Josephine was born in Missouri, United States. Both her parents were performers whose unstable careers forced Baker to start working at the age of 8, babysitting for wealthy families and even dancing in the streets for the people passing by. At 15, she joined an African American theatre troupe, but it was only with her participation as a dancer in Vaudeville shows that her popularity started to grow. She decided then to move to New York. There, she actively engaged in the Harlem Renaissance movement, promoting the celebration of Black life and culture. Her "distinct dancing style and unique costumes", incorporating African themes and styles, would later mark her presence in France, where she became widely popular and one of the highest-paid performers in Europe after her show La Folie du Jour (on the right), in which she danced with a skirt made of 16 bananas.
After the eruption of World War II, Baker joined the Red Cross and worked as a spy for the French resistance, transporting confidential information she heard, written with invisible ink on music sheets, while performing for the enemy. When she returned home, however, Baker faced great hostility and segregation and decided to return to France. There, she married industrialist Jean Lion and obtained a French citizenship. She returned multiple times to the United States during the 1950s, actively lending her support to the Civil Rights Movement. During this period of time, she also adopted 13 children from around the world, and called her family "the rainbow tribe", and an "experiment in brotherhood", in an effort to demonstrate how cultural and racial harmony could be possible. Baker died just two days after her last performance in 1975, at the age of 68. Her funeral counted with more than 20,000 people, lining in the streets of Paris to witness the procession. The service also included a 21-gun salute, which made Baker the first woman in America to receive French military honours.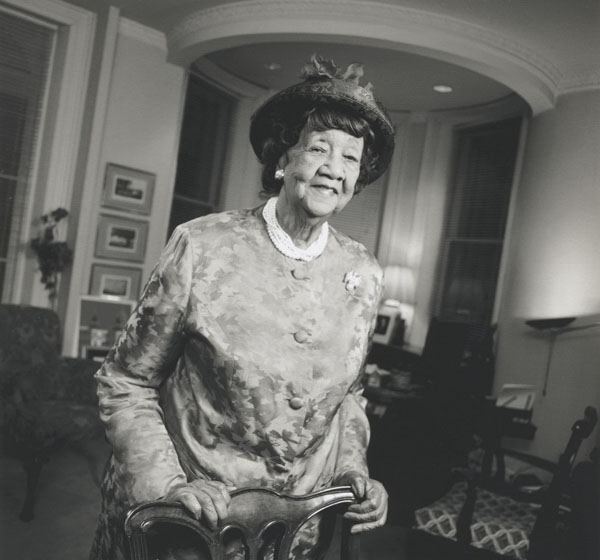 Dorothy Height (1912-2010)
Dorothy was born on March 24, in Richmond Virginia. An excellent student during high-school, Height soon proved to be a talented orator, actively engaging in anti-lynching campaigns. She eventually received a scholarship to attend college; however, although she was admitted to Barnard College, she was unable to attend any classes as the school told her their quota for Black students had already been met. She went to New York University instead, receiving a bachelor's in education and a master's in psychology. After her first job as a social worker in Harlem, she joined the Harlem Young Women's Christian Association, of which she soon became the leader, creating diverse programs and pushing the organization to integrate YWCA's facilities nationwide. Inspired by African American leader Mary Bethune, she began working with the National Council of Negro Women, focusing on putting an end to the lynching of African Americans and restructuring the criminal justice system. In 1957, she became the president of the organization, and during her 40 years of leadership, Height sought to promote voter registration in the South, and provided financial support to civil rights activists around the country. Dorothy soon became an important figure in the Civil Rights Movement, and many political figures, such as Eleanor Roosevelt and Lyndon B. Johnson, often called for her counsel. In 1963, Height along with other activists organized the March on Washington for Jobs and Freedom. She stood close to Martin Luther King during his famous "I Have a Dream" speech and, with the help of Anna Hedgeman, managed to convince the other organizers to include a woman orator in the program, gaining her place among the other speakers. In 1971, she was one of the co-founders of the National Women's Political Caucus, along with Gloria Steinem, Betty Friedan and Shirley Chisholm. Height also travelled extensively, serving as a visiting professor at the University of Delhi, India, and the Black Women's Federation of South Africa. Her contributions to the Civil Rights Movement has been recognized by many institutions, having Dorothy been awarded with 24 honorary degrees, a Citizens Medal from President Ronald Reagan and the Congressional Gold Medal. Dorothy died at the age of 98, in Washington.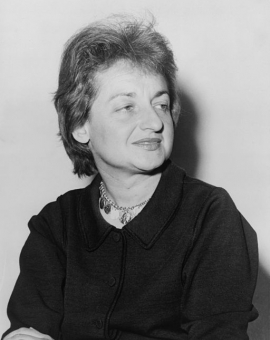 Betty Friedan (1921-2006)
Friedan was born on February 4 in Peoria, Illinois, the oldest of three children to a Russian immigrant jeweller and a Hungarian immigrant journalist. In 1942, she graduated in Psychology with the highest honours and spent a year training as a psychologist at the University of California Berkeley. After the eruption of World War II, Friedan became involved in a number of political causes and left the graduate program to work as reporter for the Federate Press in New York. She then became a writer for the UE News and a number of other newspapers. Her politics gradually moved towards the left as she became more involved with various labour and union issues, as well as women's rights, arguing for workplace rights for women. In 1947, Friedan married Carl, an aspiring theatre producer, with whom she had 3 children. The couple moved to suburban Rockland County where Betty became a house-wife, working as a freelance writer for women's magazines to supplement the family's income. She would later spend her next 5 years doing interviews around the country, giving particular attention to the white middle class woman and the impact of post-war social and economic crisis on her lifestyle. In 1963, The Feminine Mystique was published and immediately became a best-seller, as well as one of the most influential books of the twentieth century. Transforming public awareness, the book placed many women into the vanguard of the women's movement, with Friedan as its early leader. In 1966, she founded the National Organization for Women, demanding equal employment opportunities and encouraging women to participate "in the mainstream of American Society", which would only be possible through the exercise of "all the privileges and responsibilities (…) in truly equal partnership with men". She also helped found the National Association for the Repeal of Abortion Laws and organised the Women's Strike for Equality in 1970, promoting the change of outdated laws regarding hiring practices, gender pay and pregnancy discrimination. However, as more diverse and radical voices emerged within the women's movement, Friedan started being criticised for focusing primarily on white middle-class and heterosexual woman, and for discriminating lesbian women in the movement, as well as for her willingness to cooperate with men. Although her mainstream ties eventually alienated her from younger and more visionary feminists, Friedan nevertheless retained her relevance as an advocate for women's rights, being often seen as the "mother" of the modern women's movement.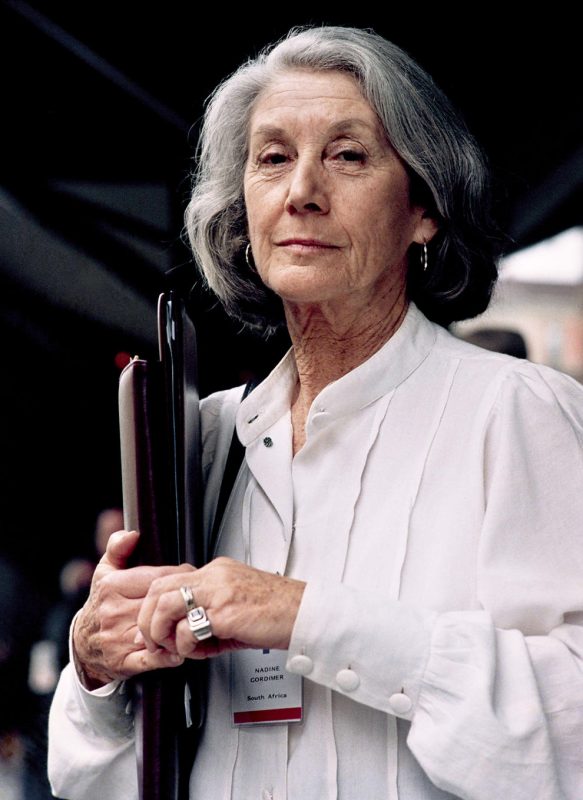 Nadine Gordimer (1923-2014)
Nadine Gordimer was born in Springs, Transvaal, South Africa. She was educated at a convent school and spent a year at Witwaterstrand University. She published her first short story at the age of 15 in a local magazine, and in 1951, The New Yorker took one of her short stories. She also travelled extensively, writing non-fiction on South African subjects and exploring the moral and psychological effects of apartheid on their lives. She also made TV documentaries, writing scripts for 1989 BBC film Frontiers and for four screenplays based on her own short stories. Nadine's novels often deal with her own life experiences, but also interracial love affairs, master-servant relations, post-apartheid South Africa and forced emigration. Her novel Burger's Daughter deals with several political themes, more particularly the anti-apartheid struggle, and was banned in South Africa, along with other books she wrote. Gordimer received several honorary degrees from universities in the United States, Belgium, South African and the United Kingdom. She was a founder of the Congress of South African Writers and, in 1991, she was awarded the Nobel Prize for Literature.
Sylvia Plath (1932-1963)
Born on October 27, in Boston, Sylvia Plath expressed an early interest in writing and started out by keeping a journal. She published her first poem at the age of 8, and her first short story was sold to a magazine when she was still in high-school. At the age of 18, Plath had already published a number of works, and in 1950 she won a scholarship to Smith College. She also worked for Mademoiselle magazine as a guest editor in 1953.
Although she was achieving significant academic and artistic success at the time, Plath was also suffering from severe depression, and ended up attempting suicide, by inducing an overdose with sleeping pills. She eventually recovered, after receiving treatment in a mental health facility, and continued her studies, finishing her degree with the highest honours in 1955. She then went to Newnham College in Cambridge, where she met poet Ted Hughes, whom she married in 1956. Plath also taught English at Smith College around that time, returning to England in 1959. In 1960, she published her first poetry collection The Colossus, and had her first child. However, after their second child two years later,  their marriage fell apart as Hughes left Plath for another woman. Sylvia fell into a deep depression once again, and it is during that period of time that she wrote her only novel The Bell Jar, published in 1963 under the pseudonym Victoria Lucas. The book describes the mental breakdown of a college girl and includes several autobiographical references to Plath's own struggle with mental health and consequent hospitalisation ten years prior. She also wrote Ariel, a collection of poems that would be edited posthumously by Hughes and published in 1965. The book represented a shift in Plath's style. Written in a confessional style, it depicts the feelings of anxiety and doubt that tormented the author during the last years of her life, which led to her suicide in 1963. Many collections of poetry and short stories, as well as her journals and letters, were published after that, compiled by Hughes who became Plath's literary executor after her death. The interest in Plath's work continued to grow throughout the twentieth century, and in 1982 she became the first person to win a posthumous Pulitzer Prize.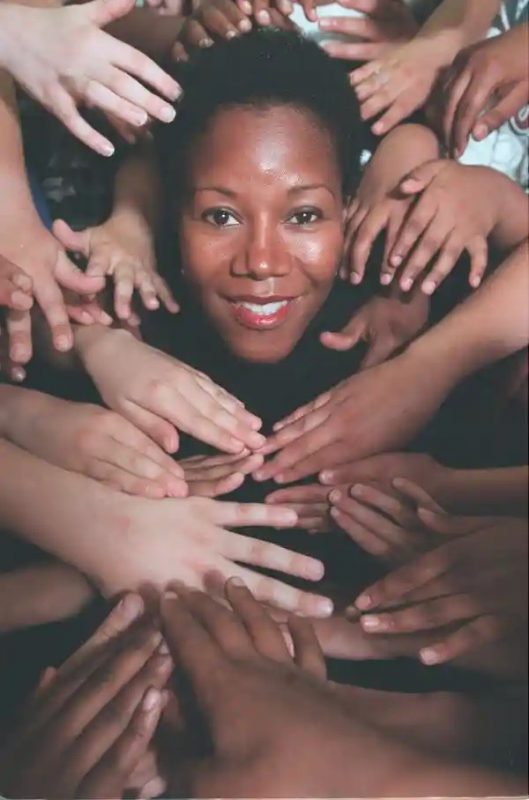 Ruby Bridges (1954-)
Ruby Bridges was born the oldest of five children to two farmers in Tylertown, Mississippi. When she was four, the family moved to New Orleans, searching for better job opportunities. Although her birth year coincided with the U.S. Supreme Court's Brown v. Board of Education, which ordered the abolition of racial segregation in public schools, many southern states continued to resist integration six years later, and Ruby was forced to attend a segregated kindergarten. Only in 1960, a federal court ordered Louisiana to desegregate and the school district implemented entrance exams for African American students to evaluate if they had the academic ability to attend an all-white school. The tests were particularly difficult, so that children struggled to pass, and New Orleans schools were able to remain segregated for longer. Nevertheless, Ruby passed the exam and although her father, fearing for his daughter's safety, was hesitant about letting her attend an all-white elementary school, her mother wanted her to have the educational opportunities others before her had been denied. Thus, Ruby and her mother were escorted by four federal marshals to the school every day that year, threatened by crowds of angry white parents screaming insults and throwing objects at Ruby. One time, she was met with a woman holding a black baby doll in a coffin. Segregationist parents threatened to withdraw their children from school and only one teacher, Barbara Henry, was willing to teach Ruby. Moreover, she was forced to remain in the classroom for the entirety of her school days, and couldn't interact with her school peers. Other members of the Bridges family were also impacted: Ruby's parent's both lost their jobs, and the grocery store that the family used to shop at refused to sell to them. Even her grandparents were evicted and forced to move from the farm where they had lived in for 25 years. In time, however, other African -American students enrolled, and Ruby finally graduated from the desegregated high-school Francis T. Nicholls High School in New Orleans. She then studied tourism at the Kansas City business school and worked for American Express as a world travel agent for the next 15 years. In 1993, her brother died, shot on the street in New Orleans, and, for a period of time, Ruby took care of his two daughters. It was also around this time that Robert Coles, a child psychiatrist who had supported Ruby and her family during her time at William Frantz elementary school, published his book The Story of Ruby Bridges, which Ruby helped to promote, talking at several schools across the United States. In the 1990s, she also reunited with her first teacher Barbara Henry, and together they organized various speaking events. Later on, Bridges would write two books about her early experiences, receiving the Woodson Book Award, and created The Ruby Bridges Foundation in 1999, consolidating her career as a racial equality activist. A year later, she was made honorary Deputy Marshal in Washington, DC.
Sandra Cisneros (1954-)
Cisneros was born on December 20 in Chicago, Illinois, the only girl in seven children of two Mexican parents. She expressed her passion for writing from an early age and, after a writing class she took in her third year of university, Cisneros decided to continue to study writing, graduating in 1976 with a Bachelor of Arts degree in English. Two years later, she graduated with a Master of Fine Arts degree in Creative Writing from the University of Iowa and, returning to Chicago, became a teacher at the Latino Youth Alternative High-School, teaching students who dropped out of school. Later on, she worked at universities in California, Michigan and New Mexico.
Cisneros has published several poetry books, such as Bad Boys, My Wicked Wicked Ways and Loose Woman. She has also published the novels Caramelo, awarded with the Premio Napoli in 2005, and The House on Mango Street, which has sold over six million copies and is now required reading in many schools across the country. Caramelo has also been selected as an important book of the year by The New York Times, The Seattle Times, the San Francisco Chronicle, and many other newspapers, and was nominated to the Women's Prize for Fiction. She has published a collection of short-stories as well, Woman Hollering Creek and Other Stories, which was nominated as the Best Book of Fiction of 1991 by the Los Angeles Times. Her first children's book Hairs/Pelitos was published in 1994, and is written in both Spanish and English. In an interview with The New York Times, she has stated: "I'm a translator. I'm an amphibian. I can travel in both worlds. What I'm saying is very important for the Latino community, but it is also important for the white community to hear. What I'm saying in my writing is that we can be Latino and still be American." Her writings often focus on issues of race, class and multiculturality, built through descriptions of a Latino-American identity. Cisneros also earned many scholarships and honours from different universities and institutions, such as the National Endowment for Arts in 1981 and 1988. Similarly, she helped organise the Latino MacArthur Fellows, Los MacArturos – "a caucus of Latino awardees united in community service", as she has described it. All members of the group have won MacArthur fellowships and work together to make a positive impact in their communities. Cisneros' work in her community continued with the creation of the Macondo Foundation and the Alfredo Cisneros Del Moral foundation for writers. She currently lives in Mexico with her three chihuahuas, Luz de Mi Vida, Osvaldo Amor, and Nahui Ollin, and a Texan mestiza dog, la Cacahuata.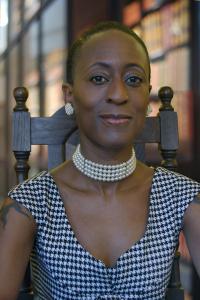 Patience Agbabi (1965-)
Agbabi was born in London to Nigerian parents, and spent her teenage years fostered in a white English family in North Wales. After her studies at Oxford University, she completed a master's in Creative Writing at Sussex University and, since then, has appeared at numerous venues and key literary festivals in the UK and abroad, as a poet, performer and workshop facilitator. She is one of the founding members of FO(U)R WOMEN, a polyvocal performance piece, and a member of Atomic Lip, considered poetry's first pop group. Mixing rap with a more traditional poetic style, Agbabi often describes her work as the product of what she likes to call her "bicultural" upbringing, reflecting "a shifting sense of cultural identity – across gender, race and especially sexuality." She published her first collection of poetry R.A.W. in 1995, for which she won the Excelle Literary Award. The work emphasizes the divide between performance, Agbabi's primary communicational method, and written word, with the visual structure of the poem as a means of conveying meaning. In 2000, she issued Transformatrix, "a documentary on late twentieth-century Britain and a celebration of poetic form". She was the poet-in-residence at various institutions, such as Eton College, Oxford Brookes University, and 'Flamin' Eight' tattoo parlour, where she delivered a range of poetry writing/ performance workshops. She also taught Creative Writing at various public schools, from 2002 to 2005, and in 2004 she was elected one of the UK's Next Generation Poets. Her creative use and reshaping of classical poetic forms, complemented by a political and social critique based on conceptions of intersectional identity categories, destabilises, according to Manuela Coppola, "normative gay, lesbian, black, men's and women's identities". Thus, Patience Agbabi is often considered one of the most dynamic and revolutionary poets (and performers) of our time, as her work seems to symbolise and embody the fluidity and complexity of contemporary human experience.
Maria Teresa Kumar (1974-)
"I came to America as a child because my family deeply believed in America and her possibility. I still do, knowing that her possibility can't be realized until we provide real equity and opportunity for the most marginalized among us. That is my work. That is my life."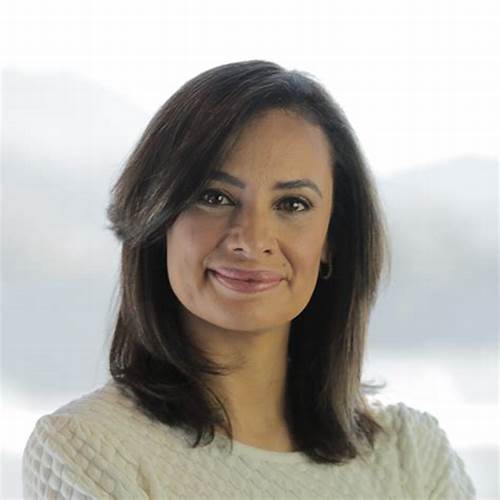 Maria Teresa Kumar was born in Bogota, Colombia, but moved to California when she was very young. Her passion for political activism and advocacy for the Latino community appeared early on, at the age of 12, after experiencing first-hand the political activity in the capital during a class trip to Washington. She studied International Relations in the University of California and started working as legislative aide for California congressman and Democratic Caucus Chair Vic Fazio, in the House of Representatives, soon after graduating. She then decided to continue her studies, obtaining a master's in public policy at Harvard University. In 2004, Kumar co-founded a political organization called Voto Latino, designed to "encourage and empower young Latino voters and advocate for inclusive political participation". Since then, it has raised $75 million and registered more than 600,000 new voters, using media and technology to create "innovative digital campaigns and programming to increase voter registration and civic engagement in Latinx communities". Voto Latino is now a founding partner of National Voter Registration Day, the largest one-day campaign for voter registration, and, in 2010, partnered with the U.S. Census Bureau, emphasising participation in the census as a means of ensuring adequate distribution of government funds to education, healthcare and infrastructures in Latino communities. She has been on MSNBC, Meet the Press, NBC nightly News and many other news programs, reporting news stories on topics such as child internment camps at the border, gun violence, access to fair pay, healthcare and educational opportunities. Her contribution to "Beyond Borderlines", the first televised townhall discussing the role in the Latino community in US society and politics, has earned her an Emmy nomination for Outstanding News Discussion and Analysis and, in 2014, she launched the VL Innovators challenge which granted up to 500,000 dollars to technological projects that proposed innovative ways of helping the Latino community. She is currently living in Washington D.C. with her husband and two children, working on the boards of the Latino Leaders Network, Planned Parenthood Federation of America, and EMILY's list, an American political action committee that aims to help elect to office female candidates in favour of abortion rights.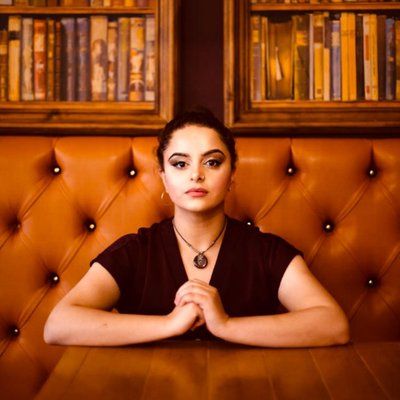 Nafeesa Hamid
Nafeesa Hamid is a British Pakistani poet, playwright and workshop facilitator based in Birmingham. She has been writing and performing for 6 years at nights around the UK, featuring at Outspoken (London), Poetry is Dead Good (Nottingham), Find the Right Words (Leicester) and Hit The Ode (Birmingham). Nafeesa has also performed at Cheltenham and Manchester Literature Festivals as part of "The Things I Would Tell You: British Muslim Women Write", a recent anthology publication by Saqi Books, edited by Sabrina Mahfouz. In 2016, she was invited to perform at TEDx Brum 2016 (Power of us) and, in 2018, she published her first poetry anthology Besharam, which explores, amongst other themes, the author's complicated relationship with her body and being a woman, as she struggles to embody ideals of two conflicting cultures. As Kevin Jackson has put it, "[w]hether about sex, virginity, or health care, Nafeesa's poetry strides straight up to you, tells it "like it is", demands we think more bravely about the realities of life, what it means to be British Pakistani, to grow through trauma, to be Woman in cultures where men largely seek to commodify and colonise women." She is an alumni of Mouthy Poets Collective (Nottingham), Hippodrome Young Poets (B'ham) and Derby Theatre Graduate Associates (Derby); and runs Twisted Tongues, an open-mic only poetry night at The Station in Kings Heath. Nafeesa has also performed internationally, as a BBC Edinburgh Fringe Slam finalist (2018). She is the co-founder of Gully Collective / Gully Zine, which aims to bring together and showcase South Asian artists from Brum and beyond. Nafeesa's work is as powerful as it is relevant, giving the reader/viewer a unique and refreshing perspective on the problems of our contemporaneity. Her words are not just an inspirational reminder, but the testimonies of a survivor, exposing social flaws yet to be fixed.
Gina Martin
Gina Martin is a British activist, author and law-changer, being most known for her contribution on making upskirting a sexual offense in England. After being a victim of upskirting herself at a musical festival in London, in 2017, and realizing there was no law to protect her, Martin decided to launch the campaign #StopSkirtingTheIssue, to raise awareness on the topic. After gathering more than 110,000 signatures in her petition, she started working with lawyer Ryan Whelan to turn her project into actual legislation. In the House of Commons, she faced the opposition of Conservative MP Christopher Chope. However, after two years of determination, Martin managed to get the support of then-Prime Minister Theresa May, and on April 12, 2019, the upskirting law was approved. Since then, four men have been jailed and 16 men have been convicted of the crime, some of them with an historic of sexual harassment and abuse towards children. In her book Be the Change, Gina narrates her experience building the campaign and the challenges she faced throughout the process. She has also featured on TEDxWarwick event and an episode of History Becomes Her, a podcast that "speak[s] to women making change now about the women of the past who paved the way for them."
---
Resources:
Most of the content in this article was based on the biographies available here and here. I strongly recommend visiting them for more complete and detailed information on these women.